Do the Trends Align?
Ironed blazers, comfy sweatshirts, trendy sets and colorful hats. FSPA has students reporting on both current events and their personal style.
While journalists may have to adhere to the rules of writing, broadcast, design and social media, there are no laws that govern the Florida Scholastic Press Association runway. Striding into the door with their convention day one outfits, cameras and microphones were not the only accessories that students were sporting. 
Although the convention brings all columnists together under the same passion for reporting, each publication has brought their own unique clothing style to exhibit for the spring 2023 collection.  
---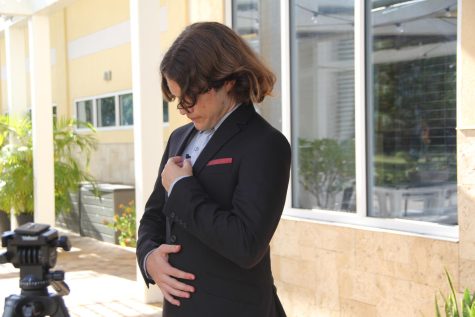 Broadcast
Typically seen with a suit and tie, broadcasters walk around with their head held high, searching for the best lighting to film their videos and showcase their pearls and blazers.
With a professional look, a microphone in hand and a camera set to film, these journalists are prepared for anything that blocks their spotlight. Fashion is not an obstacle for them but rather a routine, as their outfits are planned ahead of time with each event they cover. 
"I really like being in TV production because not only can you express yourself through fashion and different outfits but you can also get a message across by being professional […] I would say my style is classy, I like to have some pearls and bright colors that blend in with my skin. I think style says a lot about a person, and through what I wear people can see who I am, " Sickles High School senior Mia Vanessa Prom said. 
---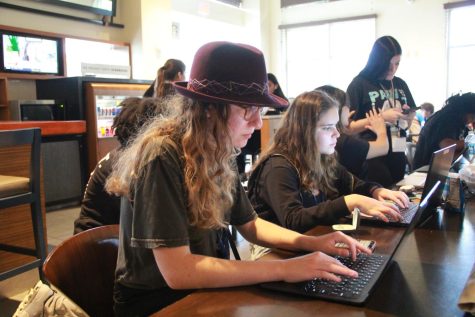 Newspaper
On paper or online, newspapers have the oldest form of reporting and style. Throwing on the first thing they see in their closet, these writers value comfort over everything else; a comfort can be seen in the way they stick to the basics when reporting and find refuge in their closet of words and digital design.
Although they are no stranger to the always-in-style sweatpants, newspaper and online journalists always find a way to add their own special touch to the wardrobe essentials.  There is nothing these writers cannot accomplish in their favorite hoodies and slides. 
"I'm going to be completely honest, I grabbed these clothes randomly out of my closet a few days ago while packing and threw them together. I'm not generally a fashion person but to an extent, the clothes we are wearing are a reflection of who we are as a person the same way the kind of publication you join has to do with you," Coral Springs Charter School senior Madelen Erez said.
---
Yearbook
Recording an entire school year's worth of memories requires plenty of planning. Yearbook journalists work around the clock to ensure all events have been covered. Along with their changing spreads, their outfits follow the varying trends of the season. Knowing how to masterfully construct pages worth of content, their skills translate over as seen in the crafted outfits that match the vibe of wherever they may be. 
"
I've definitely planned my outfits ahead of time, according to the season. When it is colder outside, I like to wear brown and beige nude colors but when it gets hotter, I do try to brighten up my wardrobe,
— senior Arabella Dias
The annual book never upsets the student body as every grade level excitedly flips through the pages, searching for their faces and most memorable events of the year. Similarly, the outfits of yearbook staffers never disappoint the masses, as the reporters follow the trending aesthetic of the season. In a book with hundreds of pages and a world with millions of styles, yearbook reporters have dominated the eyes of their viewers.
---
Literary Magazine
Drawing, poetry and narrative writing are all welcomed in the literary magazine. Embodying the epitome of creativity, the magazine reporters embrace artistic expression both on and off the paper, as seen through their eclectic wardrobe. Whether casual, fancy or vibrant, the clothes on these journalists' body are just an additional way of letting their innovative spirits roam.
Which Publication Fits Your Fashion Trends?
Loading...
There was an error. Please try again.
In a world of black and white texts, one can count on literary magazine staffers to bring in the color. The journalists take diversity to heart as asserted in their passionate vocabulary and experimental closets that house an encyclopedia worth of outfits.
"If I had to describe my style, I don't really know if I can just summarize it in a couple of words. I would definitely say that it is based on my mood and how I feel and how I want to look that day. My personal style is definitely very creative and a very good way of expressing myself and it's the image that I want to present myself in the world, in the same way, that my writing is what I want to share with the world about myself," Coral Gables Senior High senior Cheryl Fiffe said. 
---
Among all publications at FSPA , each have a unique sense of style that match their journalistic approaches. Words and artistic creation are clearly not the only form of expression these students have learned to adopt. Being united by their love for reporting seemed to be the driving force at the convention as each publications' outfit was unique from that of their counterparts. However, while the trends may not align, the reporter catwalk is only one facet of what it means to be a journalist.

Maria Fernandez & Lauren Kaler
Leave a Comment
Your donation will support the student journalists of Coral Gables Senior High School. Your contribution will help us cover our annual website hosting costs.