Crochet for Care Donates to the Local Community
During the COVID-19 pandemic, high school students were bored at home, and many of them took up new hobbies. One Cavalier in particular is sophomore Caitlin Savage who took advantage of the free time she had and learned to crochet from online videos. From there, she continued to practice and grow her passion for the hobby, improving and widening her skills immensely. At first she only knew how to crotchet a small stuffed animal bee, now having been given ample time to put her skills into practice, she was recently able to successfully make her first crochet top that can be worn at the beach.
After many of her friends became aware of her side hobby, they slowly convinced her to start her own business. A year later she decided to take their advice and become an entrepreneur by founding "Crochet for Care". Her main goal for her business was to raise at least $500 through various events to later donate to local organizations or charities.
Christmas Caroling
During late October of 2022, Savage secured a booth to sell handmade Christmas decorations at the annual five-day Christmas Caroling event on Biltmore Way, officially opening her non-profit business.
"Once the caroling event was official, I immediately began to get ready, knowing that I barely had enough time as it is to make the amount of ornaments I wanted. I had help from friends to plan beforehand as well as people who helped me set up and sell at the event itself. I'm super grateful for all of them and I hope that they will continue to be there to help me with future events," sophomore Caitlin Savage said.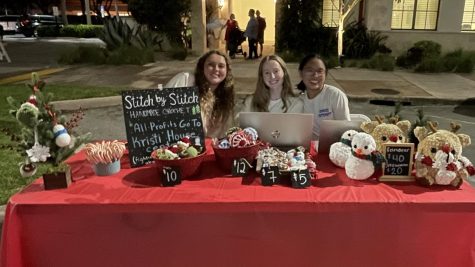 In anticipation for the event, Savage bought supplies, created signs and crocheted Christmas ornaments to prepare for the Merrick Festival Caroling Competition. Armies of snowmen, snowflakes, Yodas, reindeers and hot cocoa mugs filled her room.
On Nov. 30, Savage, alongside a group of friends, arrived an hour early to set up their table. Within a couple hours, sales skyrocketed and by the third day, she was almost sold out. Wanting to meet the high demand, she went home and continued to crochet Christmas decorations in order to keep the booth open for the remainder of the week.
"I thought it was very well presented and I liked how you could see all the ornaments displayed together on the table. The booth felt very welcoming and I was very intrigued to buy one," sophomore Andrea Winkeljohn said.
After the non-profit's first event was officially over, Savage counted the money collected and discovered that Crochet for Care had more than exceeded their $500 goal. One week later, the $500 were used to purchase food and Christmas toys for Kristi House, an organization that fights against child abuse and sex trafficking. The remainder of the money was then used by the organization for supplies for the next event.
Valentine Grams
After a short break from crocheting, she picked up the hobby again for her next event that would take place on Valentines Day. With a little bit of help from friends, she crocheted mini stuffed animals. For $7, students at Coral Gables Senior High could buy a Valentines gram for their friend, loved one or themselves. One gram consisted of a gift bag, a crochet bee or frog, fun dip and a note with a pun.
"I could tell that Caitlin was very nervous to sell her crochet grams. But within the first ten minutes, I knew we'd be selling out," sophomore Naomi Galex said.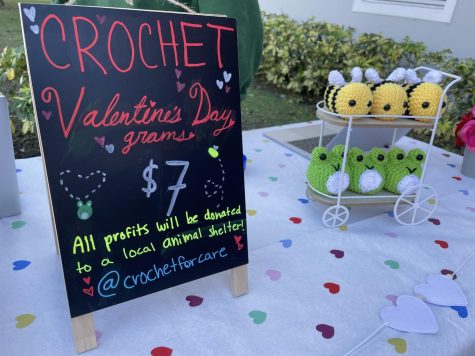 During both lunches, a group of 3-5 people sold the items in front of the 9000 building, promising to deliver the grams on Valentines Day. However, despite originally planning to sell for four days, she sold out after two.
"It was really fun distributing the grams and seeing people being surprised with grams from their significant others. I felt very proud when we were selling because it was a reflection of my hard work. It felt rewarding seeing people buy the products that I worked hard on," sophomore Caitlin Savage said.
Reaching their $500 goal, Crochet for Care is hoping to donate a portion of the commissions earned to Paws4You Rescue, a local animal shelter that tackles issues regarding animal abuse.
Next year, the non-profit plans to widen their business and slowly increase the amount of events held in one year. Additionally, they would like to increase the number of volunteers to help meet the high demand in a shorter window of time.
"In terms of expanding this project, I plan on doing more events, and possibly creating a club with the purpose of teaching more people about the art of crochet," sophomore Savage said.
If you are interested or would like to learn more information, dm their Instagram @crochetforcare. 
Leave a Comment
Your donation will support the student journalists of Coral Gables Senior High School. Your contribution will help us cover our annual website hosting costs.
About the Contributor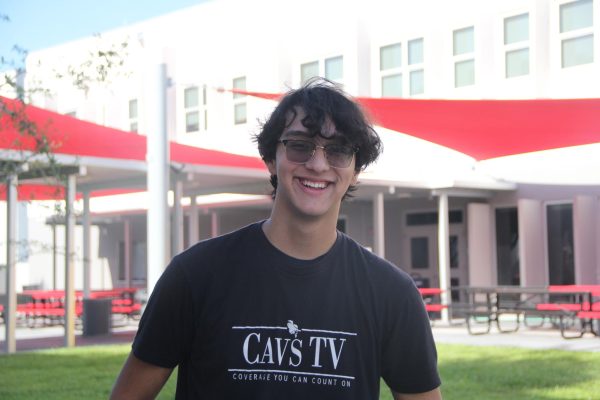 Matthew Castano, CavsTV Staff
Meet Matthew Castano, a talented junior in high school who serves on the boards of FEA, FBLA, and AOF. With a passion for videography and photography,...