Inside a 35-Year Story On Becoming the Heart of Gables' School Lunch, Mary Hodges
With the sound of the lunch bell ringing, students from all corners of Coral Gables Senior High pour into the 9000-building cafeteria, eager to satisfy their growling stomachs. In the midst of lining up for food, one person stands out in the room: Mary Hodges. Whether it is the early morning rush or the hectic lunchtime crowds, Hodges's dedication to service has made her the heart and soul of the cafeteria for over three decades.
Hodges has been a fixture within Gables' school cafeteria for 35 years, having joined the lunch crew as a part-time cook on Oct. 19, 1987. Prior to this, Hodges gained experience in the food industry as a trainee at the University of Miami. Wanting to become a part of Gables as a full-time employee, Hodges saw an opportunity running for a vacant position within the Gables' cafeteria, assistant manager.
Working under the Food and Nutrition Department, the role of an assistant manager is to supervise the operation of the school cafeteria daily. To become an assistant manager, Hodges had to go through a series of qualifications such as completing the Miami-Dade County Public School's cooks and bakers training, cash register training and computer ordering.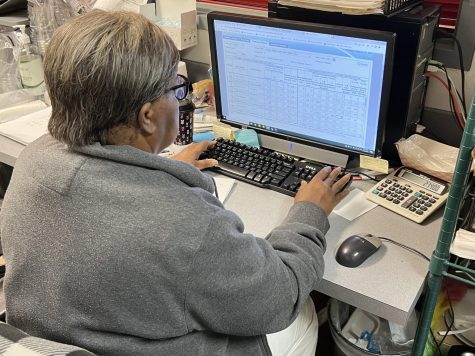 "Since working for Gables, my training was elementary/middle. It took about six to nine weeks for cooks and bakers. For orders, I had to take a food and nutrition class where I was taught how to order food. I had some experience already and I was mainly already doing the job which counted, so I just needed the certification from the training to make it official and for a principal at Gables to hire me as one," satellite assistant Mary Hodges said.
After successfully completing her training in 1993, Hodges was appointed assistant manager by Gables' former principal, Dr. Martinez. However, in 1995, Hodges made the conscious decision to transition to the role of satellite assistant. As a satellite assistant, her new responsibilities were centered around food service, maintenance and cash registering. Hodges' decision was motivated by her desire to become more engaged with her staff members and interact more closely with the Cavaliers.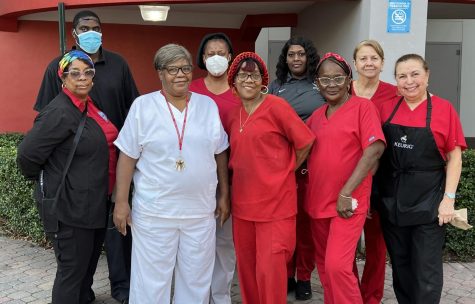 "I learned everything is changing. It's constantly changing. If it means going into the kitchen and cooking, serving on the line, cleaning the floors and cleaning the pots and pans, that's your job description even if your satellite assistant or assistant manager," satellite assistant Mary Hodges said.
While Hodges began her journey in the 7000-building cafeteria, in 2018, the building was demolished to make way for a newly renovated building combining both the 6000 and 7000. As a result, Hodges was displaced to the 9000-building cafeteria, where she had the opportunity to work with a new group of staff members and experience a different side of Gables' cafeteria operations.
"It's going to be devastating because Mary is always on point. I love that she does what she needs to do and always pushes herself even more. When our cafeteria offices came together, we just bonded immediately and it's going to be hard to just walk in the morning and not see her sitting there," cafeteria manager Lacretia Strickland said.
With Hodges leaving her position, there will be a significant gap to fill in the school cafeteria team. However, Mary Lovett, one of the other satellite assistants, is ready to take up the task of fulfilling Hodges' shoes. As a long-time colleague and friend of Hodges, Lovett has learned a great deal from her and is well-equipped to continue Hodges's work.
"I had the privilege of working alongside her [Mary Hodges] for more than seven years, and I can confidently say that she is one of the most compassionate and nurturing individuals I have ever met. She taught me to keep it by the book so that one day when I'm in charge, I'll know what to do. She really took no punches until it was time for her to go and she will be missed," satellite assistant Mary Lovett said.
Leaving her Gables' apron full of memories in the 9000-building cafeteria by the end of February, Hodges looks forward to spending time with her grandsons in Georgia and South Carolina whom she has not seen since the COVID-19 pandemic. Whether Hodges is cooking up a new recipe, chatting with a student, or managing her team of kitchen staff, Hodges's passion for her work shines through in everything she does.
Leave a Comment
Your donation will support the student journalists of Coral Gables Senior High School. Your contribution will help us cover our annual website hosting costs.
About the Contributor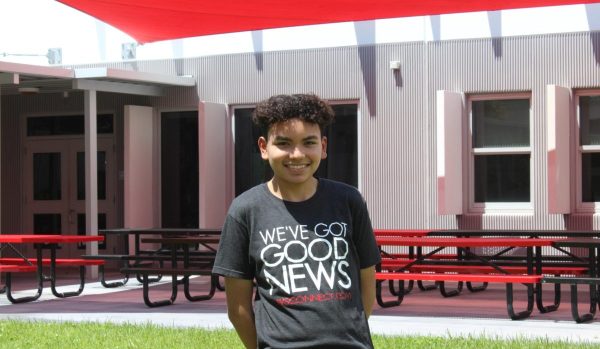 Aaron Rojas, CavsConnect Faces of Gables Editor
Entering his third year in CavsConnect, Aaron Rojas is the newest editor on the team for Faces of Gables. As he enters the ranks of rising juniors in the...