Empowering Down Syndrome Individuals Through Mr. Paz's Soccer Clinic
Mr. Paz's passion for soccer has thrived since his days of playing for the National Collegiate Athletic Association for Florida International University in 1984. Only two years later, the alumnus returned to Coral Gables Senior High as a soccer coach and economics teacher. Continuing to expand his legacy as a sports fan and a mentor, Mr. Paz has gone so far as to develop a program of soccer clinics for children with Down Syndrome.
The idea behind the clinics came to Mr. Paz after the birth of his niece, Elisa De Castro, who was diagnosed with Down syndrome. Making an effort to provide enrichment for young patients like his niece, Mr. Paz decided to launch a soccer clinic designed for children with the same genetic disorder.
"
My favorite things to do at the clinics is kicking the balls into the nets. I like when my favorite uncle [Mr. Paz] does these types of clinics for kids since it means a lot to me,
— Mr. Paz's niece, Elisa De Castro
"When my niece was born, my sister-in-law and I wanted to collaborate on how to help people with Down syndrome. I have always been involved with the game of soccer ever since I was at Gables back in 1979, and I saw the necessities, most importantly doing the research on motor skill development for children and their body movement. One of the most common ways to enhance motor skills development was playing soccer, and so I decided to found a therapeutic program related to soccer," Mr. Paz said.
Founded in 2005, the soccer clinic is co-operated with the Down Syndrome Association of Miami and the University of Miami. It balances promoting soccer education and social interaction through winter and spring sessions organized by Mr. Paz's team of volunteers.
"Our clinic has also worked with the National Down Syndrome Society to better serve families with children affected by Down [Down syndrome] in Miami-Dade County. The Board of Directors for Pinecrest Premier Club and volunteers visit hospitals to introduce the clinic as a resource for parents to cope with the challenges that arise when raising a child with Down syndrome, particularly during their early years," Mr. Paz said.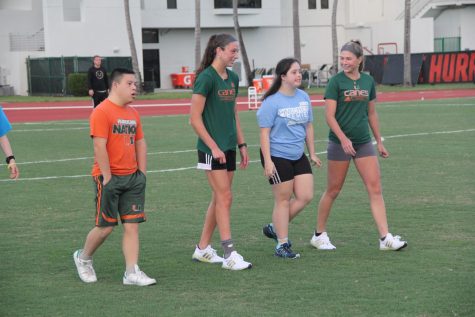 Each session propounds a variety of engaging activities. Mr. Paz and the volunteers introduce participants to agility exercises, such as jumping on hula-hoops, ball calisthenics and footwork techniques. Throughout the session, patients receive comprehensive instruction to maximize skill development.
"It's fantastic and they all want to come back and keep asking 'When is it again?' and we're doing as many promotions as we can to get the word out. The clinics kind of gives the children exercises to feel a part of the group with the volunteers and its mostly an inclusion for them to have fun as well," Board of Director and Co-Treasurer of DSAOM, Clara Gutiérrez De Castro said.
Hosting events at either the Pinecrest Community Center, Pinecrest Gardens or UM Cobb Stadium,  Mr. Paz attracts around thirty participants per clinic. To ensure that participants receive proper attention, he assigns a minimum of two volunteers per individual.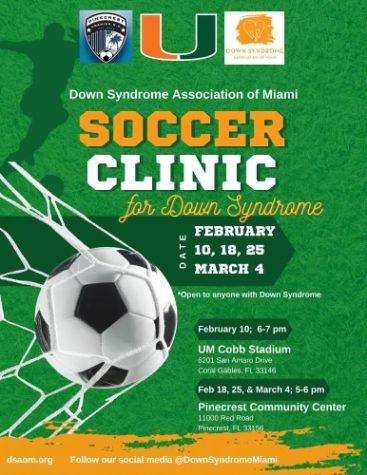 "Get involved and make a difference. Volunteering at the clinic is not just about giving your time, but also about sharing your passion for individuals that have Down syndrome. It is an opportunity to connect and make a positive impact on a kid's life," senior Emma Devaux said.
As the clinic expands, it has attracted participants from neighboring Florida counties like Palm Beach, Broward and Monroe, though mainly operates in Coral Gables.
"Getting families, especially children with Down syndrome, to attend our clinics is challenging due to their condition which may cause them to have breakdowns during travel. To address this issue, having clinics in three different regions: north, south, and center would help eliminate the difficulty of families traveling from far distances from South-Dade Homestead or the Upper Keys," Mr. Paz said.
One of the largest obstacles to expansion is acquiring resources to meet the demands of the growing soccer clinic. This requires specialized equipment, facilities and a dedicated team of volunteers who can provide support to individuals with Down syndrome.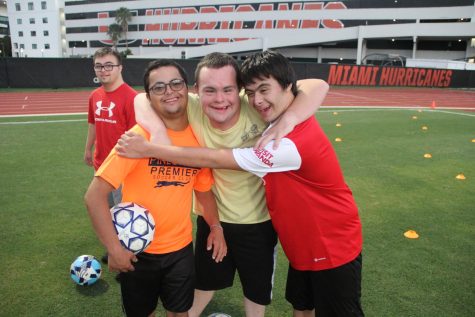 "The goal of the program is to run it year-round, however, this requires a substantial amount of resources and volunteers. At present, we are unable to meet these requirements. To do a summer season of clinics, we need to find an indoor facility as the heat during summer can cause discomfort for our patients with Down syndrome, leading to sweating, itching and overheating. As of now, we can only do a spring and winter season of clinics," Mr. Paz said.
Recruiting volunteers to the field also proves challenging. Mr. Paz urges his students to volunteer, explaining how the primary role of a volunteer is to engage in kicking activities and facilitate social interaction by exercising alongside the participants.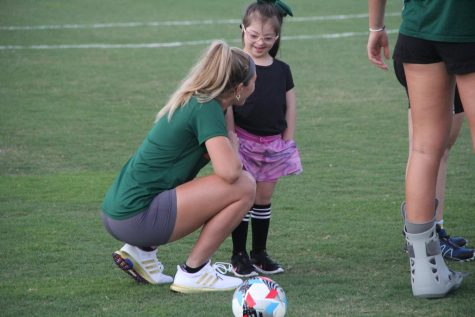 "When I tell my class or any student about my soccer clinics, they are usually startled or scared to do it, and I always inform them, 'You do not need to be professional at soccer or need any certifications to interact with people that have Down syndrome, as long as you are able to help kids smile and have fun,'" Mr. Paz said.
Over the past 17 years, Mr. Paz has expanded his outreach to various organizations, including Premier Soccer Club and FIU. He also collaborates with UM student, Skylah Klein, who has previously worked with Gables' Best Buddies, to increase awareness of Down syndrome with one-to-one friendships.
"I went out to look for a way to incorporate something related to Down syndrome and my co-agent athletics life. Eventually, a family member of mine connected me with Mr. Paz about a soccer clinic supporting Down syndrome. After mutual calls and emails with him, I spoke with my soccer coaches and teammates in order to help the clinic collaborate with our colleagues in some way," UM student Skylah Klein said.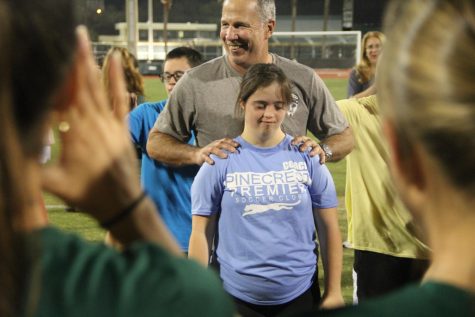 Mr. Paz's Soccer Clinic offers a safe and inclusive environment where individuals with Down Syndrome can express themselves freely and participate in fun activities. The sense of community cultivated by the clinic fosters a space for learning.
"Just the support group and professionals are spectacular. We have our board members, lawyers, doctors, teachers and other professionals who have kids with Down Syndrome and are out there passing the word around the community about our clinics," Mr. Paz said.
From his triumphant days as a youthful player at Gables to his ongoing efforts now, Mr. Paz's passion goes deeper than his love for soccer. By illuminating a path for children with Down syndrome, Mr. Paz personifies the true Cavalier through his community projects.
Leave a Comment
Your donation will support the student journalists of Coral Gables Senior High School. Your contribution will help us cover our annual website hosting costs.
About the Contributor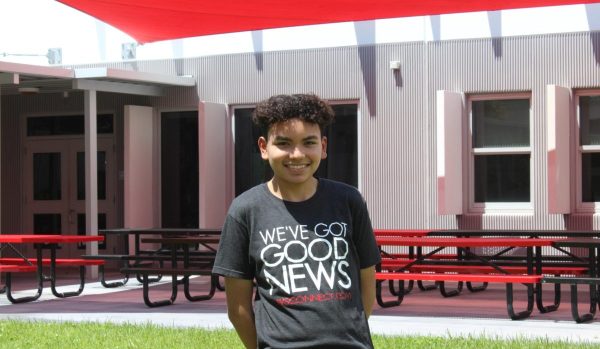 Aaron Rojas, CavsConnect Faces of Gables Editor
Entering his third year in CavsConnect, Aaron Rojas is the newest editor on the team for Faces of Gables. As he enters the ranks of rising juniors in the...