Green Gables Gives New Life to Food Waste
As a Florida Green School Designation, Coral Gables Senior High's students have always been invested in implementing eco-friendly projects on campus. Its newest addition involves composting, where bins are placed in the cafeteria kitchen in an effort to reduce food waste. Project Green is in charge of this initiative, recruiting teachers and students from all grade levels to participate.
A student-run organization at Gables, Project Green aims to bring the school together through various environmental initiatives. Stemming from the Aspen Challenge, which ran from January to March 2022, this group was formed by Gabriela McGrath-Moreira, Lenox Balzebre, Natalie Muniz, Grace Zaky, Ihtzel Michel and Abril Oregon, Cavaliers of all grades who wanted to pursue further action at school to promote eco-friendliness.
English and Inquiry Skills teacher Ms. Lefebvre became the sponsor of Project Green after co-coaching the team with Ms. DePaola for the Aspen Challenge. Through research and student connections, she was able to contact companies that help schools around Miami-Dade reach their sustainability goals. She has guided the team through the administrative and legal procedures to run all these initiatives.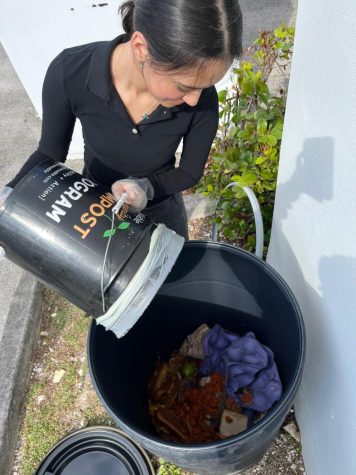 The students' initial challenge idea of adding an environmental awareness book to summer reading lists was approved by the principal and implemented by the language arts teachers at Gables. The group received the "originality" award last March, from the Aspen Challenge, along with a $500 prize fund which was used to further support their aspirations of keeping the project running for the next generations of Cavaliers. 
"We really wanted to create an environmental vision for the school for which we can leave a legacy. We want to make sure this project keeps going and conquer our goals, the first one being food waste, which is how we came up with composting," junior Gabriela McGrath-Moreira said.
Wanting to make an immediate change on campus grounds, members of Project Green met to brainstorm a new project that would reduce the amount of food waste produced at Gables; the seeds of their composting initiative project were planted in early December. Gables' Parent Teacher Student Association provided funds to support the team's initiative and came in contact with Renuable, a company already involved in several local community composting projects.
"I am very proud of the composting initiative, we had been in the planning stage for a bit, and I was just excited to be able to implement it. I think it will be very beneficial to the sustainability of our school," junior Natalie Muniz said.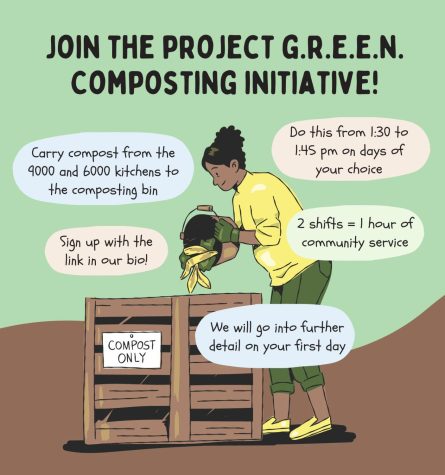 The composting plan is divided into two phases. The first focuses on helping kitchen cafeteria staff separate food waste that is compostable, from breakfast and lunch, into designated buckets. Student volunteers then pass by after second lunch and take the buckets to bring them to a larger bin, where Renuable comes by once a week and picks up the food waste.
The second phase, which is planned to debut soon, will include composting the student trays at lunch so that Cavaliers can get involved in the process themselves. These trays, made of cardboard, are eco-friendly and can already be composted; the logistical part is currently the only obstacle as the trash cans have to be labeled to avoid students throwing non-compostable matter in them.
"We are starting to come across political obstacles, but one selling point is that there is money to save in implementing these environmental actions. There will always be pushback but we are in Florida and this is bound to happen anyways. We are just doing the best we can with the resources we have," Ms. Lefebvre said.
Project Green does not plan on stopping at food waste; it is also in the process of debuting a new initiative that revolves around recycling. The end goal is to expand recycling at Gables by working with Lady Green Recycling, to make it more accessible for all students and faculty. By the end of February, Project Green aims to have recycling bins placed in common areas, such as the lunch tables and cafeteria, with clear instructions on what can or cannot be recycled.
For more information and updates regarding Project Green and its initiatives, click here.
Leave a Comment
Your donation will support the student journalists of Coral Gables Senior High School. Your contribution will help us cover our annual website hosting costs.
About the Contributor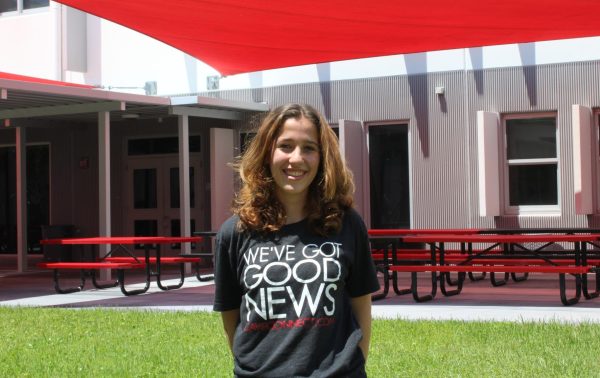 Laura Ridoux, CavsConnect Co-Editor-in-Chief
Laura Ridoux is a senior in the International Baccalaureate program. This is her third year in CavsConnect and she is very excited to return as co-editor-in-chief...