Mr. Rodríguez's Journey: Publishing his Debut Book, Periodic East
From Los Angeles to North Carolina, Mr. Rodríguez has been all over the country, where he found his source of inspiration for the development of his very own first science fiction series. A story about how the differences in people will make or break you, Periodic East is the first book in an original trilogy. 
In Mr. Rodríguez's novel, the setting exemplifies a dystopian society that operates on a strict "my way or the highway" mentality. The story is told through multiple perspectives, where the choices made by the characters will determine if they collaborate to survive or sabotage each other. The dual narrative structure of the book poses the question of whether unity or self-destruction will be chosen.
"As you're reading and watching these characters go through these events, I intend that you are able to seamlessly put yourself in that position, put yourself in that nuclear winter, fighting for survival, put yourself on Icarus in this space station. How would you survive or what would be your first instinct if you were put in this situation," Mr. Rodríguez said.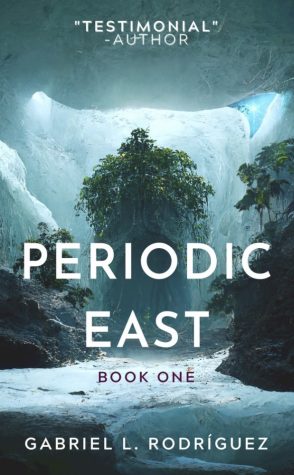 For the past eight years, Mr. Rodriguez has been determined to finish his writing projects, surpassing any challenges that come his way. Moving to Los Angeles from Miami to pursue his writing career presented a unique set of difficulties, in the form of a highly competitive environment and stressful writing atmosphere.
Despite the negativity and pressure, Mr. Rodriguez transformed it into an inspiration, a tool to produce his best work. The obstacles he encountered in L.A. only fueled his passion to pour more of himself into his book, resulting in his continued perseverance to reach his end goal, finishing his novel.
After relocating over two-thousand miles away to pursue new opportunities, Mr. Rodríguez began anew in North Carolina, eager to leave behind the toxic environment of L.A. This change of scenery continued to flourish his writing career, where he received recognition for his work by winning awards for best screenplay at the L.A Crime and Horror Festival and successfully selling his first script, "Lapse".
As he neared the completion of his book, Mr. Rodríguez decided to return to his hometown of Miami. Upon his arrival, he began networking and reaching out to various publishers in the area.
Through one of his connections, he was introduced to Flor Ana Mireles, a publisher who shares his passion for storytelling and has a reputation for working with emerging authors. Over the past few months, Mr. Rodríguez and Mireles have been working closely together to bring the book to its final form. They have spent countless hours perfecting the cover design, crafting compelling blurbs and fixing any pending edits, necessary to ensure the book was ready for publication on time.
"
It's been six years since the blast; six years since First Contact was made. A young man named Tiberius reluctantly leads a small group of survivors in the nuclear winter while, hundreds of miles above Earth. Sam, a mediator on the state-of-the-art space station and satellite Icarus, faces his own demons after he believes he has discovered a stowaway on board,
— Mr Rodríguez
"Working with Gabriel has been a pleasure. I'm not the biggest fan of science fiction literature, but there's something about Periodic East that captivated me, and it definitely has to do with the characters and Gabriel's enthusiasm for his work. It's amazing to see Gabriel's love for this series and I'm honored to be helping this dream come to fruition," Flor Ana Mireles said.
Mireles's intuition about Periodic East proved right, as the novel was given the "Literary Titan" award. This award highlights books that expertly deliver complex characters, intricate worlds and thought-provoking themes. The ease in which the story is told demonstrates a reflection of the author's talent in exercising fluent, powerful and appropriate language.
"I'm an enormous enthusiast of dystopian novels, and this one seems to come close to a dystopian world while still staying within the sci–fi genre. Knowing the author personally gives me a unique connection to the book and I'm so proud to witness their journey as a student," sophomore Josue Garcia said.
In preparation for the novel's release on Feb. 28,  Mr. Rodríguez has signings planned throughout Miami, at Barnes & Noble and Books & Books. He is looking forward to continuing this literary series and pursuing his journey as a writer. Having already planned the creation of several upcoming books and new literary ventures, he aims to explore new projects that will challenge him both as an individual and a writer.
Leave a Comment
Your donation will support the student journalists of Coral Gables Senior High School. Your contribution will help us cover our annual website hosting costs.
About the Contributor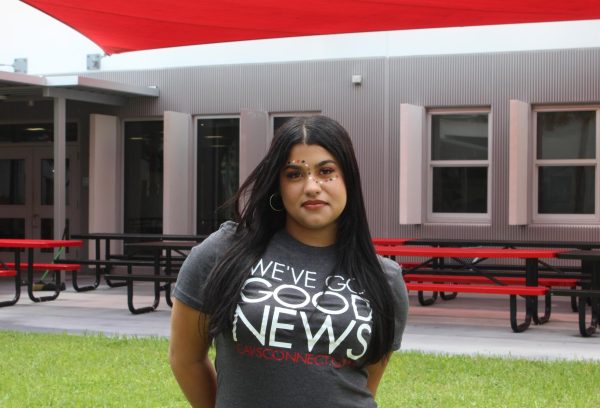 Selena Feal, CavsConnect Staff Writer
Meet Selena Feal: a spirited sophomore navigating her way through the Health Science, Public and Law academy. Going into her second year in CavsConnect,...