Posse Scholar Zarah Correa Makes Her Way to Davidson College
Entering their last year of high school, the Class of 2023 has found themselves busy scouring options for their future, from researching scholarship programs to applying for universities around the nation. After completing this extensive process, senior Zarah Correa has uncovered her path to Davidson College with help from her Posse scholarship. Taking steps throughout all of high school to accomplish such, Correa has made a name for herself at Coral Gables Senior High, hoping to carry it with her all the way to Davidson, N.C.
Claiming many titles at Gables, starting with secretary of Film Club, Andrea Jaime Medical Club and National Honor Society and ending with Yearbook Editor-in-Chief, Correa was a perfect candidate for the Posse scholarship. Learning about the program through her sister, a previous Posse scholar, she was immediately attached to the idea of having a support group throughout the next chapter of her life. When Ms. Driver and Ms. Suarez offered her a nomination, she jumped on it, ready to submit herself to the opportunity.
"
She tends to become devoted in whatever she is apart of, and I knew when she told me she was considering applying for Posse that she was going to pull her all into it. Well, I never thought it was impossible for Zarah to get Posse, but I somehow knew it was going to happen when she told me one of her big meetings was going to be on my birthday. I thought it was funny that this major decision for her would be made on my birthday.
— senior Sarah Whalen
Consisting of three meetings from September to December, earning this scholarship has been known to be a lengthy process, testing out each nominee's academics and individuality through each trial. During round one, over 1,200 applicants from all districts were grouped together and challenged to make a structure out of straws depending on only one of their hands and a lot of team work to get them through. Selectively shortening the list of names, Correa was ecstatic to hear she was invited back to the next meeting. Here, Posse interviewers strived to personally discover candidates outside of their academic resume. Marking the last step, her final assessment included a scavenger hunt and a circle discussion with other Posse intellectuals.
As she finalized her interviews, she awaited the big news. About two hours after the third meeting, Correa received a text asking her to meet on a video call. Assuming it was to answer a few more questions, she nervously wracked her mind through every possible challenge they could put her through next. She quickly pulled out her laptop in hopes of hearing the words, "You did it." As the director declared her victory she felt on top of the world, calling her family into the room to celebrate as well.
"Because the process is so spaced out from August to December, it was enough time for me to start doubting if I had made it through. The director was so nice, and she just had this smile on her face before she delivered to the news. So when she told me, I just remember smiling so hard my cheeks hurt. I couldn't believe it, and I just kept mumbling 'Oh my god', and 'Thank you so much,'" senior Zarah Correa said.
Before applying, Correa was tasked with researching each university to which Posse offers a scholarship. Prioritizing a smaller school with an exceptional science program and a home close to her sister, she chose Davidson College as her future for the next four years. Though she imagines herself completing her bachelor's degree at Davidson, she also sees New York as a step ahead. Hoping a top college like Columbia University crosses her path, Correa pictures finishing medical school in "the city that never sleeps". Though she has not narrowed down her specialty yet, Correa has decided to let time guide her through choosing either cardiology or surgery.
"I've always wanted to be in the medical field. I remember being in elementary school, stressed about my career. When I look back at it now, I just wonder why. Nobody I know was doing that. I think that I've always been very determined to find what my 'thing' is. By going on that mission, I found out that I was really fascinated by medicine, anatomy and physiology," senior Zarah Correa said.
Beginning her freshman year as a shy girl with a need for perfectionism, Correa will leave the building as a confident leader, unafraid to submit herself to a challenge. Knowing the next four years will be filled with them, Correa has prepared herself to use practices she has learned throughout high school, such as completing tough deadlines while in Yearbook or organizing duties on the NHS board, to get her to that degree.
"Zarah is the most hardworking, dedicated person I know. When she sees an obstacle, she doesn't hesitate to find a way to overcome it. Zarah was not dealt with the best hand, but she has managed to master the game. She's always there to support her friends and Yearbook staff, and will never fail to make you laugh. It's an honor to be surrounded by people like her. Davidson is lucky to call her their student," senior Sofia Bronstein said.
With the support from her friends and teachers, Correa hopes to carry out her future endeavors with her best foot forward, and most of all, become a leader within her Posse group. Completing her Alma Mater, Correa will take her legacy wherever she may go next.
Leave a Comment
Your donation will support the student journalists of Coral Gables Senior High School. Your contribution will help us cover our annual website hosting costs.
About the Contributor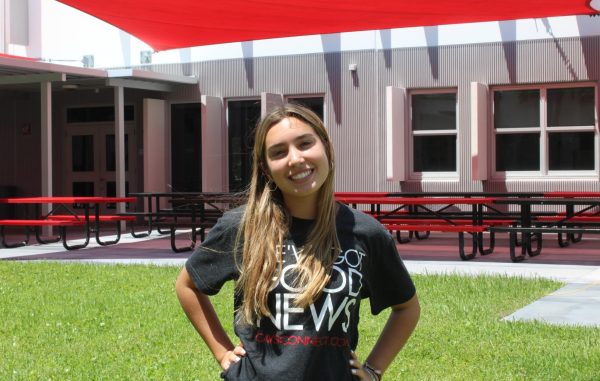 Angelina Morffi, CavsConnect Co-Editor-in-Chief
Junior Angelina Morffi has spent her past two years embodying the term, "school spirit," and it remains on the top of her agenda for her third year at...