Behind the Lens: Sarah Whalen
Scrolling through social media platforms, teens usually try to find themselves amongst posted photos or spotlighted in videos. However, less attention is given to the person who actually takes the pictures, the one behind the camera working to get the best shot without being in a single one.
Whether capturing special moments with friends or running across campus to cover an event, senior Sarah Whalen can almost always be found with a camera dangling from her neck. As the photography editor of the Cavaleon, the yearbook publication, she catches every instant on campus while featuring as many students as possible.
"I remember I went to a junior varsity football game freshmen year and I was taking a bunch of pictures. The sports editor at the time, Jasming Senel, said the pictures were good but that it was not what Yearbook was looking for. That is when I realized I actually had to take pictures and include faces because students want to see their faces in the yearbook," senior Sarah Whalen said.
Compromising with her best friend Zarah Correa, current editor-in-chief of the Cavaleon, before they entered the publication freshman year, Whalen decided to take on photography while Correa took on writing. Using her own experience and the advice from editors during her underclassmen years, Whalen's passion for photography has proven to be a driving force through high school.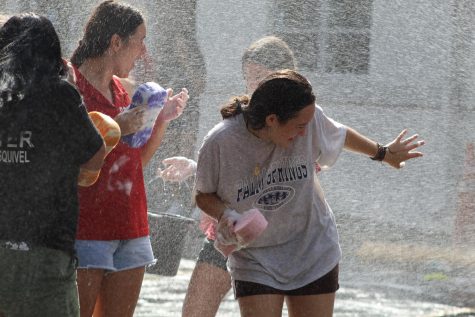 "Sarah brings a lot to Yearbook, she brings a lot of energy, constantly talking about all the assignments we can do. Oftentimes I will be on my way home and she will already be on HJ, which is the website we use, showing just how dedicated she is into her craft. She also offers much insight on how we can be more organized," senior Zarah Correa said.
Her passion for photography started at a young age, when her father brought back minuscule cameras that he found at his job. Intrigued, Whalen asked for and received her first camera at seven years old, for Christmas, where she mainly used the sport and portrait modes. It was not until ninth grade that she began to capture every moment, day and night, on assignments for the publication. Struggling at first, Whalen developed her skills to reach the point where taking pictures became a pastime rather than an obligation.
"
I think Sarah has a hit-and-go relationship with her photographers, she's quite enthusiastic about photography. I think that to really get to know her, you need to work with her and then you will learn a lot. If I ever have a problem with my camera, she is always more than willing to answer any questions, whether it is about uploading pictures or changing settings on my camera,
— junior Adriaan Guerrero
"Sarah is such an underrated student in this school. She does more for this school then most people do," Mr. Nelson said.
Wanting to express her love for photography with others, Whalen holds the position of photography editor in Yearbook, a title whose responsibilities range from making sure equipment is available to scheduling which photographer will cover which event. Whalen is always open to answer any questions photography related, whether it is for an assignment or personal use.
"Being an editor is fun because I get to pick up the slack of what people can't do. I have photographers who have jobs, tutor students, or are in a sport and I have time after school. As photography editor, I get first pick for events which I like because I can cover an event I want such as a pep rally," senior Whalen said.
Whalen's creative side pushed her to further explore the art of taking pictures outside of school, this time with a film camera. Sharing her work, the senior started posting these pictures on her spam Instagram account, filmophobic, which turned into a photography display. Over time, the account came to include both film and pictures taken for Yearbook. Whalen wants the account to be and remain anonymous as she prefers that her audience appreciates the pictures without knowing who took them.
"I definitely enjoy not being in a picture, whether it is Fox-Mar, CavsTV or even Highlights. I would rather be behind the camera, you feel in control. If I do not like the way a photo looks, I can move and make it look better from a different angle," senior Whalen said.
Aside from taking pictures, Whalen has a passion for cinema which she discovered due to her continuous love for watching movies. Spending most of her weekends at movie theaters, she began volunteering at the Coral Gables Arts Cinema in Miracle Mile, where she was in charge of scanning tickets. Whalen got to enjoy the movie playing free of charge after her work was finished.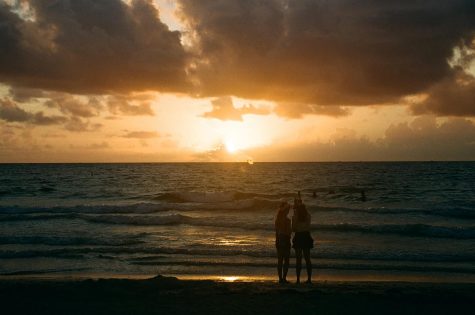 The art of creating movies peaked Whalen's interests, pushing her to study film in college, more specifically in the realm of film production. The idea stemmed in the summer before her eighth grade year, when she decided to keep track of the movies she watches. Ever since, she dreamt of incorporating her creative nature into the direction of a movie production. As president of the film club, she is able to channel her ideas inside of the school walls.
"Sarah is funny, sweet, hardworking, dedicated and somebody who takes the initiative, she is very fun to be around," Yearbook adviser Ms. Zuniga said.
Her last year at Gables, Whalen plans to enjoy her final high school moments with her Yearbook team and friends. Keeping her eye behind the lens, she will continue taking pictures, capturing intimate moments in the lives of others and her own.
"The thing I want to tell people is that they should just take pictures of everything they see, everything they do especially if they go somewhere. You never know when you're going to forget these things and you might want to be able to look back on your memories," senior Whalen said.
Leave a Comment
Your donation will support the student journalists of Coral Gables Senior High School. Your contribution will help us cover our annual website hosting costs.
About the Contributor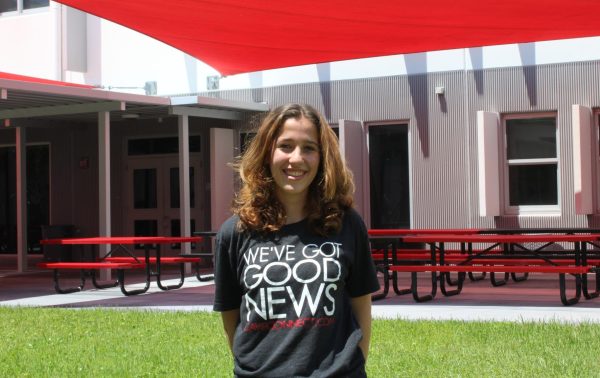 Laura Ridoux, CavsConnect Co-Editor-in-Chief
Laura Ridoux is a senior in the International Baccalaureate program. This is her third year in CavsConnect and she is very excited to return as co-editor-in-chief...