Alejandro Nieves Propels Himself into the Future
Pointing students towards a life of service, the Junior Reserve Officers' Training Corps is responsible for educating individuals on future military opportunities. Marching with his squadron, sophomore Alejandro Nieves continues to demonstrate his loyalty to the program, after two years with the Cavalier JROTC program. 
Nieves expressed substantial consideration for the military long before high school. Although there are no veterans in his family, he was familiarized with all the requirements and skills necessary for a military-based career upon finding JROTC. Establishing a niche at Coral Gables Senior High, in room 6204, Nieves recited his cadet creed and was sworn in his freshman year.
"Alejandro is very proactive and interested in the program. Educational-wise the classes he is taking for JROTC will help him learn teamwork and leadership that will serve him well in the future. He is very smart, outgoing and he likes being here to learn as much as he can," Major Chavez said.
"
In ten years I find myself being in the Air Force. I think JROTC can help me prepare for what's to come by teaching me discipline and leadership skills I can potentially use in the future,
— sophomore Alejandro Nieves
From the very beginning, Nieves learned two essential qualities from instructors Major Chavez and Sergeant Gibson: discipline and responsibility. Dressed in the JROTC uniform once a week, he is obliged to partake in mandatory physical training on the Gables track.
"Major Chavez and Sergeant Gibson are great teachers and want [their] students to succeed…they help us prepare for the Raiders by making us run and work out to get into shape, while constantly pushing us to become better everyday," sophomore Nieves said.
Nieves volunteers for Raiders, the yearly competitions hosted by JROTC that test both stamina and endurance. Staying behind every Monday through Thursday, he understands the value of commitment and working toward goals. A typical Raiders practice commences at 2:30 p.m., where all participants meet by the 6000 building courtyard, dressed in camouflage and ready to march onto the track.
Exceeding his physical boundaries, Nieves competes in three different events with Raiders. These include a five kilometer race, a mile run with 95 lbs weights known as the "Cross Country Rescue" and the "Rope Bridge", where teams cross an elevated rope in short periods of time. Whether lifting sacks or maneuvering obstacle courses, Nieves' passion for JROTC is manifested through competitions twice a month.
Although he maintains a serious attitude, Nieves does enjoy hanging out with classmates outside of JROTC related events. Throughout a two-year span, Nieves has formed tight friendships with Cavaliers in the Health Science, Public Service and Law academy.
"My take on JROTC so far is that it has been a great experience, because I am learning skills and lessons I can use in the future, while making new friends and growing the relationships with them while we are competing together," sophomore Nieves said.
Striving to reach new heights, Nieves plans to enlist in the United States Air Force Academy post-graduation alongside the class of 2025. Despite an acceptance rate of only 13%, he confidently awaits his future and utilizes JROTC to practice and prepare for the challenge ahead. Having larger goals in mind, Nieves intends to serve the Gables community for the next two and a half years. For now, he represents a model student committed to service.
Leave a Comment
Your donation will support the student journalists of Coral Gables Senior High School. Your contribution will help us cover our annual website hosting costs.
About the Contributor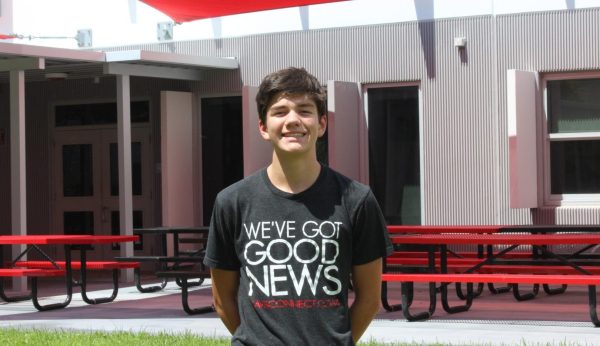 Andres Rodriguez, CavsConnect Sports Editor
Andres Rodriguez is a junior and retains the title of CavsConnect Sports Editor. Studying in the International Baccalaureate program, Andres is looking...