From CavsConnect to UMTV & Marlins Producer: Daniel Toll
Having fallen in love with the journalism field at Coral Gables Senior High, class of 2020 graduate and former CavsConnect Co-Editor-In-Chief, Daniel Toll, continues to pursue his journalistic passion at the University of Miami with a major in broadcasting journalism and a minor in sports administration and advertising.
With a Cuban family lineage of baseball players and fanatics, Toll followed suit from his introduction to baseball at 2-years-old. However, during his sophomore year at Gables, Toll decided it was time to hang up his cleats and baseball bat to focus on his academics rather than being drafted by a professional baseball league. 
After putting a halt to his athletic life, Toll still yearned for the sport and desired to remain involved in it to some degree. Instead of being the sports magazine feature, he decided to become the feature writer himself. Considering that he loved writing articles and essays, Toll chose to apply for CavsConnect, Gables' online newspaper.
"When we were short a sports editor, I was going to place one of our current editors at the time to fill the role, but when I met Daniel, I felt like he would be so great for the position because he was very passionate about sports. He had recently left the baseball team and had a lot of free time, so I gave him the role of sports editor. He was always on top of deadlines and eventually when he became Co-Editor-In-Chief, worked hard to create a family within our staff, making the class truly feel like a team," Mrs. Passwaters said.
After applying for multiple editor positions, Toll eventually received the sports editor position in his first year with the team. Despite his lack of expertise in editing and writing articles, he had the skills to become Co-Editor-In-Chief alongside fellow graduate Alexander Yagoda during his senior year.
"Danny had a very unique energy since he always got us excited to be writing something and showed his effective leadership skills in bringing the class together like Top Story Crown, where editors would nominate the staff for the cycle sheet and take pictures on Instagram. Even during the [COVID-19] pandemic, Danny always found a way to unite everyone in a Zoom meeting, going to each staff in the call to suggest article ideas for the cycle," senior Sofia Cruz said.
Once Toll began his college life, he decided to explore a different side of journalism and pursue television production with UM Television. Toll worked from 9 a.m to 8 p.m. as a crew member and producer for the @um_tv weekly Instagram segment from Aug. 2020 to June 2021. Following his sophomore year of college, Toll became an executive producer for SportsDesk, where he highlights UM's athletes and adds commentary on sports games.
"When I learned the importance of green stories at a conference like FSPA, which are stories that can last forever and still have the same impact on a person, I felt that Bonavita's ACL and meniscus tear story took something she loved, playing [soccer], and with the team still giving her the position of team manager, it almost felt as an honorary thing for her to still be part of the team in some way," Toll said.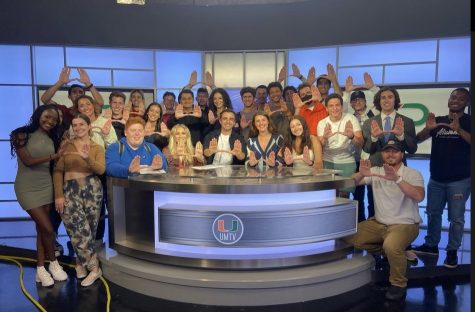 Having worked under the Athletic Conference Network for two and a half years now, Toll's advisors saw his ambition to work with the Marlins. Through connections and networking, Toll was able to secure a part-time job working with the Marlins this past summer. Although he is currently not working with them, he is on their potential roster for events like the World Baseball Classic, starting on Mar. 8, 2023.
"Something that is applicable to my life is 'Never miss twice'. If you miss one deadline, that's fine stuff happens. Don't miss the next one. Do everything you can and make that missed deadline worth it when the next one comes around or you fall short. Just try to focus on being your very best every single day even if something doesn't pan out the way you wanted it to be," Toll said.
Toll's experiences at Gables showed him the true worth of investing in your interests; something he is applying during his time as a UM hurricane. After having a taste of working with his favorite baseball team as a production crew assistant, Toll is completely dedicated to combining his love of both sports and journalism to find a profession he is truly passionate about.
Leave a Comment
Your donation will support the student journalists of Coral Gables Senior High School. Your contribution will help us cover our annual website hosting costs.
About the Contributor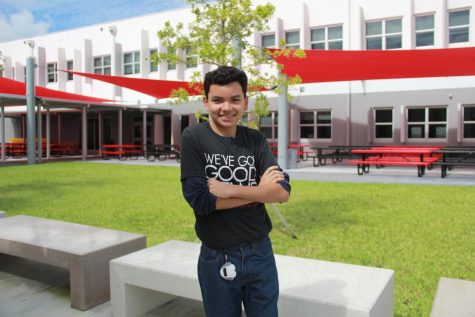 Aaron Rojas, CavsConnect Staff Writer
Aaron J. Rojas-Avila is a sophomore in the International Baccalaureate program at Coral Gables Senior High. Aaron is enthusiastic to be returning for a...