Human Body Enthusiast at Gables: Ms. Anger
Having recently generated a lot of attention, newly hired Anatomy & Physiology teacher, Ms. Anger is the first source of information for any human-body related questions. Decorated with years of experience, she enters Coral Gables Senior High with a smile on her face.
Despite her initial goal of becoming a family doctor, Ms. Anger's plans shifted after shadowing a urologist during adulthood. Her interest in medicine eventually waned at Florida International University, where she majored in biology. While considering potential career routes, Ms. Anger was introduced to teaching via an exploratory course for educators at FIU. 
"I was fascinated with the wonders of the human body early on. My parents often joke about some of the questions I used to ask as a child [and how] they had to really think before answering," Ms. Anger said. 
"
My fascination with the human body is one of the reasons why I wanted to become a doctor. I enjoy working with different age groups, so I always thought of becoming a family doctor. But after shadowing a urologist my interest in family medicine has shifted a bit,
— Ms. Anger
Over time, Ms. Anger's relationship with children flourished due to a part-time job at Georgia Jones Ayers Middle School. Tutoring small groups of students, Ms. Anger realized her potential as a science interventionist who could help them improve academically. 
"I decided to teach because I think teaching is one of the very few professions that allow me to positively impact the lives of so many future leaders. I wouldn't say I change gears entirely; medicine is still very close to my heart," Ms. Anger said.  
Ms. Anger's former position inspired her to participate in teachSTRONG, hosted by Miami Dade County Public Schools. During the six-week training program, Ms. Anger was granted the opportunity to apply her science background into the classroom. She received an official teacher certification and later taught seventh grade science at North Miami Middle School, before departing for Gables. 
Striving towards a learner's environment, Ms. Anger's primary focus with Anatomy & Physiology is to maintain relevance at all times. Through multiple-choice exercises known as "Do Nows", students are able to make connections with PowerPoint notes and strengthen their knowledge about the topic at hand. 
"
My goal is to help my students make connections with the topics they are learning and their everyday lives. I help them do that through class discussions and class projects to apply their knowledge using real life examples,
— Ms. Anger
"In my opinion, Ms. Anger's do now's are extremely helpful. I enjoy [that] when you're done she goes over the questions to further analyze the topic. Her enthusiastic personality makes students more engaged…Overall, I like the way she teaches with PowerPoints and hands-on activities which makes her class something fun to look forward to," sophomore Virginia Gozalo said.
Furthermore, Ms. Anger emphasizes the importance of vocabulary within the realm of Anatomy & Physiology. From the integumentary system to heart diseases, Ms. Anger often encourages her students to keep flashcards or a list of prefixes and suffixes to remember for unit exams.
"I may be biased, but I think the human body is one of the most fascinating and interesting subjects to learn about. I mean, that's your body. Also, its relevance to medicine, sports, and almost everything you can think about makes learning about the body's structure and functions both exciting and worthwhile," Ms. Anger said.
Molding her students into Anatomy & Physiology experts, Ms. Anger promotes her area of study to Cavaliers passing by. A familiar sight in the 6000 building, Ms. Anger resembles motivated faculty at Gables.
Leave a Comment
Your donation will support the student journalists of Coral Gables Senior High School. Your contribution will help us cover our annual website hosting costs.
About the Contributor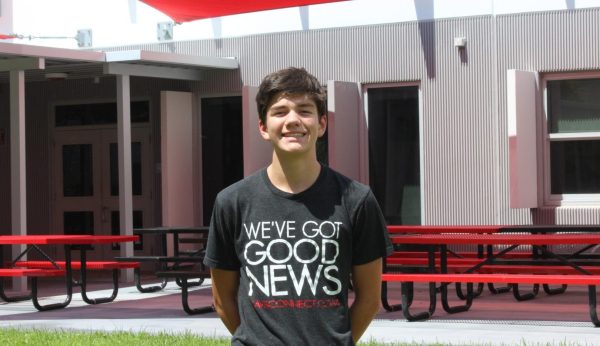 Andres Rodriguez, CavsConnect Sports Editor
Andres Rodriguez is a junior and retains the title of CavsConnect Sports Editor. Studying in the International Baccalaureate program, Andres is looking...