Educating Students on Different Cultures: Elia Tase's Hope
As students seek to discover ways to support their community during the school year, some participate in school clubs while others spend their time volunteering outside of school. Sophomore Michelle Hernandez invests her time engaging with and bringing together various cultures through her own non-profit organization, Elia Tase's Hope Inc.
Collaborating with a couple of her peers from her previous school, Horeb Christian School, Hernandez began a cultural outreach project that involved different Native American high schools and tribes in Miami to learn more about their lifestyles and values. She also wanted to contact other schools in hopes of including various cultures from around the world.
Although this program was ultimately denied, the idea inspired Hernandez to establish her non-profit organization. As a student at Coral Gables Senior High, Hernandez used her previous undertaking and inspiration from her grandmother's desire to have cultural unity in Miami to found Elia Tase's Hope Inc.
"We had been working on the [outreach program] for a while now, so we were understandably extremely disappointed when our project was denied by the school. Thankfully, our efforts weren't in vain, and I got into contact with a number of officials that have been so helpful with Elia Tase's Hope. Even though we were faced with our fair share of obstacles, I am grateful that we had motivation and others to help us along the way," sophomore Michelle Hernandez said.
Named after her grandmother who immigrated from Cuba, the non-profit was created in May 2022 and became an official organization dedicated to creating intercultural exchanges amongst students from diverse backgrounds all around Miami. 
As the founder of the organization, Hernandez works with students from her previous school, such as her two directors, Monica Estopinan and Madonna Junco and her social media director, Isabelle Paret, to manage the company.
View this profile on Instagram
"When [my grandmother] came from Cuba, she saw Miami as a whole mix of different cultures, like a melting pot of sorts. She believed that the best thing for Miami was the difference in cultures, and she was adamant about learning and appreciating every single one of them. She passed these values down to both me and my mother, and I hope to continue her legacy through [Elia Tase's Hope]," sophomore Michelle Hernandez said.
Hernandez has found the means to connect her project with the clubs of Gables. Being in nine different clubs and a part of the International Baccalaureate program, Hernandez formed connections that helped broaden her audience. Elia Tase's Hope has cooperated with clubs such as the IB Honor Society, Gables Earth and the Italian club throughout October and November to set up food drives. These drives aim to collect non-perishable canned foods and other items from Cavaliers in exchange for community service hours. 
Most recently, the nonprofit is planning to collaborate with the National Honor Society, as well as with neighboring organizations like Farmshare, Camillus House and St. Vincent De Paul for a food drive at Gables. In this drive, students will be encouraged to donate any non-perishable canned items and write letters for those who were impacted by Hurricane Ian in the past few months.
"My biggest hope for the Elia Tase's Hope Inc. in the future would be to host a large intercultural exchange with the Miccosukee and other tribes right here at Gables. I would like to show the students here about the history of where we are and expose them to different sets of values and beliefs that are not the ones we are accustomed to hearing about," sophomore Michelle Hernandez said.
Hernandez's endeavor transcends her time on Gables' campus. In an effort to fulfill her grandmother's wishes, she plans a variety of activities with the native Miccosukee tribe in Florida. In addition to hosting another food drive at the Miccosukee Native American School, she also met with the chairmen and other representatives of the community to arrange visits to the school. This latest food drive was recently extended throughout the entirety of the Miccosukee reservation, made up of 600 members.
With the new year full of promising opportunities, Hernandez hopes to continue her journey with Elia Tase's Hope by expanding it. What initially began as just an idea conjured by a group of freshman girls has developed into its own program that has helped educate the youth of Miami. If any Cavaliers are interested in donating to the Elia Tase's Hope foundation, they can find more information on their Instagram.
Leave a Comment
Your donation will support the student journalists of Coral Gables Senior High School. Your contribution will help us cover our annual website hosting costs.
About the Contributors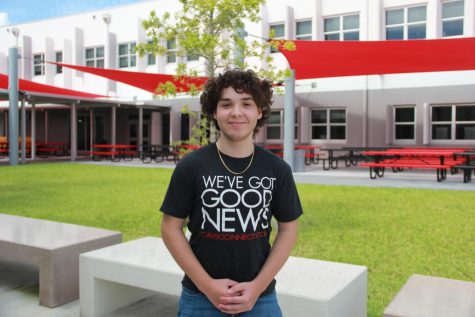 Anthony Fajardo, CavsConnect Staff Writer
Anthony Fajardo is a sophomore in the International Baccalaureate program at Coral Gables Senior High. Coming back after his first year, he is extremely...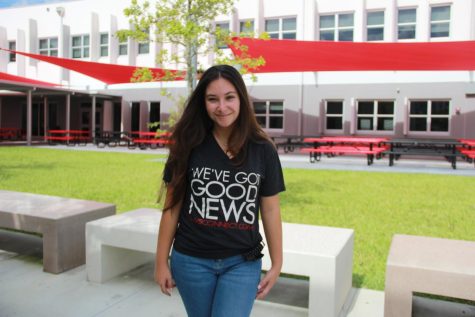 Arianna Hoyos, CavsConnect Features Editor
Arianna Hoyos is a junior in the International Baccalaureate program and a second-year staff member returning this year as the CavsConnect Features Editor....