Welcoming Gables' New Assistant Principal, Mr. Martinez
As Cavaliers reflect on the 2021-2022 school year, everything from the grand opening of the 6000 building to the time students had to wear masks seems like it just happened yesterday. In that short span of time, Coral Gables Senior High has had two assistant principals step down from their positions. Fortunately, the positions were not dormant for long. Joining the Cavalier family this year, Mr. Martinez will be filling in as one of two new assistant principals. 
Prior to his new post, Mr. Martinez was the lead magnet instructor at Miami Coral Park Senior High School. Being at the helm of all four magnets which featured engineering, biomedical, architectural and construction, Mr. Martinez is prepared to manage the Class of 2025 student body, along with his new responsibilities as assistant principal.
Following his tenure as a magnet instructor, the region's superintendent, Dr. Lewis, assigned Mr. Martinez to Gables as he thought Martinez's skill set was most compatible with the school. Mr. Martinez, a former Business Marine Related Industries Academy student, is one of the few administrators who has seen the results of the rigorous challenges presented by the magnet programs, from the perspective of both a student and administrator. 
Mr. Martinez's first priority as the school year progresses is to earn the trust of the students. Establishing communication and rapport with students, parents and teachers alike, he is striving towards learning how the Cavalier family culture operates. Wanting to make his name and presence known at in-game events, Martinez is working to be more than just a name on a PowerPoint presentation at orientations and graduation ceremonies.
"Becoming a part of the culture is something that I'm learning and I think that being present is the first step when trying to learn a new culture or gain the trust of the Cavaliers," assistant principal Mr. Martinez said.
"
I'm personally glad to be here. I'm glad to become part of an already established team. My goal is to make teaching easier for the teachers, learning easier for the students and days better for everybody on campus.
— assistant principal Mr. Martinez
Staying organized is one of the most important virtues Mr. Martinez has lived by ever since he was a student at MAST. Developing a type of system to manage Scholastic Aptitude Tests, American College Tests and college applications made his workload more manageable. To Cavaliers who are struggling to seek academic aid within the building and outside the halls of Gables, Mr. Martinez has found that browsing through popular Youtube shorts, TikTok or searching up online videos on Khan Academy are good ways to acquire information.
Gables being an "A" rated school is a status that much like the other administrators, Mr. Martinez is aiming to sustain. Additionally, he envisions a greater graduation rate for individuals graduating not just from the International Baccalaureate and Academy Of Finance magnets but overall all students.
"Once you reach the top, you know that there's only one place to go from there. I can tell you that the school does an excellent job of organizing and providing resources for students, not to mention attracting some of the best students," Mr. Martinez said.
As Mr. Martinez continues to adjust to the Cavalier life, he is making sure students associate his name with someone who will aid them with problems they might have. Whether he is working behind the scenes at an event or talking to a student in his office, Mr. Martinez is establishing lasting relationships and experiences with both returning and incoming Cavaliers.
Leave a Comment
Your donation will support the student journalists of Coral Gables Senior High School. Your contribution will help us cover our annual website hosting costs.
About the Contributor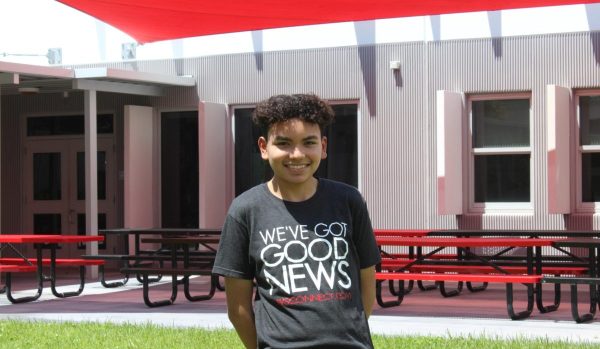 Aaron Rojas, CavsConnect Faces of Gables Editor
Entering his third year in CavsConnect, Aaron Rojas is the newest editor on the team for Faces of Gables. As he enters the ranks of rising juniors in the...