AOF Seniors Summer Endeavors
From law firms to marine biology institutes, the Academy of Finance seniors return from their summer break with knowledge and a hand-on experience in nearly every career field imaginable. Considering that part of the National Academy Foundation's curriculum requires juniors to take part in any internship they see fit, students are given the opportunity to learn more about their own interests and possible future professions. 
At Coral Gables Senior High, the AOF program makes sure students are prepared for the workforce the second they graduate with a credential known as NAF Track Certification. Students dedicate the entirety of their four years of high school to becoming a prepared adult, and what better way to get ready for the real-world than to participate in it? For students Maria Duarte, Mariana Gutierrez and Ruben Duran, summer was filled with blazers and slacks that solidified their interest in the professional world. 
Maria Duarte
Not certain on exactly what internship she wanted, Maria Duarte applied to a wide variety of places she thought she would be interested in. However, she quickly settled on Agape 4 Orphans Summer Camp after they reached out to her about the position. Duarte's job ranged from teaching the kids anything they needed help with academically to aiding faculty members with paper work. At a camp filled with kids ranging from ages 2 to 14, Duarte always had a task that needed to be done.
"
I think it's such an amazing opportunity that AOF offers internships for their students and it's something we should take advantage of. I'm really glad that I had the opportunity to do an internship. I think that if anyone has the opportunity to intern somewhere they should definitely go for it because it will make you grow as a person,
— senior Maria Duarte
While assisting the campers, Duarte quickly learned that every kid had a unique working pace and capacity to learn. Despite never having a job, Duarte overcame the obstacles of working with children for the first time by being dependable and communicative. Initially nervous to meet her co-workers, Duarte quickly befriended them, making her job more manageable and enjoyable. 
Although Duarte does not think she will pursue this career in the future, her connection with the children and staff was one that cannot be replaced and when asked if she would take on the internship again she said she would do it "without hesitation".
Ruben Duran
In life, you are often given opportunities you least expect, or even some you never asked for. Despite not presenting any previous interest in the education field, Ruben Duran made the best of his internship at Ponce De Leon Middle School.
Practicing his teamwork skills by collaborating with teachers and developing his public speaking skills by conversing with the Ponce explorers, the senior assimilated into the internship with ease. Duran helped with paperwork and aided teachers who were reorganizing and decorating their classrooms for the upcoming school year.
Furthermore, Duran learned to implement time management skills, a quality that is an integral part of the business world, since he did not have the time to procrastinate on job assignments. 
"Choose something you want to do for your internship, but know [that] a little change and trying new things doesn't hurt when learning," senior Ruben Duran said. 
Mariana Gutierrez
With health and fitness slowly becoming more mainstream, it is no surprise an internship at a gym was an option given to the AOF seniors. For Mariana Gutierrez, working at Clubx Fitness was both enjoyable and inspiring. Gutierrez worked at the front desk where she would sign people in, give towels to those who needed them and checked out items for people who bought different products.
"I saw the same people come to the gym every single day and sometimes even twice, which confirmed to me that dedication is key to everything you want to do in life. [A little reminder] take care of your body! Workout however you like to. I didn't take care of myself much at all before and this has changed my life in a very positive way so, I recommend it to anyone, really,"  senior Mariana Gutierrez said.
The moment Gutierrez went to her interview, she knew that she would choose the gym internship. Although it was not what she thought she wanted at first, the idea of her working there seemed appealing as she immediately felt drawn to the workplace's vibe. In addition, she had the opportunity to work with a friend, which made her experience worthwhile.
Even so, that was not the most important part: Gutierrez felt motivated to start working out herself. Now, she makes it her mission to workout everyday and encourages others to do so as well as she has attested to feeling much healthier and more comfortable in her own body. 
Thanks to the NAF curriculum, rising seniors at Gables are given the chance to develop skills they can use for the future and network with the people they intern for.  The program guides its students to a path in life they are not only prepared for but that fits them wholeheartedly.  After all, the NAF motto is "Be Future Ready".
Leave a Comment
Your donation will support the student journalists of Coral Gables Senior High School. Your contribution will help us cover our annual website hosting costs.
About the Contributor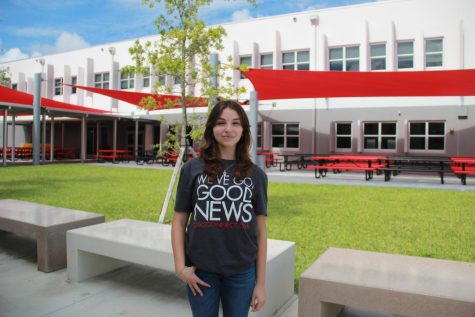 Melissa Hernandez, CavsConnect Staff Writer
Melissa Hernandez is a sophomore in the Academy of Finance at Coral Gables Senior High. Eager to leave Miami on a journey of higher education, she involves...