Taking Steps to the Naval Academy: Leonardo Grisard and William "Trip" Beardslee
Leonardo Grisard and William "Trip" Beardslee are both seniors at Coral Gables Senior High and are well on their way to joining the United States Naval Preparatory Academy. Facing a 9% acceptance rate, Grisard and Beardslee have had to go through an extensive application process just to be considered for one of the few spots at the highly-regarded academy. 
Anyone who wants to apply to the academy either has to either fill out a preliminary application or attend a summer seminar before May of their senior year of high school. Those interested also have to send an essay application to the school, pass a physical exam and get a recommendation from a Senator, Congressman, or the Vice-President of the United States. Both Grisard and Beardslee attended the summer seminar for six days, where they walked in the shoes of first-year students, attended classes and partook in physical exercises and briefings.
Leonardo Grisard
Native to the country of Brazil, Grisard came with his family to the United States as a first-generation immigrant at the age of 10, where he overcame the challenges of learning English. Now, Grisard is in the International Baccalaureate program and is involved in several extracurriculars including the swim team, CavsTV, and being treasurer of the math club. Additionally, Grisard has a passion for water polo. He initially played for the team during his underclassmen years, before being promoted to manager during his junior year.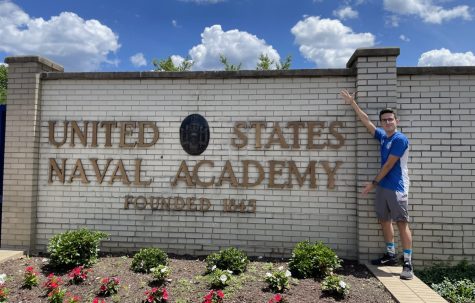 Grisard was first introduced to the Naval Academy by Gables alumnus Dylon Carol, who went to the Naval Academy after he graduated and returned to Gables to recruit for the military college. No one in Grisard's family has been enlisted in the military, so he would be the first to hold the honor. In order to enlist, students have to undergo a crucial day of workouts called the "sea trials" where groups complete a mile and a half endurance run, as well as practice their karate skills and work out.
 "My favorite part of the summer seminar was probably the sea trials, which was on the second to last day. It was a series of physical events where we had to work as a squad to get through a 1.5 mile obstacle run, compete in relay races and a dinghy race and carry a log around, all while getting screamed at. However, I still found the experience to be awesome and now I have no questions as to where I want to go to college," senior Leonardo Grisard said.
William "Trip" Beardslee 
"
Attending the Naval Academy would be a challenge, but ultimately will push me to be the best person I can be academically, physically, and mentally. After graduation, I must serve five years in either the Navy or Marines as an officer. That has been my dream since I was seven. So, in my mind, the Naval Academy is the best fit for me,
— senior William Beardslee
For many Cavaliers, Beardslee is known as "Trip"; a nickname first used by his mother to help differentiate him from his father and grandfather who share the same name. Eventually, the nickname stuck and he is now known as "Trip" to his parents, friends and teachers. Similar to Grisard, Beardslee is also a part of Cavs TV, but he has also been on the board of the Academy of Finance since his freshman year and is now serving as AOF president. Additionally, he is the president of the Future Business Leaders of America club, Vice-President of The Gables Garden Project and the Senior Class treasurer. 
"The most intriguing aspect of the Naval academy for me is definitely the way the school curriculum is structured. The school not only creates individuals who are strong in STEM and in peak physical form but also they come out as outstanding people with leadership skills, problem solving skills, and they function at high capacities under maximum stress levels," senior William Beardslee said.
Ever since he was 7-years-old, Beardslee has wanted to serve in the military. With the exception of his father, every Beardslee generation has served as an officer or of higher rank in either the Marines or the Navy since the Revolutionary War. When researching colleges in tenth grade, Beardslee discovered the United States Naval Academy and instantly fell in love with the program. Since then, Beardslee has focused on maintaining his grades and working on his physical and mental state to achieve his dreams of being accepted into the prestigious institute.
Although most seniors usually apply to a university during the summer after their junior year, Grisard and Beardslee have chosen a different and challenging path to reach the high goals they have set out for themselves. Although they have attended the summer seminar and completed the required paperwork, admissions will start rolling in on Apr. 15. Until then, Grisard and Beardslee are going to enjoy their last year at the home of the Cavaliers. 
Leave a Comment
Your donation will support the student journalists of Coral Gables Senior High School. Your contribution will help us cover our annual website hosting costs.
About the Contributor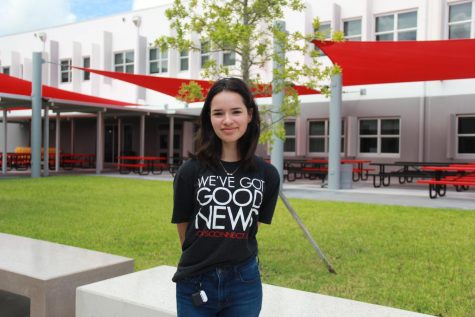 Maria Odio, CavsConnect Features Editor
Maria Odio is a senior at Coral Gables Senior High and is looking forward to continuing her writing career this year as features editor for CavsConnect....