Ms. Yanes Bids Gables Farewell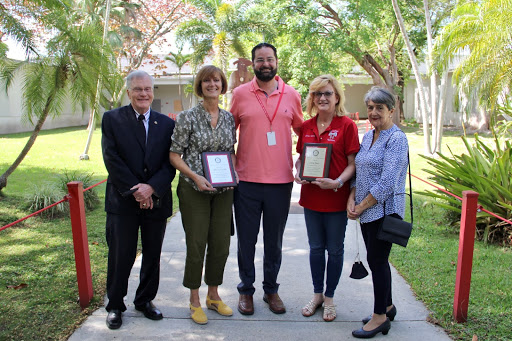 Meeting someone new every day may seem like an easy task in a school replete with over three thousand students. However, when bombarded with the exams, deadlines and the sometimes exhausting aspect of high school, both students and faculty rarely stray away from their personal bubble. In spite of this, Ms. Yanes has accomplished the impressive feat of seeing a new face every day at Coral Gables Senior High School right before she retires.
As the school's registrar, Ms. Yanes has seen thousands of freshmen enter and thousands of seniors exit its doors over the past 36 years she has worked at Gables.
"I really like working with people which is great because, you know, I meet new people every day… There is always somebody new trying to contact me either to register into the school or call to receive their diploma," Ms. Yanes said.
Although used to the "nonstop" responsibilities that come with properly maintaining student records, the seasoned registrar is finally prepared to settle down and take life more slowly. After having spent decades sitting in the office of Building One, Ms. Yanes is excited about the prospect of having the restful life of a retiree and the extra time that will allow her to pursue new opportunities outside of the public school system.
While retiring is often seen as an exciting milestone in one's career, the process becomes bittersweet for her, as saying goodbye to coworkers is not always easy.
"I will definitely miss the students and my colleagues… the friends I have made here at Gables have become my lifelong friends that I know I will come back and visit," Ms. Yanes said.
With over three decades of memories, Ms. Yanes is not leaving Gables empty-handed. As the registrar, she often works with seniors trying to get their high school diplomas. The common struggle many upperclassmen face in accomplishing this goal has become a shared endeavor for Ms. Yanes as well.
There was one particular interaction with a senior that Ms. Yanes explains resonates with her specifically.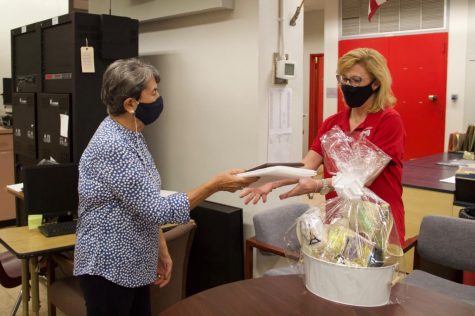 After four years of eagerly awaiting graduation, one senior was suddenly held back because they did not meet the required credits. A desperate family came to Ms. Yanes with the hopes that she would help their son graduate. Once she set herself to the task, hard work from both the senior and the dedicated registrar meant Ms. Yanes was finally able to break the news that the Gables student would be allowed to walk on stage and be handed a diploma.
"These students wait their whole lives to earn their diploma, and when the time comes and you are told 'no, you cannot graduate because you did not do this,' it is just devastating. When I was able to be the person who finally gives the good news that you actually are going to graduate at the end, after all the suffering, it is just an emotional moment. When I finally gave the student the good news that they could graduate, the whole family came into my office to thank me. We all started crying and we were all taking pictures together. It was a crazy and fond memory that I will never forget," Ms. Yanes said.
Ms. Yanes knows she will never be too far from her Cavalier home and is enthusiastic about cherishing her free time. Before retiring this year, the hard-working Cavalier earned an award from the Rotary Club of Coral Gables thanking her for her time and dedication to Gables. With this recognition, she bids Gables farewell on a high note.
Ms. Yanes is already planning on taking on a more relaxed part-time job after taking a little break from the fast-paced office setting — something many retirees may find shocking. What may be more surprising, though, is that she hopes to return for a part-time job at Gables in the future. Ms. Yanes is a true embodiment of what it means to be "Once a Cavalier, Always a Cavalier."
"Whatever I do in my next phase of life I am going to miss Gables. Coral Gables High is my family and I want them to know that if they need me, I will never be too far," Ms. Yanes said.