Ms. DelCastillo: Gables Counselor Soon To Be Retired
As the third quarter of the school year begins, all Gables student services faculty members begin to prepare their students for the final stretch. The faculty members in student services include the Coral Gables Senior High counselors, College Applications (CAP) Advisor, and the student services chair. One of these counselors is Ms. DelCastillo.
Ms. DelCastillo has been a part of the school system for 42 years, however, she joined the Gables family in 1979 as an Estimated Family Contribution teacher. Later on, in 1983, she transferred to Coral Way Elementary School as a student counselor for 21 years. Back then, Ms. DelCastillo wanted to work with older kids so when the position of EFC counselor at Gables was open, she took it in. During this time, there were no "academies" and students were divided by the letters of their last names.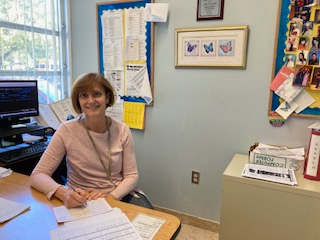 Prior to COVID-19, some of Ms. DelCastillo's responsibilities as the secondary counselor included, but were not limited to, making classroom presentations, helping upperclassmen with their schedules, making sure students who are university-bound have their requirements and appropriate schedules, writing letters of recommendation and providing face-to-face emotional support for students. Personally, she likes to check her seniors' quarterly grades and make sure the individual student is on the right track. If they are not on the right track she calls them down to her office however, because of the pandemic, now it is via emails and phone calls.
"We do classroom presentations, one in the fall and one in the spring. In the fall, we go over graduation requirements and, for the seniors, we go over the college application process which the CAP office also does. We have parent presentations for senior parents which are also in the fall," Ms. DelCastillo said.
Ms. DelCastillo's favorite part about working at Gables is getting to help and talk to the students, especially since COVID-19 has taken an emotional toll on a lot of them. Essentially, her goal as a counselor is to get her kids to be productive individuals for life.
A lot of her kids tell her that they don't like school, but Ms. DelCastillo did not like school either since it was difficult for her and she had to put forth a lot of effort. What motivated her was that she liked to travel but she needed a good education to be able to do so. Therefore, she worked hard to be able to travel. Last year she planned on going to the British Isles but the COVID-19 pandemic canceled any possibilities of that trip.
"15 years ago, when I started at Gables, if you didn't graduate from high school you could still get an educational degree like for an auto mechanic and be able to earn a good job but that's not so anymore… what I tell [the students] is that if they don't see themselves going to college, get a technical degree," Ms. DelCastillo said.
After working at Gables for so long Ms. DelCastillo is retiring. One of the reasons being her retirement plan which she created with her husband. Once COVID-19 diminishes, she plans on pursuing her dreams of traveling. She also wants to spend more time with her three granddaughters without the added stress of having to work.
As the school year nears its end, Ms. DelCastillo will surely be missed by both fellow faculty and students. Until then, she will be preparing her students for the future and making sure that all of her seniors graduate.