Mr. Finora: Current Counselor, Lifelong Cavalier
Brimming with photos, a lifetime Cavalier's workplace sits right in the center of the main office at Coral Gables Senior High School. Working at Gables since 1960, Mr. Finora's office is nothing new to students and staff who know him. 61 years of work have given Finora quite some time to learn about the Cavalier spirit, but how exactly did his journey begin?
After an interview with Mr. Rath, the school's first principal, Mr. Finora began by teaching a business class at Gables. Before this position, he worked on-and-off at other schools and was even a substitute at Gables before fully committing to his career as a Cavalier. While teaching in the business department, Finora slowly became involved in the athletic department and remained there for a number of years.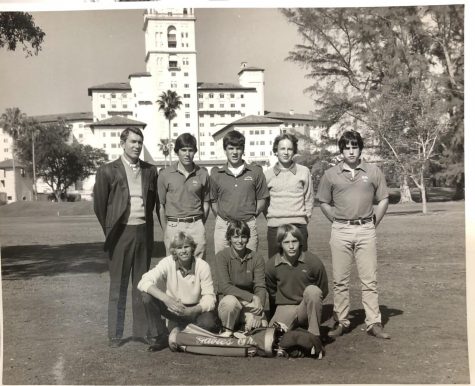 Beginning his time in the athletics department, Mr. Finora coached junior varsity football and tennis. Because of his background in finance and management along with his budding involvement in the Cavalier sports realm, he took up the job of athletic business manager when the position became available in 1963. That same year, Gables won its first state championships. Then, in 1980, he took up the golf team which he coached for ten years. Finora had the "privilege" of being so deeply involved with the athletics department during such eventful seasons and is commemorated with a plaque in his office that honors his 28 years of dedication to athletics.
When asked what his favorite sport he coached was, Finora said, "Well, tennis and golf were individual sports, so I enjoyed that but what I enjoyed most was my two years coaching football because it's a team effort. We had a lot of camaraderie and you know, I was part of it. I was a young rookie, I learned a lot about people and kids and it was like growing up and having a family."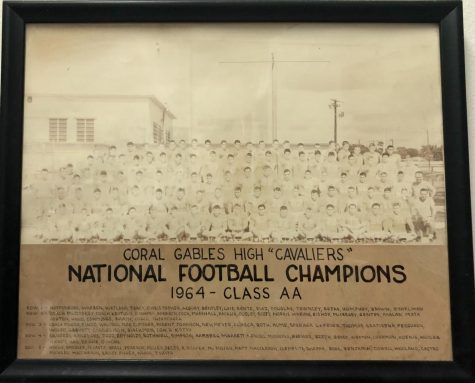 The current guidance counselor was not only experienced in the sports sector of Gables but he took over the school's financial obligations in 1971. It was not until 1998, when he gave up all of his athletic duties, that he began his time in student services. After acquiring a masters and guidance degree, Finora was properly qualified to take over the role of guidance counselor. Since then, Mr. Finora has happily continued his career as a part-time guidance counselor and finds comforts in his department and his co-workers.
Outside of his work at Gables, Mr. Finora prides himself on recalling some of the major moments in national history he has lived through. He remembers the Bay of Pigs, which was the Kennedy Administration's failed attack to take Cuban leader Fidel Castro out of power. This led to the Peter Pan Operation, which brought over thousands of unaccompanied Cuban children to America, specifically Miami. Mr. Finora explained how even one of his old colleagues was part of this mass exodus. As far as societal changes he has experienced, Finora also represented Gables in the Title IX conference on how to integrate the new anti-discrimination clause into the school system.
"All I can say is that I have been part of all the major social changes," Mr. Finora said.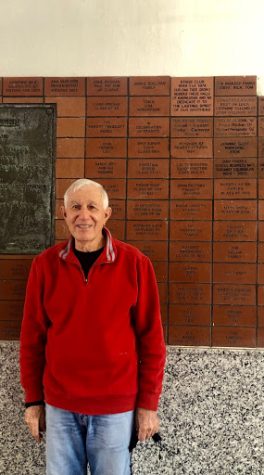 Throughout his career, Mr. Finora has made countless memories at Gables and the school has shared its respect for him in various ways. In his office, he has quite a few plaques and awards honoring him for his different contributions. A small fact many students may not know is that the pavilion many Cavaliers sit under to converse and enjoy their free time was dedicated to him.
When asked what he enjoys most about working at Gables, Finora explains that he treasures the relationships he has cultivated. Many of his past students and co-workers still keep in touch with him and he often goes out to get coffee with his old friends to reminisce. Mr. Finora's children went to Gables, so he has made sure to keep up with their acquaintances too. Because he has lived in Coral Gables for the majority of his life, he has also made friendships with his neighbors and is content to live in such a nice community.
Mr. Finora's presence at Gables is cherished by the students and staff. A forever Cavalier, he truly touches the hearts of every student and teacher he encounters. Though there have been many transformations and renovations at the school throughout the years, but his unwavering Cavalier spirit is one aspect of the school that never changes.
Leave a Comment
Your donation will support the student journalists of Coral Gables Senior High School. Your contribution will help us cover our annual website hosting costs.
About the Contributor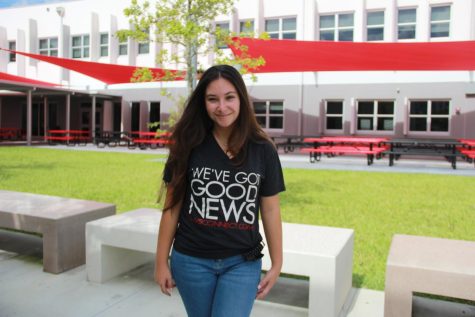 Arianna Hoyos, CavsConnect Features Editor
Arianna Hoyos is a junior in the International Baccalaureate program and a second-year staff member returning this year as the CavsConnect Features Editor....