Alexandra Torres: Digital Design Etsy Entrepreneur
Ever picked up a new hobby? Quarantine has had many people learning new ways to fill their time with productive activities. From perfecting the best banana bread recipe to learning how to make colorful friendship bracelets, people have been finding new ways to bide their summertime from home until school resumes in the fall. Senior Alexandra Torres discovered how to harness her hidden talent for digital design into a profitable business called "Digital Designs by Alexandra".
Torres began creating digital art a year ago when she became Editor-in-Chief of Highlights news magazine. Having little experience with digital design, she began to teach herself how to use Adobe Illustrator and InDesign. Over the course of the past school year, Torres became proficient in creating digital designs. Soon after beginning online tutorials and teaching herself how to use the design platforms, she discovered how much she actually enjoyed digital design. It took over six months to improve, but Torres eventually got to the point where her digital artwork was not just a hobby but a talent.
This summer, Alexandra Torres and her sister, Gables alum Natalia Torres, were looking for a creative way to make money. Both of the sisters had been looking for jobs and encountered some trouble due to the pandemic.  Coincidentally, Natalia saw an artist selling their digital art for fun and knew that this could be a creative way for her and her sister to profit off what was simply a hobby.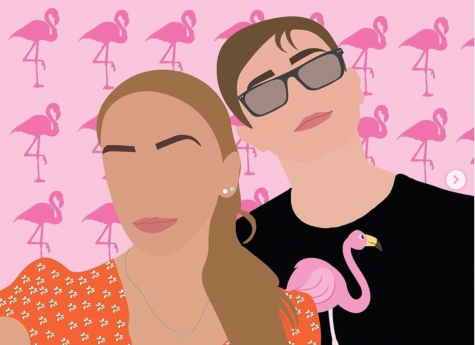 Alexandra began sketching on Illustrator and making different pieces of art to be sold. Torres began with designs based off of photographs she took with her friends, such as a group photo taken at the Junior Pinning Ceremony. Once she became more comfortable, she began taking requests for custom orders of digital art renderings of her loved ones favorite photos. Her Instagram account, @designsbyalexandraa, is filled with pictures advertising past designs she has made to entice customers into placing an order. So far, she has mainly marketed towards her peers, but hopes to continue to branch out.
"I bought a digital design of a selfie of me and my brother… it was a unique birthday gift for him and I can't imagine how much skill and work it takes to do design, let alone online," senior Catherine Pasternac said.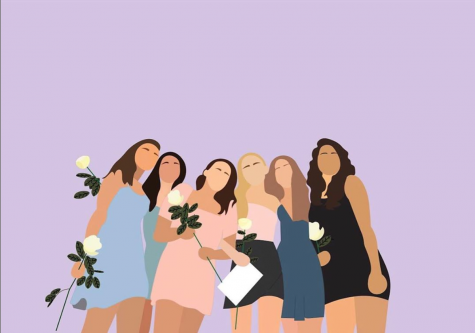 Torres expects to continue her business once school resumes in a few weeks but because she has many responsibilities as Highlights EIC, less time will be devoted to her digital artwork. Torres encourages any students interested in finding easy ways to make money or are interested in starting a business to find something they're passionate about instead of focusing on earning money. Her success in digital design was not something she accomplished overnight but rather something she worked hard to learn and ended up truly enjoying.
"If anyone wants to start a business… find something that you like, even if you don't think you're good at it. You can become good at it. I really didn't have experience with design, and so I taught myself how to do it," senior Alexandra Torres said.
Despite not being able to leave her house, Alexandra Torres found a fun hobby that simultaneously helped her save money for the future. Quarantine introduced a creative outlet that also happened to be quite lucrative in a time where businesses are struggling. You can Direct Message Torres to purchase custom renderings or home decor art from "Digital Designs by Alexandra Torres" on her Instagram @designsbyalexandraa and support one of our Cavaliers' small businesses.