Recognizing Star Educators: Mrs. Lopez
With all the wonderful academies that Coral Gables Senior High has to offer, the Academy of Finance (AOF) is certainly at the top of the list, lead by National Academy Foundation award winner Mrs. Natasha Lopez.
This prestigious award is a student-recommended nomination, meaning that students in the Academy of Finance nominated Mrs. Lopez for her outstanding efforts as a lead teacher. 
Before beginning a career at Coral Gables Senior High, Mrs. Lopez worked at the South Florida Educational Federal Credit Union. While she was working for the credit union, she opened a school branch for Coral Gables Senior High.
Mrs. Lopez then traveled to Korea and taught there for a year before returning back to Florida. Upon her return, she reconnected with Principal Adolfo Costa and took him up on a job offer. 
"Mr. Costa always told me to tell him when I graduated so that I can come and work for the school," Mrs. Lopez said.
Mrs. Lopez has been with Coral Gables Senior High for five years now. Initially, she began teaching mathematics, but when the position for department head of the Academy of Finance became available, she jumped on the opportunity. Once promoted, she was extremely excited to lead the Academy of Finance and make it one of the top programs of education at Coral Gables Senior High. 
Mrs. Lopez has numerous goals for the Academy of Finance this school year. She plans to continue expanding the Academy of Finance and solidify the program as an essential part of the community through the formation of strong relationships with local businesses. Mrs. Lopez also aims to create a sense of culture within the Academy of Finance.
While all of these long-term goals are notable, one of the academy's most significant ones lies in the short-term. With the school currently under construction, one of the major plans is to tear down the finance building in order to build a new one. 
"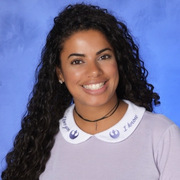 I am actually excited for a new building. The administration knows that I have a vision for what I want our area to look like
— Mrs. Lopez
Since becoming the Academy of Finance's lead teacher, Mrs. Lopez has faced many challenges. She sat down with the previous lead teacher for hours, trying to absorb as much knowledge as she could. Her first year was a great learning experience and she attributes a lot of credit to the student board as they made the transition much easier on her. Now, entering her second year, she has a much better understanding of the Academy and knows what lies ahead.
One of Mrs. Lopez's favorite experiences since joining the Gables family is interacting with the students. She believes that they are extremely underappreciated, firmly believing that everyone brings something unique to the table. 
"Mrs. Lopez has improved the quality of the program and is constantly interacting with the students. She is always helping kids strive to do their best," sophomore Austin Schulte said.
For the five short years that Mrs. Lopez has been at Coral Gables Senior High, she has had a tremendous impact on many students, especially as the award-winning lead teacher of the Academy of Finance, and she has overcome many challenges to lead the program. Despite her recent success, Mrs. Lopez's drive has yet to cease, and she is the first to note that she has great plans for the exemplary future of the Academy of Finance.