Let's Get Down to Business with Mrs. Carranza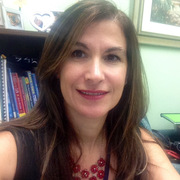 As many students know, Gables is full of wonderful teachers that make the high school experience more bearable. From her loving attitude to her commitment, Gables is proud to present Mrs. Carranza as the Teacher of the Year. For those who do not know her, Mrs. Carranza is the Lead Teacher of the Academy of Finance (AOF) program. Moreover, she works directing with the students in the magnet program and guides them throughout high school. In addition to being the head of AOF, Mrs. Carranza teaches business entrepreneurship (honors) and finance internship for students in the AOF program as well as dual enrollment introduction to entrepreneurship with FIU, which is open to all sophomores, juniors and seniors with a 3.0 or higher GPA.
Carranza has been teaching for 23 years, but for the last four years she has proudly been a part of Gables' staff. Before becoming a teacher, she got her B.S. and an M.B.A in Finance and International Business since business has always been her passion. Mrs. Carranza has also worked as a financial analyst for a few years, but soon realized that if she wanted to move up in the company, then she would have to travel extensively, thus affecting the time she would get to spend with her family. Since Mrs. Carranza was always working with, presenting and teaching her co-workers, she saw that she was efficient at explaining/teaching things and decided to become a business teacher. Although the plan was to work as a teacher for five years and then work in a downtown office for the school system, Mrs. Carranza became too attached to working with her students and grew to love what she does now everyday.
"It makes me very happy to see a student grow! I am excited about bringing them opportunities for jobs, scholarships and seeing them become young men and women who will go to college and/or enter the workforce with skills I can teach them in my program," Mrs. Carranza said.
Although Mrs. Carranza loves being a teacher, sometimes she can get discouraged by kids who do not see an opportunity when it is handed to them or when they procrastinate and realize that they need to work harder when it is too late. When teaching, Mrs. Carranza loves using a hands-on approach. If you are one of Mrs. Carranza's students, then you can expect having a teacher that introduces a learning concept in a fun and easy way that everyone can understand. In her class, students work on activities together with their classmates/teacher, and once every student fully understands the concept, then they apply it to a project in the class.
"My goal is for them to learn by working together and to always have a final product that they can be proud of," Carranza said.
In fact, she loves taking her students into the business world by participating in various field-trips, many of which are sponsored through the AOF Board or organizations that she works with such as Big Brothers & Big Sisters and the Network for Teaching Entrepreneurship (NFTE). Being a strong believer of the hands-on approach towards learning, Mrs. Carranza likes to have her students network with real business professionals in our local community through these field-trips, summer internships, guest speaking events and mentoring projects. Furthermore, she believes that all of these activities allow her students to get a true feel of what the business world is like and what it has to offer them.
"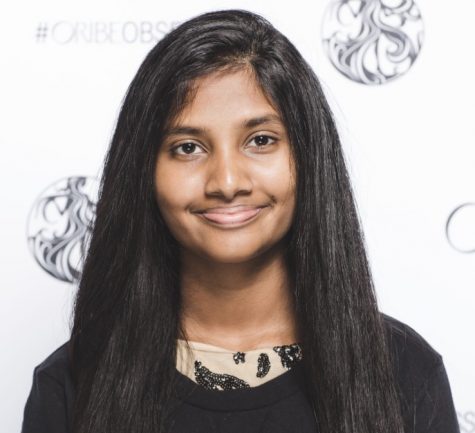 This is my first year having Mrs. Carranza as a teacher. Her class, introduction to entrepreneurship, is definitely one of my favorites due to the atmosphere she brings into the class as well as the motivation she gives to her students. In all honesty, she teaches in a way that makes everything seem easy.
— senior Gayathri Samuel
She decided to become the head of the AOF program because she feels comfortable whenever business and finance are the dominant topics of study. She felt she was qualified for the job because she worked with magnet programs, recruited for schools and developed programs in her past career. "I was very happy to come to Gables to lead the finance program and to work with Mr. Costa since we had already met at a previous school," Mrs. Carranza said. Additionally, she believes that being the Lead Teacher of AOF is an important task since the academy has great importance to the students within it, as well as the school. AOF, being one of two magnet program at Gables, provides students with the opportunity to explore their interests in finance and business. Students in the academy are learning crucial and practical business and life skills that will aide them into becoming well-educated consumers and the possible future leaders of the business field. Although being the Lead Teacher can be a very difficult, exhausting task, Mrs. Carranza is fortunate enough to have people who support and help her along the way.
"I am very fortunate to be part of an amazing business department, to have a very supportive administration and a hard working team of teachers that not only include academy teachers, such as Mr. Goirigolzarri, Mr. Reisert and Ms. Brown, but also core teachers, such as Ms. Davis, Ms. DePaola, Ms. Leal, Ms. Jones and Mr. Paz, who collaborate with me on my research projects and keep our kids on track. I also have the kindest and smartest AOF Student Board run by Nicole DeBarros and amazing office aides, such as Ashley Garcia, J. Chiu, Maria Kabbabe & Edmundo Rodriguez, that help me with all the paperwork. All of these adults and students work very hard with me," Carranza said.
Although it is still unknown as to who nominated Mrs. Carranza for the Teacher of the Year award, she was entirely grateful and honored that someone recognized her hard work and dedication enough to believe in her when the competition was tough. After being selected, Mrs. Carranza gave it her all to represent Gables and show the importance of the Academy of Finance, which she has ultimately proved to be successful at. Without Mrs. Carranza's presence and commitment to the program and her AOF students, the Academy of Finance would never be as successful as it currently is. Winning the Teacher of the Year award symbolizes that Mrs. Carranza's hard work to make this magnet program the best it can be never goes unnoticed. When an individual from this school's community thinks of the Academy of Finance, they think of Mrs. Carranza because without her, AOF and Gables would not be the same.
View Comments(1)
Your donation will support the student journalists of Coral Gables Senior High School. Your contribution will help us cover our annual website hosting costs.
About the Contributor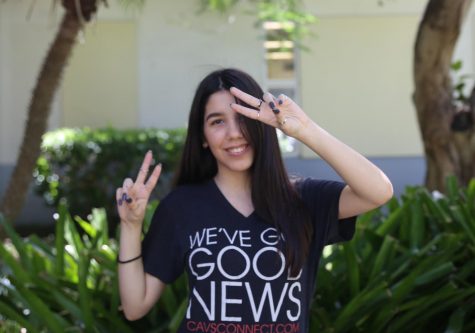 Yeileny Lopez, Staff Writer
Yeileny Lopez, also known as Lenny, is a proud senior in the International Baccalaureate (IB) program at Coral Gables Senior High. She is extremely grateful...