Get To Know Your CAF&DM Teachers!
The Communication, Arts, Film & Digital Media Academy (CAF&DM) has incredible teachers that run the different publications here at Gables. But beyond their classroom façade, these teachers have interesting backstories that not many students know about.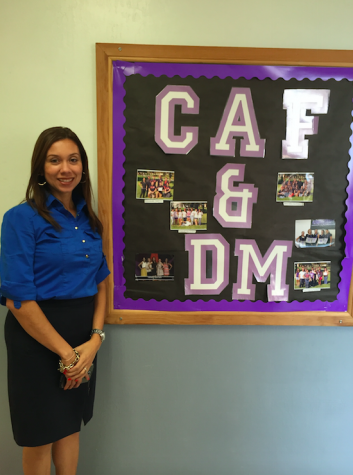 Ms. Zuniga
Ms. Zuniga is not only the yearbook adviser, but also the CAF&DM academy head. Ms. Zuniga has always wanted to be a teacher, ever since she graduated from Miami High's teaching magnet. After high school, Ms. Zuniga went on to study at the University of Miami where she majored in mathematics with a double minor in secondary education and psychology, and got her Bachelor's, Master's and Specialist Degrees. In addition, she spent a summer at Oxford University studying English Literature. Ms. Zuniga always knew she wanted to teach mathematics, seeing how she has always excelled in the subject and viewed it as a universal language. Ms. Zuniga has been teaching at Gables for the past 14 years. Being a part of her yearbook staff in elementary, middle, and high school, it was only natural that she was interested in becoming the yearbook adviser, so when the opportunity arose, she took it.
"When I first came into this country from Honduras, I spoke no English and my ESOL teacher, Ms. Crespo really helped me get acclimated to school. During that time only two people in my class spoke Spanish and so it was a huge culture shock for me. She made an impact in my life and from then I knew that I wanted to do the same for other children," Ms. Zuniga said.
Ms. Gonzalez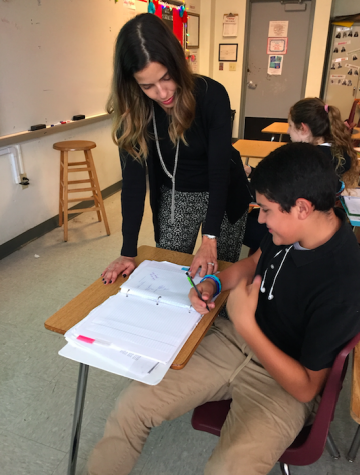 After graduating from Vivian Gaither Senior High in Tampa, Florida, Ms. Gonzalez attended the University of Florida where she had started pursing a degree in Occupational Therapy. After her first year, she transferred to the University of South Florida where she switched her major to English education.  She then attended Florida International University for her Master's Degree in Educational Leadership.
Ms. Gonzalez has been teaching for 12 years now; six of which have been at Gables, another two were in Tampa, and the rest at Ronald Reagan Senior High. Once she was hired at Gables, she became the Highlights adviser. Ms. Gonzalez is not all about work, in her free time she enjoys traveling and reading.
"It's ironic, because for most of high school I didn't really enjoy English. Science was my preferred subject, but I had an amazing teacher for my AP Literature class, and she really opened my eyes to how great literature could be if taught correctly and with passion," Ms. Gonzalez said.
Ms. Zaldivar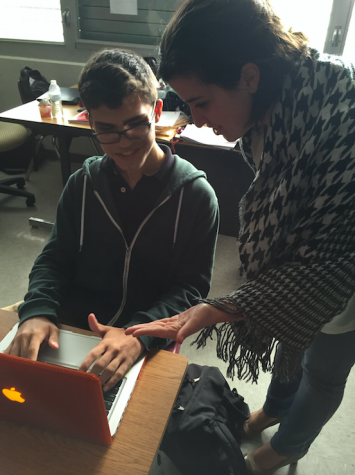 Once Ms. Zaldivar graduated from Florida International University, she returned to Gables, to once again call it her home. While at FIU, She majored in International Business and English Literature. Through school and personal experiences, she decided to get a second degree in literature and later decided to finish her teaching degree. Once she was finished with her teaching degree, she came and taught at Gables. While at Gables, she became the new Catharsis sponsor.
"I knew what I wanted to be involved with and I thought a good way to approach that would be through International Business. I ended up getting a better idea of my personal values and goals through my experiences in school and working and decided to go back and get a second degree in literature. Some of my long term goals are still the same but my path to get achieve those things has changed significantly," Ms. Zaldivar said.
Ms. Suarez
After graduating from Hialeah High School, Ms. Suarez studied education at Miami-Dade College and Florida International University. Later, She got her Masters at the University of Miami. After working at Gables for a year, she decided to stay. When CavsConnect needed a new sponsor, Ms. Suarez decided to step up and take the position; she ended up loving the job and stuck with it.
"I don't know, it just kind of happened. One day I drove by here and they were building the science wing at the time and I said 'I want to work there.' I fell in love with the outside structure, it was a long time ago, and I just said I wanted to come and teach here," said Ms. Suarez
Ms. Camacho
After graduating from Coral Park Senior High School, Ms. Camacho went on to attend Florida International University where she majored in English Education. After interning at Coral Park in 2005, she began teaching at Gables. Not only is Ms. Camacho an English teacher, but also the TV production sponsor. After the previous sponsor for TV production left, she was asked to help out and gladly stepped in.
"It wasn't until my high school English teacher Ms. Carmen Jones-Carey inspired me with Shakespeare to love literature. She opened my eyes to a world I never knew existed. She taught me all about literary terms and broke down novels such as The Scarlet Letter and Romeo and Juliet. It is because of her love and passion for teaching literature that I was inspired to become an English teacher," Ms. Camacho said.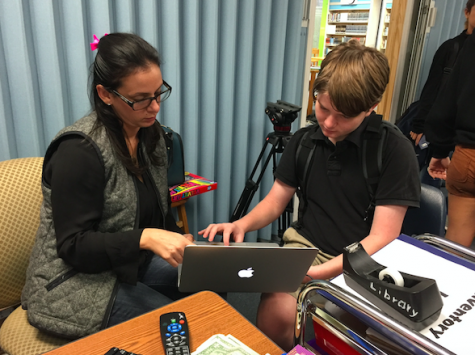 Our school is full of amazing teachers. Make sure to catch them in their classroom or walking in the halls!