Dietitian: Jennifer Caceres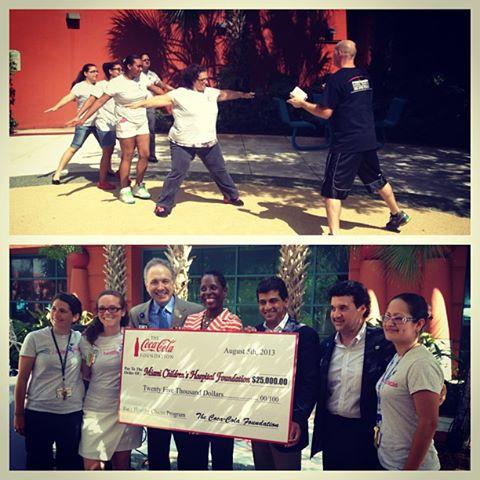 Good health isn't just a job for Jennifer Caceres. It's a lifestyle. She simultaneously works as a registered dietitian at Miami Children's Hospital, a corporate wellness counselor at Discovery Channel and remains active in her native Miami community by leading and participating in several outreach programs aimed at promoting healthy living. However, this fast-paced environment is nothing new for Caceres – she attended Gables as an International Baccalaureate (IB) student and was president of her senior class.
Caceres remembers her experience at Gables vividly. After all, she graduated not too long ago in 2007. Mr. Nelson's psychology lectures are still fresh in her mind.
"Psychology is definitely a class I would recommend taking in high school and college. My knowledge of psychology constantly helps me counsel and connect with people," Caceres said.
Following high school, she attended Ohio State University and began college life as a pre-medical student. During her junior year, before she took her Medical College Admission Test (MCAT), Caceres decided against medical school and concluded that nutrition and dietetics were the paths for her. She enrolled in various nutrition-related classes and obtained a Bachelor of the Arts (B.A.) in Psychology and a Bachelor of Science (B.S.) in Human Ecology-Dietetics by her senior year.
On January 7, Caceres came back to Gables to conduct a Pro Chat surrounding her daily life as a dietitian. She described the importance job at the hospital in the hematology, oncology and psychiatry units and her opportunity to counsel outpatients at Discovery Channel with equal and utmost enthusiasm.
Attended by mostly juniors and seniors, Caceres' Pro Chat was received well by all. She willingly offered advice and guidance to all those students interested in or on the fence about pursuing the nutrition field.
"If you know you want to pursue a career in nutrition I'd say to get started right from the beginning," Caceres said. "If you don't know what you want to do but you are interested in science, go into pre-med and go from there. Otherwise, focus on nutrition from the get-go."
With Caceres assistance, students were sufficiently fed the information needed to succeed as she has as through the soul nourishing work of dietetics.