Gablettes compiten en las Regionales de ADA
Hang on for a minute...we're trying to find some more stories you might like.
---
Tras una larga temporada de preparación, Gablettes, el grupo de danza de Gables, participó en la competencia regional organizada por La Alianza Americana de Danza (ADA por sus siglas en inglés), el pasado domingo 8 de diciembre. El evento ocurrió en el gimnasio de la preparatoria Ferguson y tuvo una duración de casi 12 horas, donde escuelas de toda la región participaron para enseñar su gran talento en el arte. Presentando seis coreografías de diferentes estilos de baile, las Gablettes tuvieron grandes resultados que prometen aún mejores para futuras competencias.
Los veinticuatro integrantes del equipo comenzaron a trabajar en estas coreografías, así como audicionar para las mismas a principios del ciclo escolar para asegurarse de estar lo suficientemente preparados para tanto este evento como los que están por venir. En total, el equipo llevó 6 coreografías de las cuales seis fueron de Varsity y una de Junior Varsity. Entre los estilos de danza presentados en las mismas, se encontraron danza contemporánea, jazz, hip-hop y kick. En todas y cada de ellas, las bailarinas y bailarín se las arreglaron para mostrar su gran precisión en cada movimiento, así como su sincronía y coordinación.
"Esta fue mi primera vez compitiendo como gablette y fue una experiencia muy buena porque me encanta competir. Además de que trajo muy buenos recuerdos  de competencias anteriores, el que quiero y confío mucho en mis compañeros hizo la experiencia más única y especial," nos compartió freshman Janitza Gonzalez.
La dinámica del evento consistió en 4 etapas que fueron seguidas rutina tras rutina. Los participantes debían (1) esperar su turno en la cafetería de la escuela, (2) ir al salón de baile para practicar el baile un par de veces previamente a presentarlo, (3) esperar nuevamente a que el nombre de la escuela fuera llamado y finalmente, (4) presentar la coreografía frente a la audiencia y a los 5 jueces que observaban y criticaban la rutina mientras grababan sus voces en pequeñas grabadoras.
El evento dio inicio a las 9:00 en punto de la mañana, abriendo la competencia con la rutina de Varsity Contemporáneo de Gablettes.  Más tarde, los seis bailarines que forman parte del ensamble se presentaron, seguido por el solo de la Co-capitana, senior Julia Andrada. Al término de la presentaciones de los solos de varsity, la primera premiación se llevo a cabo haciendo saber al equipo los resultados. La rutina del ensamble fue premiada con el primer lugar en su categoría y Varsity Contempoáneo ganó el premio Superior.
Tras un breve descanso, la rutina de Hip-Hop se presentó y más tarde la de Kick, seguida por la de Junior Varsity Contemporáneo. Terminando con las presentaciones de Gables, Varsity Jazz se presentó. Al finalizar, las últimas premiaciones tuvieron lugar donde se anunció que la rutina de Hip-Hop ocupó el segundo lugar en su categoría, al igual que de Junior Varsity. Kick ganó el premio de líder y jazz el tercer lugar .
"Pienso en general que lo hicimos súper bien en cuanto a cada coreografía. Aunque muchas de las coreaografias me sorprendieron por los resultados, hubieron otras en las que yo esperaba tener mejores resultados. Para las próximas competencias siento que nos irá mejor pues tendremos más práctica y más seguridad al competir,"  dijo freshman Paulina Texier.
Este evento ocurre de forma anual y con este, la temporada de competencias de Gablettes inicia. Más adelante, el equipo atenderá a las competencias estatales y nacionales. Ahora que los miembros tuvieron la oportunidad de presentar sus rutinas y sentirse más cómodos al presentarlos frente a grandes audiencias, ellos buscarán encontrar las mejores estrategias para triunfar y llegar a tener los mejores lugares en las premiación de ambos eventos. Sin duda alguna podemos decir que les queda un largo camino por recorrer, pero también uno prometedor.

About the Contributor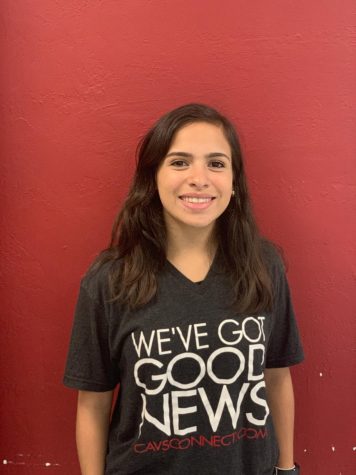 Jimena Romero, Staff Writer
Jimena Romero is a dedicated senior enrolled in the International Baccalaureate career-related program. She is now starting her third year as a CavsConnect...