Eugenio y su Ingenio: Hombre al Agua
Fecha de Lanzamiento : 4 de Mayo.
Director: Rob Greenberg.
Estrellas: Eugenio Derbez [Leonardo], Ana Faris [Kate], Eva Longoria [Teresa], Josh Segarra [Jason], Alyvia Alind Lind [Olivia], Mel Rodriguez [Bobby], Cecilia Suarez [Magdalena], Jonh Hannah [Colin], Swossie Kurtz [Grace].
Grado MPAA: PG-13
Nuestro Grado: A+++
El 2018 ha sido un año que desde su empezar nos ha deleitado con excelentes películas, pero si duda alguna una de las más prometedoras es Hombre al Agua, [Overboard en inglés] película que se estrenó en los Estados Unidos de América y Canadá el 4 de mayo de el 2018, esta nueva versión dirigida por Rob Greenberg y patrocinada por Lionsgate Films da un cambio totalmente a la película original de 1987 de el mismo nombre, porque se cambian los roles de los personajes principales: En la versión moderna Eugenio [Leonardo] es un hombre el rico el cual se cae al agua, pierde la memoria y es castigado por una mujer rubia y trabajadora a la cual él discriminó. Sin embargo en la antigua versión la mujer era la rica y el hombre era el pobre.
"La película me encantó, muy cómica y dinámica, una producción excepcional; se la recomiendo a todos mis familiares y amigos," dijo senior Verónica de Varona
La actuación de Eugenio y Ana fueron totalmente alucinantes, un sentido de humor brincaba en cada uno de sus diálogos. Eva Longoria y Mel Rodriguez no se quedan atrás, jugando un papel secundario fundamental.
La trama de la película es la de un hombre rico y millonario: Leonardo, el cual es el heredero de la empresa de cementos.  Es dueño de un alucinante yate, en una de sus aventuras Leonardo acaba con la alfombra de su camarote, por lo que contratan a una empleada para que limpie la alfombra. El trato recibido por la empleada de parte de Leonardo fue un trato rudo e injusto, ya que no le pagó y le destrozó el equipo limpiador de alfombras. Kate, esta muchacha, jura que se va a vengar de Leonardo y que se las iba a pagar. De aquí en fuera lo que pasa es pura acción.
La película tenía un guión muy de acuerdo con la trama en que se basaba, cada actor supo como aprovecharse de los recursos de su personaje y explotarlos al máximo. Vale destacar la actuación de las tres niñas que a pesar de no jugar el papel principal jugaban un papel fundamental ya que eran de cierta forma el hilo conductor que unía las piezas. Si no has visto esta película aún, que esperas, no la puedes dejar de ver.
"Que decir de Hombre al Agua, una película que brilla por su perfección, recomiendo verla en familia, la disfrutarás el triple," dijo senior Alejandro Hernandez.
La película es un ejemplo de la calidad de las películas hispanas tanto el diálogo, tema, actuación, vestuario, todo estaba en su punto perfecto, la audiencia no paraba reír mientras veía la película, pero eso si, dejo una gran enseñanza: la importancia de la familia.
About the Contributor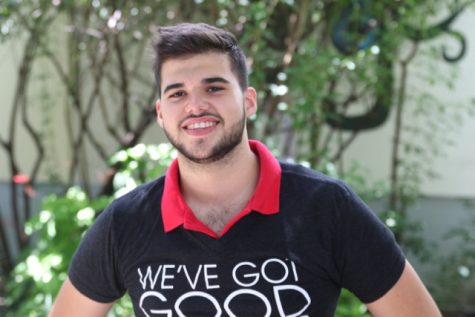 Orestes Garcia, Staff Writer
Orestes Garcia is a rising senior in the Health, Public Service and Law Academy at Coral Gables Senior High. Orestes is a humble and cooperative guy, who...