El pasillo de inglés: una nueva experiencia entre clases
Hang on for a minute...we're trying to find some more stories you might like.
---
Al caminar por el pasillo de inglés que se encuentra en el primer piso del edificio 2, seguro has quedado asombrado por las obras de arte y las citas que los alumnos han elaborado gradualmente en estos últimos cuatro meses del ciclo escolar. Sin poderlo evitar, todos nos hemos preguntado el propósito de la instalación de estas nuevas decoraciones al igual que la identidad de los talentosos estudiantes detrás del pincel. Pues al hacer alusión a no solo los libros asignados en la mayoría de los cursos de inglés, sino también a los más conocidos en la comunidad estudiantil, logran atraer la atención de todo aquel que pasa por ahí.
"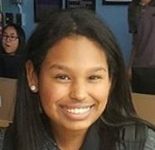 Pienso que esta actividad es una muy buena oportunidad para mostrar el talento de los estudiantes a la comunidad."
— Sophomore Ashleyth Chavez
Con el objetivo de darle color a las básicas paredes color blanco, gris y rojo que rodean el pasillo, nueve juniors pertenecientes a la clase de AP Literature, fueron elegidos por su talento o participación en el club de arte para llevar el proyecto a cabo. Aunque la iniciativa de agregar autenticidad al interior de los edificios del campus fue del director, Adolfo Costa, la idea de recrear escenas de diferentes obras literarias y sus más emblemáticas citas por medio de arte, fue de Mr. Gutierrez, quien solía encabezar el departamento de inglés. Tras su partida a otra escuela, el proyecto quedo en manos de uno de los profesores de la clase; Mr. Joshua Reich quien organiza y revisa el trabajo de los estudiantes y Mr. Groff que provee a los artistas con la pintura.
Más tarde, los participantes convirtieron esta obra en su proyecto CAS (Servicio de Actividad Creativa), un requisito que los alumnos de onceavo de IB deben cumplir. Esta actividad comenzó a principios del año escolar y los bocetos se elaboraron en el mes de febrero. Para elegir las obras literarias en las que se inspirarían para llevar a cabo el proyecto, preguntaron a los maestros sus libros preferidos y eligieron unos cuantos de los que asignaron en la clase. Entre estas se encuentran: Un giro en el tiempo, Rebelión en la Granja, Medea, Harry Potter, Romeo y Julieta, El Gran Gatsby, Frankestein, Hamlet, Macbeth, entre otros.
Los creadores de las pinturas, además de dedicar el tiempo de clase para hacer las obras, también han utilizado su tiempo libre después de clase y durante los almuerzos. Ellos afirman que las obras quedaran terminadas antes de su graduación y esperan hacer lo mismo más adelante por otros pasillos con la temática de lo que se enseña en cada uno.
"Cuando me pidieron que contribuyera en este proyecto, pensé que era una gran oportunidad y lo acepte sin pensarlo dos veces porque sabía que estaría dejando mi huella en la escuela[…] aunque me gradúe el siguiente año, mi contribución va a permanecer aquí," nos compartió Susan Fernandez.
Al final, estas talentosas personas lograron mucho más que adornar un pasillo, pues al haber escrito en los cuadros algunas de las citas que los alumnos necesitan aprender para su examen, ayudan a que les sea más fácil recordarlas. Y la ilustración de cada obra literaria que muestra la interpretación personal del artista hacía al libro, anima a las personas a darse el tiempo para leer estos textos para poder identificarse con las pinturas.

About the Writer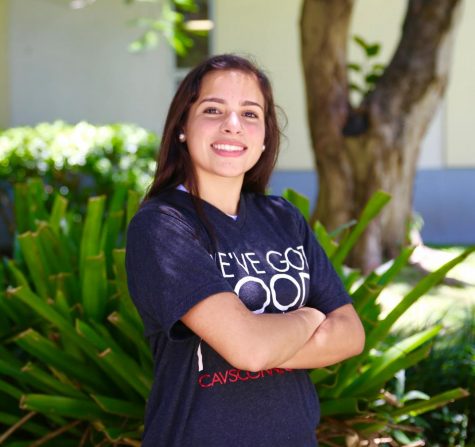 Jimena Romero, Staff Writer
Jimena Romero is a dedicated junior enrolled in the International Baccalaureate career-related program. She became a member of CavsConnect towards the middle of the last school year and now is really excited to continue being part of it as a staff writer, having the opportunity of improving her journalism skills. Besides writing, Jimena is also really passionate about dancing, and this year is starting off as a Gablette member. In her free time, she likes to read and volunteer at the Coral Gables Public Library, as well as spending time with her family and friends. Jimena is a smart, hard-working, shorty Mexican, and even though she knows the year will come with quite some challenges, she can't wait to achieve the goals she has in mind. In the future, she would like to pursue a career in communication, and travel to new places.