Reforma en Nicaragua resulta en protesta
Hang on for a minute...we're trying to find some more stories you might like.
Desafortunadamente, en los últimos años parece que la mayoría de los países en Latinoamérica tienen niveles altos de corrupción política, problemas económicos, violencia policiaca o crimen personal al igual que crímenes contra los derechos humanos de residentes y ciudadanos; no es ninguna sorpresa que varios grupos de personas se hayan adjuntado para protestar, dado a que hemos escuchado múltiples reportajes de noticieros y periódicos sobre estas tumultuosas agrupaciones.
Recientemente han reportado varias protestas turbulentas en Nicaragua, causadas por nuevas reformas de seguro social, o el Instituto Nicaragüense de la Seguridad Social (INSS), dejando a más de noventa heridos y treinta muertos. Los que terminaron lesionados fueron por la manera en que las autoridades respondieron a el caos de los protestantes – disparos a cualquier oponente a los oficiales.
"Si, es devastador lo que sucedió en Nicaragua, pero no quita la impresión de fuerza y inspiración que dieron los protestadores de abril 18 a 22, demostrando que el Nicaragüense se puede levantar tras tantos golpes y vencer," freshman Angela Valdivia dijo.
Tanta consternación por este problema es dada por lo que había empezado como una protesta de estudiantes y miembros de la coalición opositora Frente Amplio por la Democracia en abril 18 que luego llevo a una manifestación de distintos grupos de la ciudad de Managua. Algunos heridos también pudieran haber sido lesionados por oponentes de las protestas, especialmente en distintas universidades de Managua. Ambos lados se expandieron también por León, Managua, Granada, Boaco, Carazo, Estelí y Rivas.
¿Pero que es la reforma exactamente? Para empezar, la única razón por la cual Nicaragua y el gobierno de Daniel Ortega consideraron una reforma social y económica es porque el Instituto Nicaragüense de la Seguridad Social había previamente entrado en un déficit en el 2013 que recientemente llegaba a un total de 1,579 millones de córdobas, o aproximadamente 51 millones de dólares en los Estados Unidos. Son tan grandes las cantidades que la reserva en Nicaragua podría estar completamente agotada en tan solo el año 2019. Entonces, para tratar de evitar esto, en gobierno de Daniel Ortega, conjunto al INSS y la FMI – la Federación Monetaria Internacional – crearon esta reforma.
"Aunque ya haya pasado más de dos semanas de las manifestaciones de protestantes, sigue siendo importante recordar esos tres días, por todos los muertos y dañados en las ciudades de Nicaragua," dijo freshman Lisbeth Arrieta.
En la reforma, el gobierno esta aumentando la cuota personal de trabajadores nicaragüenses: patronal y laboral, al igual que crea una nueva cotización para los jubilados. Normalmente solo 6.25 porciento de los salarios ya bajos de los trabajadores van hacia el seguro social, pero la reforma remontaba este porcentaje a siete por ciento. Los empresarios tendrían que contribuir dos por ciento más de lo que ya pagaban (de 19 a 21 por ciento), y esta cantidad luego subirá a un 22.5 por ciento en 2019. Aparte de eso, los ya retirados un cinco por ciento del monto que reciben por la pensión del retiro. Por los aumentos absurdos, no solo los negocios de varias ciudades como Managua se habían cerrado durante estos días de protestas (abril 18 a 21), pero estudiantes, jubilados, jóvenes y hasta los que están al retirarse acudieron a las calles buscando una solución a lo que ellos consideraban una injusticia.
Afortunadamente, para el 22 de abril el presidente revoco la reforma de Seguro Social, aunque los sindicatos de Frente Nacional de los Trabajadores y Unión Nacional de Empleados siguen apoyando a la reforma. Hasta la patronal Consejo Superior de las Empresas Privadas se opuso a la reforma, demostrando que esto no solo afectaba a los pobres, pero también a los empleadores con mas recursos. Gracias a las protestas y el pueblo nicaragüense demostrando su incomodidad contra el gobierno, el pueblo puede vivir un día mas sin sentirse explotado, con una voz importante. Despiadadamente, esto sin reparar el dolor de las familias de los heridos y muertos, sin contar el sufrimiento de otros países en latinoamérica.
[powr-instagram-feed id=2d85a902_1526836640689]

About the Writer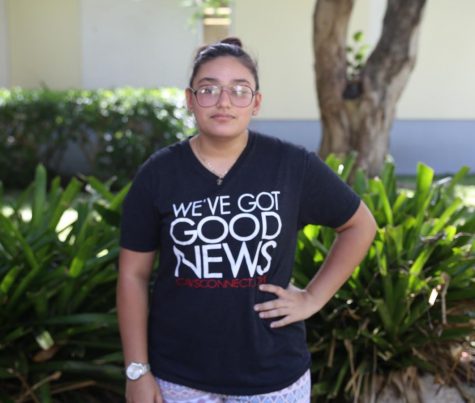 Daymara Fernandez, Staff Writer
Daymara Fernandez is a staff writer for CavsConnect. This is her second year in Coral Gables Senior High and a sophomore in the International Baccalaureate Program. Daymara enjoys writing, her favorite subjects being science in mathematics. Apart from school, she loves spending time with her friends and family. She's often called a major critic from her harsh judgement of media. This is her second year in CavsConnect, and she hopes to make the best of her school year.