No hagas ni un solo sonido
CineMovs Trailers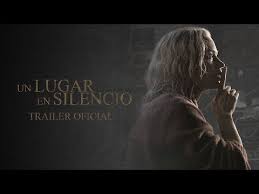 Hang on for a minute...we're trying to find some more stories you might like.
Fecha de Lanzamiento: 6 de Abril del 2018
Director: John Kransinski.
Estrellas: John Kransisnski, Emily Blunt, Noah Jupe y Millicent Simmonds.
Grado MPAA: PG-13
Nuestro Grado: A+++
Este año 2018, ha sido y continuará siendo uno de los mejores años en la historia cinematográfica. Ejemplo de esto es el estreno de una película con un desarrollo muy interesante y único, ya que su trama nunca había sido producida anteriormente. Se trata de  el gran filme: "Un lugar en Silencio".
La película nació de la inspiración de John Kransinski y fue protagonizada por el mismo Kransinski y su esposa en vida real, Emily Blunt, y producida por Paramount Pictures y . Lo que aclamó el éxito de esta película de terror estadounidense de 2018 es su trama, y su elenco, ya que se basa en como una familia de 4 [madre, padre, hijo e hija] que tienen que enfrentarse a unos monstruos que cazan a través de el medio auditivo, la única forma de permanecer seguros es estar en silencio en todo momento. Hecho que crea un alto grado de desesperación porque la madre esta esperando un hijo. Como harán para mantenerse en silencio, eso es un misterio.
Las grandiosas estrellas de esta película son:
John Kransisnski: Interpreta a el Padre de la familia, y es una persona luchadora que tiene como único objetivo proteger a su familia y librarlos de ese tormento.
Emily Blunt: Interpreta a la Madre de la familia, es la que más tensión atrae ya que está embarazada y muchas veces permanece sola, aún así es un personaje fuerte que lucha incansablemente por formar a sus hijos, ya que ser ágiles e inteligentes son las únicas cualidades que los ayudarán a sobrevivir.
Noah Jupe: Interpreta a el Hijo de la familia. El es capaz de oír pero tiene una gran barrera por delante, está muy asustado y tiene que ser capaz de controlar este miedo para poder salvar a su familia.
Millicent Simmonds: Interpreta a la Hija de la familia. Lamentablemente no tiene la capacidad de escuchar por lo que le resultará muy difícil en la supervivencia.
La película fue increíble, desde el lugar en que acontecieron los hechos, a la actuación, la trama, el vestuario y por supuesto los efectos especiales. Los monstruos tenían tan alto grado de calidad en la animación que parecían reales. A pesar de haber sido una película de terror tuvo grandes enseñanzas pero sobre todo la importancia de el amor de la familia. A los actores se le coge un alto grado de afecto y ya en la escena final en la que el padre que luchó incansablemente por salvarlos a todos. Una escena que quedará plasmada para todos los que han observado la película, por el alto nivel de emoción y el amor
"La película me mantuvo en un alto de tensión enorme, la ansiedad no la podía controlar, sin duda alguna el objetivo quedó cumplido. Si no has ido a ver "A Quite Place"  [Un Lugar en Silencio}, no se que esperas porque es una excelente película y un deleite a la vista," dijo senior Emy Santana.
Un lugar tranquilo es sin duda alguna uno de los éxitos más grandes de este año. Una película de terror tan bien desarrollada y fundamentada que vale la pena ir a ver. Si no la has visto te recomendamos que lo hagas cuando antes ya que va a hacer una experiencia única en menos de dos horas de acción y suspenso.

About the Contributors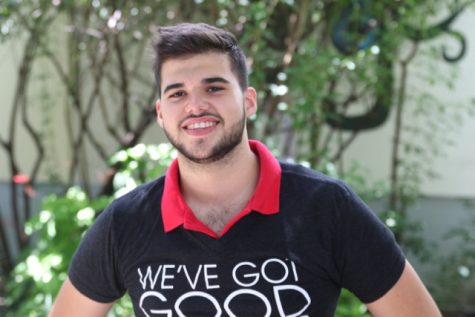 Orestes Garcia, Staff Writer
Orestes Garcia is a rising senior in the Health, Public Service and Law Academy at Coral Gables Senior High. Orestes is a humble and cooperative guy, who...