Coral Gables en FSPA: Una experiencia inigualable
Hang on for a minute...we're trying to find some more stories you might like.
---
Como se acostumbra año con año, las publicaciones de Coral Gables Senior Highschool: Cavsconnect, Highlights, Gables Live, Catharsis y Yearbook asistieron a la conferencia de la Asociación de Prensa Escolar en la Florida (FSPA, por sus siglas en inglés), la cual tuvo lugar del 12 al 14 de abril en Orlando, FL. Esta conferencia se lleva a cabo anualmente con el propósito de que los estudiantes que participan se involucren más en las diferentes formas de periodismo. Desde escribir, filmar, presentar, e ilustrar noticias, hasta el arte de la escritura creativa, citas textuales, la fotografía y sus leyendas. Además de reconocer a los estudiantes por su talento en cada uno de estos ámbitos por medio de diferentes concursos.
El evento arrancó el jueves por la mañana con una pequeña exposición donde diferentes universidades dieron informes sobre los programas de periodismo en los que cuentan, para que los estudiantes den seguimiento a esta disciplina y más adelante conviertan en carrera profesional. Durante la exposición, los  representantes de cada universidad o lugar que promocionaban regalaron dulces, plumas y botones para los estudiantes, mientras se tomaban fotos en los lugares establecidos.
En todo este tiempo, los estudiantes periodistas, especialmente locutores, camarógrafos y fotógrafos se dedicaron a lo que mejor saben hacer; cubrir el evento. Alrededor de todo el hotel se percibía la pasíon de todos ellos hacía el periodismo mientras grababan y presentaban lo que sucedía, así como las fotografías que tomaban. Sin mencionar que no podías caminar por el evento sin que por lo menos 2 personas te entrevistaran ya sea para la realización de uno de los concursos que se estaban llevando a cabo o para otro segmento en sus publicaciones escolares.
"FSPA me ha dado no solo amí, pero también a todo Florida, la maravillosa oportunidad de poner en práctica nuestras habilidades periodísticas,"nos compartío senior Betsy Martinez, presidenta de Gables Live. "Este año en especial fue un buen final para mi y una gran experiencia con mi equipo que no hubiera imaginado con nadie más."
Más adelante, concursos On the spot de ilustración, escritura, fotografía y vídeo se llevaron a cabo para reconocer a los que mejor los ejecutarán. Después de la ceremonia de inicio donde anunciarón los eventos que ocurrirían a lo largo de los siguientes 2 días, muchos de los entusiastas alumnos se reunieron para un pequeña batalla de Lip Sync, donde cada equipo escogió una canción y la bailaron mientras pretendían cantarla presentándola a los jueces. Representando a nuestra escuela, highlights interpretó "Ain't no mountain high enough."
Al siguiente día, sesiones con diferentes temas relacionados al periodismo, se llevaron a cabo. Esta fue la oportunidad perfecta para que los jóvenes periodistas encontrarán formas para mejorar en su trabajo, pues periodistas profesionales las oficiaron y se aseguraron de dar los mejores consejos para todo aquel que busque llegar a su lugar algún día.
"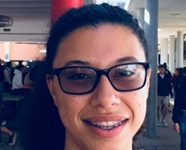 FSPA es un buen evento para comparar tu publicación con la de otras escuelas y buscar en qué puedes mejorar, además de descubrir en lo que eres bueno y poner tu nombre allá afuera"
— Sophomore Mikayla Bell
Más tarde, los organizadores realizaron un banquete especial para los participantes, donde los vídeos de algunas escuelas fueron presentados mientras todos disfrutaban de una rica cena. Al finalizar, tuvo lugar una fiesta donde todos tuvieron la oportunidad de divertirse y tomarse fotos con sus amigos en la photo booth, mientras conocían a nuevas personas.
Antes de que regresaran de vuelta a Miami, una última ceremonia tuvo lugar para revelar a los ganadores de los concursos On the Spot ocurridos el primer día del evento. Estudiantes de Gables tuvieron el honor de recibir estos reconocimientos; Mikayla Bell, sophomore y miembro de Highlights, recibió el premio on-the-spot por tercer lugar en escritura de reseña y Ari Herrera sophomore y miembro de Catharsis, mención honorifica por poesía.

About the Contributors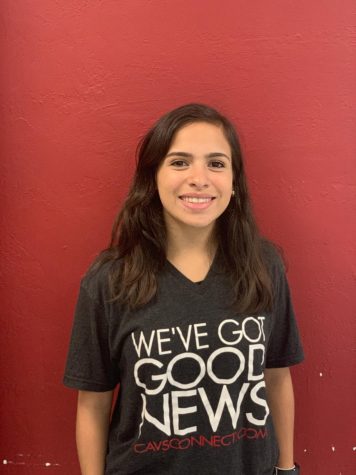 Jimena Romero, Staff Writer
Jimena Romero is a dedicated senior enrolled in the International Baccalaureate career-related program. She is now starting her third year as a CavsConnect...