Prevenciones extremas en Stoneman Douglas Highschool
Hang on for a minute...we're trying to find some more stories you might like.
Escuelas alrededor de todo el país especialmente en Florida, se han esforzado en mantener a la comunidad estudiantil segura tras el incidente ocurrido a principios de febrero de este año en Marjory  Stoneman Douglas Highschool, por medio de nuevas reglas. Bien muchos dudan de la eficacia de estas, pues parecen ser solo acciones que arreglaran el problema temporalmente, en vez de ponerle un alto permanente. Desafortunadamente, los alumnos que han sido afectados directamente por este terrible suceso y difícil proceso de ajuste con nuevas reglas que pudieran o no funcionar, son los estudiantes de Stoneman Douglas. Recientemente una nueva norma fue establecida como otro factor para mantener a los estudiantes seguros que no los tiene nada contentos.
Al regreso de las vacaciones de primavera, las autoridades pidieron a los jóvenes estudiantes que cargarán sus pertenencias en mochilas transparentes para evitar la infiltración de armas por ese medio en las escuelas. Muchos estudiantes se molestan por esta nueva regla que no solo expone su privacidad sino que también de alguna forma los hace vulnerables al peligro de que los asalten camino a casa o viceversa en caso de que carguen objetos de valor.
"El usar mochilas transparentes puede no ser de mucha ayuda para la seguridad pues aún así los estudiantes podrían meter objetos peligrosos e ilegales a la escuela, esto lo único que hará es exponer la privacidad de los estudiantes," nos compartió sophomore, Yannie Wong.
Como consecuencia, muchos estudiantes en contra de este modificación al reglamento decidieron hacer algo al respecto y llenaron sus mochilas de tampones para demostrar la privacidad que está regla expone a los ojos de todos, patitos de hule expresando lo tonto que es pensar que una mochila transparente puede acabar con la inseguridad en la que los estudiantes viven día a día, además de botones que leen Never Again, We vote y I call BS. Ellos piden que haya un cambio que los haga sentir más seguros al ir a la escuela sabiendo que no habrá armas, no que las mochilas muestren que las hay.
"
La forma en la que protestaron es muy creativa y válida, pues al ser la única escuela con está norma, tienen toda la razón en estar molestos y todo el derecho de expresarlo"
— Freshman Nikolas Lund-Hansen
Puede que esta no haya sido el mejor cambio que las autoridades hicieran, sin embargo el hecho de que estén buscando soluciones nos hace saber que poco a poco la situación va a ir mejorando así como también ver la atención que están poniendo ante este problema, solo es cuestión de que encuentren la solución correcta.

About the Contributors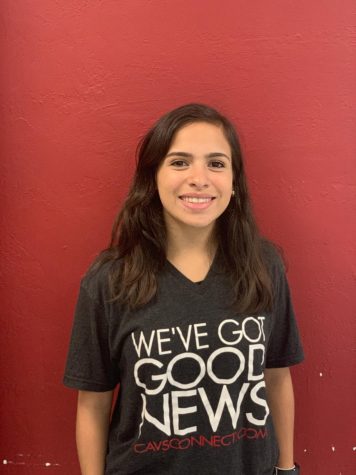 Jimena Romero, Staff Writer
Jimena Romero is a dedicated senior enrolled in the International Baccalaureate career-related program. She is now starting her third year as a CavsConnect...