Familia de 8 cae de precipicio
Telemundo
En la última semana un SUV perteneciente a la familia Hart, fue encontrado en el mar tras caer de un acantilado de más de 100 pies. Los cuerpos de las dos madres, Jennifer y Sara Hart, fueron encontrados junto a tres de sus seis hijos. Los otros tres permanecen desaparecidos y están siendo buscados por las autoridades.
Recientes avances en la investigación indican que no fue un accidente, sino un acto voluntario tal caída. Información dentro del módulo del carro indica que el vehículo paró a unos 70 pies del borde del precipicio y luego aceleró. A 90 millas por hora se lanzaron sobre el borde del precipicio hacia abajo.
"Es una tragedia que esto haya pasado, especialmente si fue al propósito. Esos niños no merecían morir de esa manera trágica y horrible. Es una pena que los servicios de familia no llegaron a tiempo para investigar los abusos en el hogar," dijo sophomore Alexa Riedmiller.
Las autoridades creen que todos los ocho miembros de la familia se encontraban en el auto. Esfuerzos de búsqueda para esos desaparecidos es difícil, ya que cayeron en una zona de alta marea y poca visibilidad en el agua.
Los motivos de este acto todavía no son claro. En los días antes del accidente fatal, la familia manejó 500 millas de su hogar en Washington hasta el condado Mendocino en California por razones desconocidas. En esos mismos días servicios familiares trató de contactar a la familia para investigar sobre abuso y negligencia en el hogar Hart. La familia no tuvo ninguna historia previa con las autoridades ni ningún motivo claro por sus acciones.
"No entiendo como alguien pudiera hacer algo así intencionalmente, y a su hijos. Es muy triste," dijo senior Cesar Barrientos.
Muchos que conocían a la familia las describían como madres dedicadas y amorosas que hacían todo por sus hijos. Además, indicaban que aunque muchos dudaban de su amor por sus 6 hijos adoptivos los querían de manera incondicional. Sin embargo, vecinos de los Hart indicaban que habían visto cosas extrañas y preocupantes de parte de los. Uno de estos vecinos, Bruce DeKalb, dijo que uno de los hijos, Devonte, iba a su casa a pedir comida frecuentemente. Devonte pedía que llamaran a los servicios de familia y les decía que no le daban de comer. También contó que una de las niñas adolescentes, Hannah, tocó su puerta las 1:30 de la mañana después de haberse tirado de su ventana en el segundo piso.
Sin mucha información con relación a los motivos de esta tragedia, las autoridades seguirán investigando las razones por cual la familia cayó del precipicio. La búsqueda por los tres hijos desaparecidos también persiste, con pocas esperanzas que se encuentren vivos. Se espera saber mayor información en las próximas semanas.
About the Contributor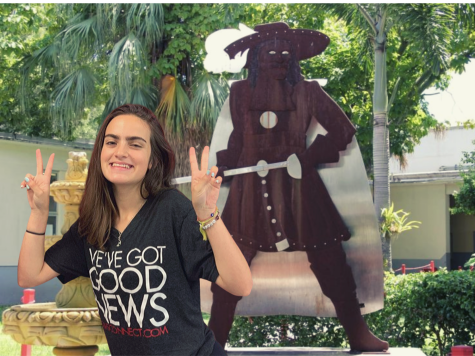 Ana Capiro, Spanish, Student Life and Copy Editor
Ana Capiro is a senior in the International Baccalaureate (IB) program, and can't wait to start her third year in CavsConnect as the site's Spanish, Student...