Art Walk: Estudiantes talentosos muestran sus obras
Hang on for a minute...we're trying to find some more stories you might like.
---
El viernes pasado, los clubs de arte y escritura creativa, organizaron una gran actividad en la que talentosos estudiantes exhibieron sus más recientes obras mientras les daban los últimos retoques a las mismas, con la finalidad de mostrar a la comunidad estudiantil, así como a los maestros el gran talento de los estudiantes, la facilidad que tienen al llevar a cabo sus obras y el increíble pasatiempo que es el arte por el bello y complejo proceso que conlleva al igual que el sentimiento que deja con tan solo ser observadas, además de alentar a más estudiantes a que se inscriban en el club para también compartir su gran talento con otros.
"
Este evento fue inspirador porque hubo mucha colaboración entre ambos clubs y la gente que se paraba a observar su trabajo estaba reunida por el arte"
— sophomore, Kevin Windelberg
A lo largo de esta pequeña exposición que se llevó a cabo durante ambos almuerzos, en frente del edificio noveno, se pudo observar diferentes técnicas de dibujo y pintura; había obras a colores de madera, pintura en spray, con la técnica de rasgado, pintura acrílica etc. Mostrando así la gran variedad de arte que los alumnos son capaces de elaborar.
Lo más impresionante de estas obras y sus creadores fue sin duda alguna la gran facilidad que tienen para llevarlas a cabo, ya que algunos afirmaban que llevaban un par de días realizandolas, mientras que otros tan solo un par de horas, lo cual parece difícil de creer debido a la admirable complejidad que estás muestran.
"Este evento es la oportunidad perfecta para mostrar el talento de los estudiantes, además de que el que la escuela tenga la academia de artes interpretativas y visuales, hace de este evento aún más importante," dijo senior Susan Fernández.
Siendo esta la segunda ocasión en la que el evento se lleva a cabo, esperamos saber más del talento de nuestros compañeros, así como ver a más alumnos involucrados en el arte más adelante.

About the Contributor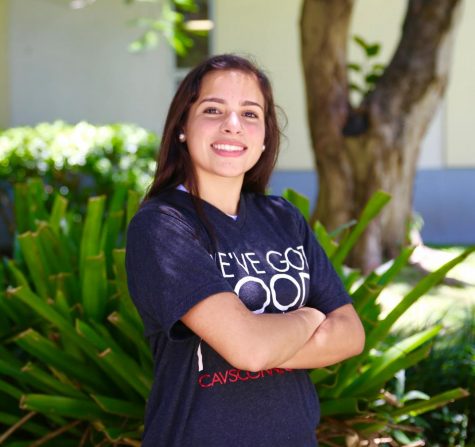 Jimena Romero, Staff Writer
Jimena Romero is a dedicated junior enrolled in the International Baccalaureate career-related program. She became a member of CavsConnect towards the...