Horas de servicio: Vitales para la formación del estudiante
Hang on for a minute...we're trying to find some more stories you might like.
Los cuatro años de bachillerato además de venir con grandes experiencias y aprendizaje, también traen consigo muchas responsabilidades y requisitos que se deben de cumplir para llegar a la meta que todos tienen en común; graduarse. Estos requisitos no solo consisten en pruebas y clases que aprobar, sino también actividades que de alguna forma ayuden a los estudiantes a estar más preparados para la siguiente etapa, como lo es el cumplir con horas de servicio comunitario.  Las horas de servicio comunitario además de ayudar a los estudiantes a tener experiencia en ciertos ámbitos y dar el visto bueno en el curriculum de quienes las ganan, también pueden llegar a dejar una gran experiencia en ellos que les haga reflexionar sobre los problemas que ocurren en la comunidad y como hacer una diferencia ante su solución. La gran ventaja de este requisito es que hay una gran lista de formas para cumplirlo, ya que tiene flexibilidad en cuanto a los intereses y tiempos del estudiante.
"
Las horas de servicio comunitario son muy importantes y fáciles de cumplir, ya que se pueden ganar en muchos lugares. El punto es ayudar a la comunidad."
— junior Santiago Romero
Muchas instituciones tienen programas para que los estudiantes cumplan con sus horas de forma entretenida mientras ayudan a la comunidad. Ya sea en eventos de alguna iglesia, hospitales, guarderías, bibliotecas públicas, campamentos de verano o incluso en diferentes compañías, donde los voluntarios pueden dedicar su tiempo haciendo actividades sencillas mientras experimentan el ambiente de un trabajo que podría convertirse el suyo en el futuro.
Estas actividades no tienen que ser elaboradas forzosamente en lugares ajenos a la escuela o tiempos extracurriculares, pues escuelas también ofrecen una gran variedad de actividades para cumplir con ellas. En Coral Gables Senior Highschool en particular, hay muchas opciones para ganar horas de servicio comunitario, desde atender a las juntas mensuales de uno de los muchos clubs que hay, como Interact, National English Honor Society, Hip, entre otros, hasta ayudar en la biblioteca. Además de ganar horas siguiendo un pasa tiempo y ayudando a los demás alumnos con clubs y trabajos que encargan los maestros, también hay opciones que se enfocan a ayudar más allá de la comunidad estudiantil como lo es la organización de "La Liga Contra el Cáncer". Esta organización se dedica a recaudar fondos durante todo el año para ayudar a pagar los tratamientos de los pacientes que sufren de esta terrible enfermedad y no tienen recursos financieros para afrontarla. Los jóvenes involucrados, ya sea estudiantes de Gables o no, obtienen sus horas ayudando, sin embargo cabe mencionar que la gran mayoría lo hace más por altruismo que por el requisito escolar.
" 'La Liga Contra el Cáncer' y los juniors que representan esta institución caritativa mantienen una relación simbiótica, ya que de la misma forma que estos (la mayoría de CGSH) contribuyen a 'La Liga' con su esfuerzo y arduo trabajo, 'La Liga', a su vez, contribuye a su formación de liderazgo dentro de la comunidad, además de su disciplina y sensibilidad hacía los más necesitados," dijo Mrs. Keedy, maestra de español y patrocinadora de esta gran organización.
Bien, muchos estudiantes afirman que este requisito es una perdida de tiempo además de ser innecesaria para poder graduarse, sin embargo en las pocas horas que los estudiantes dedican para poder cumplir con el requisito, se deja un gran impacto positivo en la comunidad, sin mencionar que la gran experiencia que se vive y el sentimiento de haber  hecho diferencia para mejorar la situación en la que la comunidad vive es inigualable, una vez que empiezas no vas a querer parar.
About the Contributors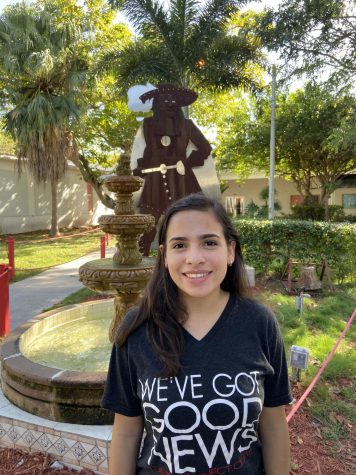 Jimena Romero, Staff Writer
Jimena Romero is a dedicated senior enrolled in the International Baccalaureate career-related program. She is now starting her third year as a CavsConnect...