Al Otro Lado Del Muro
Telemundo
Hang on for a minute...we're trying to find some more stories you might like.
Al otro lado del muro es una telenovela estadounidense producida por Telemundo Studios que se estrenó en Telemundo el 21 de febrero de 2018. La serie gira en torno a dos mujeres, una de origen humilde y la otra una figura prominente, que cruzan de México a Estados Unidos para rehacer sus vidas. En esta serie contemporánea, que refleja la realidad de muchos emigrantes, ambas mujeres tendrán que hacer lo imposible por llevar a sus hijos adelante y sobrevivir, dejando atrás todo lo que sabían hasta entonces.
"La novela es muy entretenida para mi y para toda mi familia. La trama es muy realista y en mi opinión muchas personas se pueden sentir identificadas con la historia," senior Mary Caudales dijo.
En el día del estreno Telemundo subió sus ratings debido a la ansiada espera de la aparición de la novela. Debido a la trama de la novela muchas personas se sintieron identificadas y entusiasmadas por saber que sería lo que esta novela tendría que ofrecer. Una de las mujeres, Eliza Romero, salé de México en busca de una mejor vida junto a su esposo. Sin embargo, al llegar a Estados Unidos no puede reunirse con su amado y se queda sola con sus dos hijos en un país desconocido y sin saber el idioma. Sofia Villavicencia es la otra protagonista de la obra, la cual esta casada con el exitoso Gobernador de Puebla y es la ex-miss México. Su vida iba muy bien hasta que se entero de que su esposo con el que había compartido muchos años de su vida era no solo un político corrupto sino que estaba involucrado en una red de delincuencia con trafico sexual de niños y mujeres. Al denunciar esta situación su vida se vio amenazada, razón por la cual tuvo que huir secretamente del país. Sofia no contaba con ninguna ayuda ya que todos sus contactos estaban involucrados en esta red de delincuencia. Sin ninguna salida, Sofia huyó a Estados Unidos donde se reencontró con Eliza a quien había conocido años antes. Ambas mujeres se apoyaron una a otra hasta que sus hijos crecieron.
"Me parece que aunque tu situación no sea como la de los personajes es una historia que se puede disfrutar, ya que podemos concientizarnos sobre la situación que hoy en día muchas personas enfrentan," senior Maria Gonzalez dijo.
En esta historia no solo vemos las dificultades que muchos inmigrantes tienen que enfrentar sino que también podemos ver como esto afecta a sus hijos ya que estos se encuentran sin apoyo y temor a ser deportados. En la historia se muestran los hijos de ambas protagonistas ya grandes con edades entre los 17 y 18 años. Ellos enfrentan diferentes conflictos ya que tienen ansias de sobresalir, sin embargo, se enfrentan con la realidad de ser indocumentados. También se muestra como estos adolescentes son victima de burla debido a que son diferentes y sus familias son inmigrantes.
Esta novela es no solo muy entretenida sino que también nos muestra la realidad de muchas personas inmigrantes en su día a día. Es una historia muy conmovedora en la cual podemos notar las diferentes situaciones a las que como inmigrantes muchos individuos se encuentran. No solo nos muestra conflictos que los adultos enfrentan sino también realidades que muchos estudiantes luchan al no poder asistir a la universidad y tener que conformarse con oficios sin poder realizar sus sueños. En conjunto esta novela ya tiene muchos seguidores que no quieren perdérsela por nada.
About the Contributors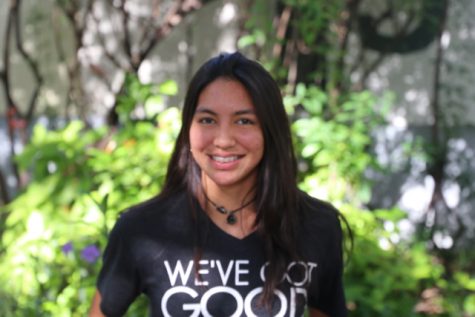 Paula Gonzalez, Staff Writer
Paula Gonzalez is a senior in the International Baccalaureate (IB) program at Coral Gables High School. Coming from Perú her sophomore year, she quickly...