Senior Picnic y Spirit Week
Hang on for a minute...we're trying to find some more stories you might like.
Cada día está más cerca la graduación de los seniors de la escuela Coral Gables Senior High School, y esto hace que cada una de las actividades sea aún más profunda y que la disfruten al máximo, así los seniors difrutaron de su última semana de spíritus [spirit week], donde lucieron desde este lunes hasta el hueves los mejores atuendos y el viernes estuvieron listos para disfrutar de el Senior Pinic, actividad en la que todos los senior se reunieron en el terreno de fútbol de la escuela para disfrutar de esta actividad
El día lunes se vistieron como un turista caminante. La mayoría lucieron camisetas de flores, shorts, medias, protector solar, gorras,espejuelos, cámaras fotográficas y vinoculares etc.
El día martes lucieron los Días de Dêcadas de formas muy variadas desde 1920 hasta los 2000.
El Miércoles, los estudiantes se vistieron como un profesor, y aquí la creatividad dijo presente a su máximo exponente.
El Día Jueves fue el día de los memes y de disfrasarce como los dibujos animados. Aquí desde Scooby Doo hasta lo más increíble se vio desplegado por los senior en los pasillos de la escuela.
Después de desplegar todos los atuendos posibles, nuestros seniors estaban listos para uno de los días más esperados de el año escolar: "Senior Picnic," el evento que es organizado por Ana Suarez y su grupo de estudiantes en la clase de actividades se llevó a cabo el viernes en el campo de fútbol americano de la escuela.
Todo estaba perfecto, al inicio de el día los estudiantes se dirigieron al teatro donde pudieron apreciar la película High School Musical 3, la cual desplegó en muchos lágrimas porque los tiempos de secundaria estaban llegando a su fin. Mientras observaban la película fueron divididos en grupos para ir a desayunar una gran variedad de cereales en la cafetería. Al terminar la película y después. que todos los grupos desayunaron se otorgaron los superlaivos: Mejor historia de Snapchat, Peor manejando, Mas cercano a recibir una medalla Olímpica, Mejores Amigos, Futuro Presidente de los Estados Unidos, entre otras categoría, así fueron estos seniors otorgados con semejante cualificativo a través de la votación.
Acto seguido, ya todo estaba listo y los senior estaban listos para ir a el terreno para divertirse. Al llegar habían un sinnúmero de deportes tales como: fútbol americano, tenis, pelota, volleybol, platillo volador, entre otros. Además de inflables en el que los estudiantes demostraron su rapidez y destreza.
" Fue una tarde inolvidable, nunca voy a olvidarlo. Todo fue perfecto, si esa es la única palabra con la que se puede definir la actividad," dijo senior Verónica de Varona.
"Desde los inflables, a las risas y los bailes, todo encajó en perfecta armonía y simetría," dijo el senior Bryan Dieppa.
La música también estuvo presente y acompañada de una animación excelente que mantuvieron un ambiente increíble durante toda la tarde. Entre juegos, música y deportes los seniors que asistieron a la actividad quedaron totalmente encantados. Esta fue una de las mejores experiencias durante duodécimo grado para muchos.
La clase de 2018 se siente muy agradecida con Adolfo Costa [ Director de la Escuela], Ana Suarez [Directora de Actividades de la Escuela] y todos los profesores y estudiantes que hicieron posible que esta actividad se efectuara. Acercándose ya el día de graduación, los estudiantes de la clase 2018 dejaron una marca en su Senior Picnic. Go Cavs!

About the Writer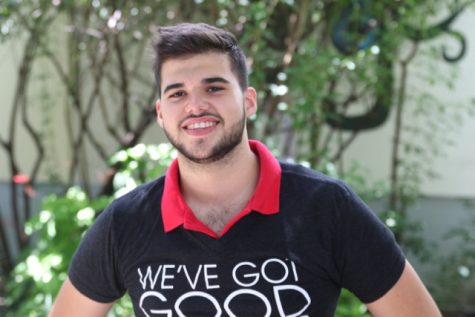 Orestes Garcia, Staff Writer
Orestes Garcia is a rising senior in the Health, Public Service and Law Academy at Coral Gables Senior High. Orestes is a humble and cooperative guy, who is looking forward to his last year of high school. He moved from Cuba to Miami last year towards the end of his sophomore year. Although the move was difficult for him, Orestes believes he has finally found his place here at Gables. A few of his goals are to become fluent in English and become a Cardiologist. As a new Spanish staff writer, Orestes hopes to attract more Spanish-speaking students to the CavsConnect website because he wants them to feel included and involved at school. Outside of CavsConnect, Orestes is a part of National Honor Society, Key Club, and the Cancer League where he shows off his love of giving back to people. On his free time, Orestes loves listening to music, watching sports, hanging out with his friends, and play baseball.