Seniors de Distinción
En la mañana de el 18 de Enero de el 2018 se reunieron ,en el aula 9222, los 20 Seniors de Distinción para realizar la sesión de fotos. Marissa Singer, Alain Guerra, Alyssa Lamadriz, Ashley Knapp, Brianna de la Osa, Cavan Wilson, Ewan Hennessy, Julie Balladares, Katie Molina, Leila Iskandarani, Lior Colina, Marta D'Ocon, Orestes Garcia, Savannah Payne, Valeria Gutierrez, Virgil Alfred, Ximena Puig, Yanik Ariste, Yara Faour y Abby Flores. Todos los seniors mostraban un alto grado de felicidad, ya que después de un largo camino, la graduación está cada vez más cerca.
Se realizaron dos fotos, la primera contó con la participación de Katie Molina, Brianna de la Osa, Lior Colina, Marta D' Ocon, Cavan Wilson, Leila Iskandarani, Virgil Alfred, Alain Guerra, Ewan Hennessy and Alyssa Lamadriz. En esta foto los deportes de el fútbol, fútbol americano, pelota, atletismo y el baloncesto, estaban presentes, demostrando que la excelencia deportiva y académica no son mutuamente exclusivas. Todos los estudiantes mostraron su mejor sonrisa, la cuál demostraba más que eso, representaba esfuerzo, sudor y satisfacción por haber logrado obtener esta distinción.
"Quizás sólo sea una foto en el yearbook, pero estoy contenta de haber sido parte de ella porque significa que mis profesores están orgullosos de mí, y eso me hace muy feliz," dijo senior Marta D'Ocon.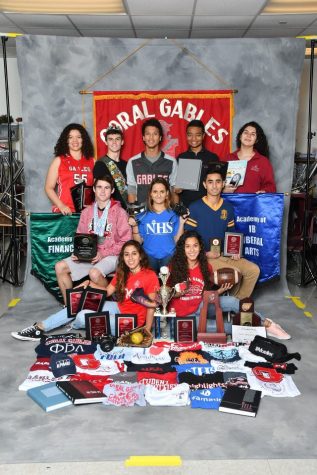 La segunda sesión de fotos fue increíble, los estudiantes se rieron mucho con el fotógrafo. Valeria Gutierrez, Marissa Singer, Ashley Knapp, Julie Balla, Orestes García, Savannah Payne, Ximena Puig, Yara Four y Abby Flores, lucieron muy orgullosos las camisetas de los clubs y deportes en los que han participado respectivamente. Cada uno posó decisivamente con sus premios y medallas sonriéndole a el futuro y a el pasado.
"Es un gran honor ser reconocidos y sonreír para una foto, es lo poco que podemos hacer para agradecer," dijo senior Valeria Gutierrez
Los Seniors de Distinción están más que listos para seguir adelante en la aventura de los estudios, pero sin duda alguna la huella dejada por nuestra escuela Coral Gables Senior High School, es imborrable. En esa huella quedan recuerdos, triunfos y trabas que hacen de ellos mejores personas cada día y a donde quiera que vayan siempre estarán muy dignos de ser un Cavalier. Go Cavs!
About the Contributor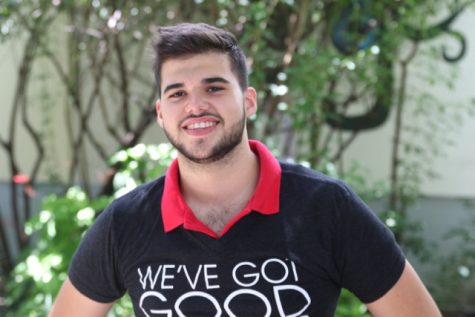 Orestes Garcia, Staff Writer
Orestes Garcia is a rising senior in the Health, Public Service and Law Academy at Coral Gables Senior High. Orestes is a humble and cooperative guy, who...