Las Diferentes Banderas de Gables
La Organización "Gables Flags" es para todos las Lenguas, Academias, Grupos y Estudiantes. La organización fue creada por los "Hermanos Gonzalez," Braulio, Luis y Paula. Creado con el propósito de mostrar las muchas culturas de nuestra escuela y promover el intercambio de culturas, Gables Flags fue inspirado por las propias experiencias de los hermanos en Gables como inmigrantes.
"Pienso que Gables Flags es una oportunidad increíble para que los estudiantes aprendan más sobre diferentes culturas y además estén familiarizados con las nacionalidades de otros estudiantes. Personalmente he aprendido bastante desde que se formó el proyecto, ya que tenía conocimiento que Coral Gables era un colegio con gran diversidad, pero igual me quedé sorprendido de cuántas culturas podían ser encontrada,"  dijo junior Luis R. Gonzalez.
El proyecto cuenta con varias actividades ejemplo de esto son los "Lunes Culturales", días específicos una vez al mes donde se cultiva la cultura de los estudiantes que atienden. "Flag Day" es otra de las actividades donde cada uno lleva una camiseta con el lugar de donde nació, demostrando así su herencia y su cultura.
Gables Flag también está trabajando en dar informaciónn en una segunda lengua mediante traducciones , redes sociales y presentaciones en las clases de ESOL. El objetivo de esta organización es lograr que los estudiantes crucen la barrera lingüítica ennuna manera más profunda y abierta porque fomentaría la educación brindada en la escuela.
"Para mi es muy importante que los estudiantes sepan que hay mucha diversidad en Gables ya que nos ayuda a todos a tener una mente abierta y pensar globalmente," dijo el junior Braulio J. Gonzalez.
Organizaciones como esta, hacen que cada persona se sienta orgulloso de su proveniencia y que se de cuenta que en la unión está la fuerza.
About the Writer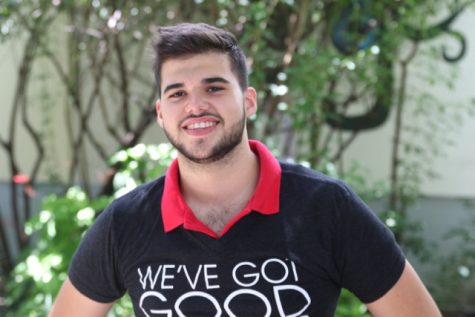 Orestes Garcia, Staff Writer
Orestes Garcia is a rising senior in the Health, Public Service and Law Academy at Coral Gables Senior High. Orestes is a humble and cooperative guy, who...