Tragedia en Texas
El pueblo de Sutherland Springs, en las afueras de la ciudad texana de San Antonio, perdió ayer al 4,2% de su población. Devin Patrick Kelley un ex-soldado de 26 años, asesinó a 26 e hirió a otros 30 de sus 643 habitantes cuando entró disparando desaforadamente a los feligreses congregados en un oficio religioso en la iglesia baptista de la comunidad.
A las 11:20 de la mañana (hora local) el sospechoso, vestido de negro, fue visto en una estación de gasolina cercana a la iglesia. Momentos después cruzó la calle, salió de su auto y comenzó a disparar. Luego se movió al lado derecho de la iglesia y continuó disparando. Entró y siguió disparando. Todo parecía una lluvia de balas creada a sangre fría.
"Lo sucedido hace que cada uno de los pensamientos de nosotros, están con la familia de los damnificados. Este hecho no puede ocurrir en un país donde todos somos uno," dijo senior Orlando Cruz.
"
Nuestros corazones juntos son invencibles, somos un país fuerte. Todos nuestros pensamientos están con aquellos que vieron su muerte en un lugar tan sagrado."

— senior Verónica de Varona

Al salir de la iglesia, un residente local lo vio y le disparó. El sospechoso soltó su rifle y huyó en su vehículo. Dos residentes locales lo persiguieron hasta que se salió de la carretera. Las autoridades locales confirmaron este lunes que el atacante fue herido de bala en dos ocasiones -en la pierna y el torso- por los dos hombres que lo perseguían, pero murió luego de darse un tiro en la cabeza. Se sabe que durante esta persecución, el sospechoso llamó a su padre y le dijo que estaba herido y que no iba a sobrevivir.

Todo lo sucedido quedó registrado en un video de unos siete minutos, según oficiales, en el que se ve cómo mató a sus víctimas de manera metódica.

Kelley, ex soldado de la Fuerza Aérea, había dejado un rastro de mensajes en Facebook en los que aparece como una persona violenta y acaso con problemas psicológicos, que combinaba actividades en iglesias con profesiones públicas de ateísmo. De hecho, en uno de sus últimos posts apareció con un rifle AR-15. Kelley perteneció al Ejército estadounidense entre 2010 y 1014  y prestó servicio en la preparación logística de Nuevo México hasta su marcha en 2014, según aseguró la Fuerza Aérea en un comunicado.

Todo indica que el motivo de la masacre fue una disputa familiar, pero las autoridades aún investigan lo sucedido. Lo que si están seguros es de que no está vinculado con un ataque terrorista.

"Nuestros pensamientos y oraciones están con las víctimas y las familias del ataque asesino de hoy en Sutherland Springs, Texas", dijo Trump, en un comunicado difundido por la Casa Blanca. "Este horrible acto de maldad ocurrió cuando las víctimas y sus familias estaban en su lugar de adoración sagrada. No podemos poner en palabras el dolor y el dolor que todos sentimos, y no podemos comenzar a imaginar el sufrimiento de aquellos que perdieron a los que amaron. Nuestros corazones están rotos", agregó el mandatario.

[powr-instagram-feed id=33a86e59_1510275941471]
About the Writer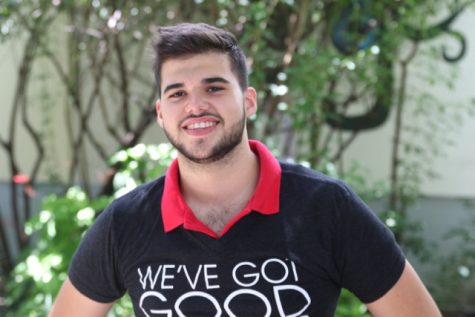 Orestes Garcia, Staff Writer
Orestes Garcia is a rising senior in the Health, Public Service and Law Academy at Coral Gables Senior High. Orestes is a humble and cooperative guy, who...