Miami Nos Dio la Espalda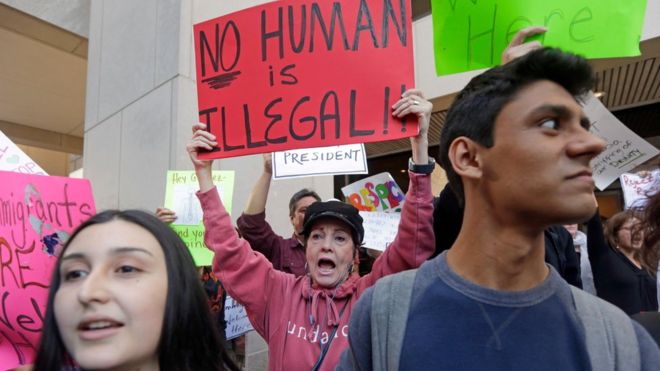 Miami, una de las ciudades conocidas por su diversidad, ha dejado de ser una ciudad santuario. 'Ciudad Santuario' se les llama a ciudades que se denominan como refugios para la población inmigrante. Tras la declaración del alcalde de Miami-Dade, Carlos Giménez, en donde exigió el pasado jueves que las cárceles locales mantengan detenidos a inmigrantes indocumentados a petición del gobierno federal. Esto desató el enfado y frustración en los ciudadanos ya que ahora se sienten desprotegidos al no saber si es que en realidad el gobierno los apoya.
De todas las ciudades santuario en Estados Unidos, Miami fue la única en aceptar la propuesta de la administración de Trump. Ciudades como San Francisco, New York y Chicago, se pusieron de pie ante la medida ejecutiva de Donald Trump. El presidente las despojó de ayudas financieras  al firmar esta orden ejecutiva. El hecho de que otras ciudades hayan decidido tomar acción ha sido controversial ya que ahora los ciudadanos perciben al alcalde Carlos Giménez como que está traicionando a la población siendo él de origen inmigrante.
"Me siento muy decepcionado sobre esta situación, ya que muchas personas ven Miami como la capital de los inmigrantes y un centro donde diferentes culturas se encuentran," sophomore Luis R. Gonzalez dijo.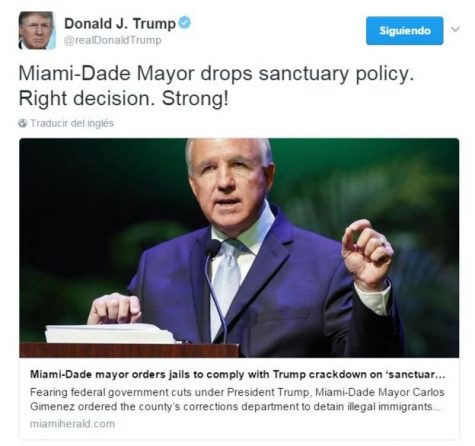 Las llamadas ciudades santuario están comprometidas con proteger a los ciudadanos inmigrantes de deportación, muchas de estas se están uniendo para enfrentarse a los decretos de la administración de Trump. Miembros de la coalición de Ciudades por la Acción por la Reforma Inmigratoria ya se están uniendo y afirman que irán hasta el final en esta batalla legal. El alcalde Bill de Blasio ha declarado que está listo para ir a corte por este tema y que predice que muchos otros alcaldes se le unirán. Igualmente, el alcalde de Atlanta ha decidido unirse a sus colegas alcaldes a lo largo del país en la condena de los decretos del presidente en inmigración, el motivo de su decisión ha sido que cree que los decretos del presidente violan los principios de la constitución de Estados Unidos.
"Siento que Miami es la representación de la diversidad cultural, sin embargo me entristece saber que el gobernador a tomado esta desición que afectará a muchos ciudadanos en nuestra comunidad," junior Paula Martinez dijo.
Lo que más ha llamado la atención sobre este hecho es que Miami-Dade es un condado donde muchos inmigrantes se sienten seguros y ha está basada en estos inmigrantes que buscan el desarrollo de este condado. El 52% de la población en Miami nació en el extranjero, se calculan que 151.000 inmigrantes indocumentados viven en el condado. Este hecho ha despertado dudas sobre lo que podría pasar ahora con los ciudadanos inmigrantes.
About the Contributor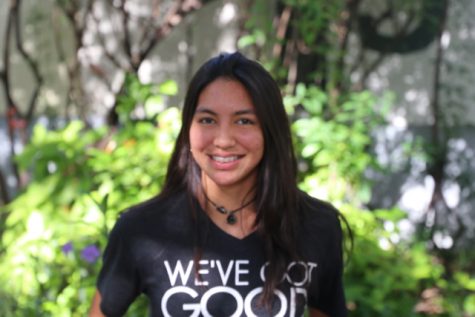 Paula Gonzalez, Staff Writer
Paula Gonzalez is a senior in the International Baccalaureate (IB) program at Coral Gables High School. Coming from Perú her sophomore year, she quickly...