PlayStation 4 Pro: Lo que necesitas saber
Por segunda vez en el 2016, Sony ésta al lanzar una nueva versión de su exitosa consola de juegos PlayStation 4, llamándolo PlayStation 4 Pro.
La consola se lanzará el 10 de noviembre por 399 dólares, es una actualización bastante grande de la del PlayStation 4 original en términos de potencia. Con algunos juegos, es capaz de producir resoluciones mucho más altas,  gráficos más bonitos en adición a cosas como tiempos más rápidos de carga. También, los mismos juegos del PS4 serán compatibles para el PS4 Pro. Esta nueva consola es solamente  una mejora del PS4.
En lo que a hardware se refiere, en el interior tiene un procesador de arquitectura X86 y 8 núcleos compartidos para CPU y GPU. La memoria unificada asciende a 8GB DDR5, lo que ya es una barbaridad si tomas en cuenta que la PS3 tiene 512MB. La parte trasera es una gran rejilla de ventilación en la que tan sólo destacan un puñado de puertos: HDMI, Ethernet, audio óptico y un puerto AUX.
"No puedo esperar al 10 de noviembre que salga el PlayStation 4 para comprarlo, espero que este mejor que los otros.  Lo que más me gusta de estos juegos es que puedo reunirme con mis amigos a jugar y pasar una tarde divertida con ellos" dijo estudiante de duodécimo grado, Keven Alfonso.
El PlayStation 4 Pro ofrecerá mucho más detallada y fluidas imágenes, en tanto la última versión contará con una mayor capacidad de procesamiento. El objetivo de estos cambios es permitir un juego en 4k y lograr la compatibilidad con la tecnología de imagen HDR, que mejora la luminosidad y el color. Ante ello, el delegado de Sony, Andrew House, expresó que el comienzo de esta gama de hardware busca satisfacer las demandas de quienes quieren precios razonables a la vez que experimentan mucho más renovadas y claras imágenes.
About the Contributor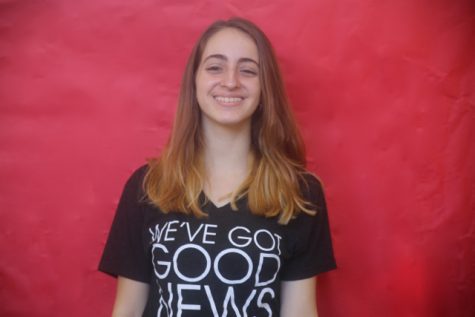 Veronica De Varona, Staff Writer
Veronica De Varona is a junior in the Visual and Performing Arts Academy at Coral Gables Senior High. Veronica was born in Havana, Cuba from a big and...