Best Buddies: Un Dia Inolvidable
Best Buddies es una organización internacional que lucha por la integración social de las personas con discapacidad.  Nuestra escuela, Coral Gables Senior High School, es muy afortunada de tener este increíble club y ser parte de este.
Este Sábado, 22 de agosto se realizó un picnic en el parque David T. Kennedy Park, donde les dieron la bienvenida a todos los nuevos miembros del club. Fue una gran experiencia la cual contribuyó a la creación de nuevos amigos entre los estudiantes, usando lo que los jóvenes más le gusta; juegos, música y comida. Jugaron con el disco volador, futbol, voleibol, pelota, juegos de precisión usando pequeños sacos y tratando de lanzarlos adentro de una tabla que tenía un hueco.
"
"
En el evento fue increible ver a todas las personas del programa con sus amigos; y verlos interactuar y socializar con las otras personas fue una experiencia la cual nos da una nueva perspectiva del mundo y te hace apreciar más lo que tienes. "
— Dijo el estudiante de decimo grado, Thomas Harley.
Definitivamente los mejores y más divertido de los juegos fueron los que jugaron en grupo; porque a pesar de que no sabían jugar a la perfección, se divirtieron y trabajaron en equipo para hacer el mejor trabajo posible.  Hubo también un momento donde todos se sentaron en la yerba y observaron a todos los niños que estaban mostrando su talento; uno bailó, otro hizo chistes, otro hizo una coreografía con una bandera, dos muchachas hicieron escenas improvisadamente entre muchas más. Todos observaban detenidamente a todas estas personas mientras que les aplaudían y animaban.
Todos se fueron satisfechos y con una gran sonrisa en la cara de lo bien que la habían pasado y de los nuevos amigos que habían hecho. Este picnic les dio a los estudiantes con discapacidad un nuevo ambiente lleno de amigos y diversión y les demostró que el ser diferente no cambia nada ni le impiden hacer lo que desean.
About the Contributor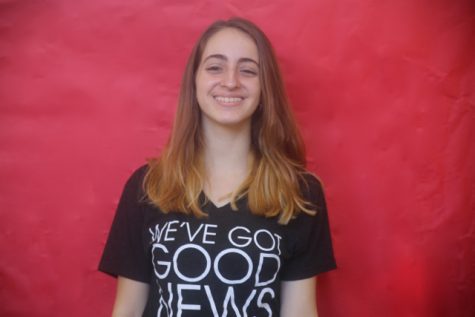 Veronica De Varona, Staff Writer
Veronica De Varona is a junior in the Visual and Performing Arts Academy at Coral Gables Senior High. Veronica was born in Havana, Cuba from a big and...