Controversiales declaraciones de Clinton hacen de este fin de semana una batalla política.
Hang on for a minute...we're trying to find some more stories you might like.
Este emotivo fin de semana en el que recordamos los atentados terroristas llevados a cabo por Al-Qaeda el 11 de septiembre del año 2001 como uno de los hechos mas trágicos en los libros de historia del pueblo estadounidense se han venido desarrollando numerosos altercados políticos entre las campañas presidenciales del candidato por el partido Republicano Donald Trump y la aspirante demócrata por la Casa Blanca Hillary Rodham Clinton.
Como dato curioso, esta vez no fue el magnate republicano el centro de atención en el mundo mediático ya que su rival, en esta oportunidad, fue la causante de la controversial discordia tras declaraciones emitidas en un evento de recaudación de fondos para su campaña. La ex secretaria de estado describió a la mitad de los seguidores de Trump como deplorables y los calificó de forma muy generalizada como personas de pensamientos intolerantes, sexistas, racistas e incluso islamofóbicos.
Al día siguiente el director de su campaña política afirmó que las declaraciones de la candidata fueron extremadamente generalizadas, incluso hasta la misma señora Clinton ofreció disculpas en horas después del mediodía a medida que la magnitud de sus palabras incrementaron en controversia. Hillary también trató de dirigirse a la otra mitad de los fieles seguidores de Trump catalogándolos de personas trabajadoras que están desesperadas por un cambio en el sistema en el que viven, teniendo en cuenta que la economía y la globalización le están impidiendo competir en un complejo modelo económico el cual, en muchos aspectos, los están dejando sin oportunidades de progresar.
"Las declaraciones de la señora Clinton son definitivamente inapropiadas para alguien que aspira a la presidencia norteamericana", dijo la estudiante de duodécimo grado, Lianet Garcia.
Como de costumbre la respuesta de su rival político no se hizo esperar. El candidato rápidamente hizo de estas declaraciones un acontecimiento muy " vergonzoso", como el mismo lo llamó, a la campaña de Clinton. Trump además, se refirió a los comentarios de la aspirante demócrata como patéticos, groseros y fuera de lugar. Mas allá de esto, también cuestionó su integridad y dio a entender que la señora Clinton debería avergonzarse de si misma por su actitud hacia los millones de votantes americanos que ofendió injustamente.
En otras declaraciones el candidato ofreció su mas profundo respeto hacia los votantes demócratas y afirmo que el nunca los calificaría de la misma manera que Hillary Clinton lo hizo la noche anterior.
"Estoy casi seguro que Donald Trump se va a aprovechar de este garrafal error de Clinton para atraer mas seguidores a su campaña", dijo el estudiante de onceno grado, Kelvis Colina.

About the Contributors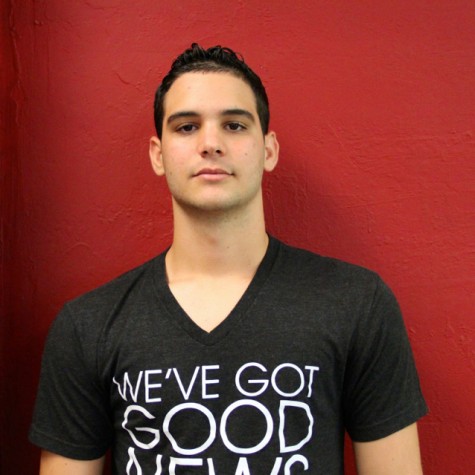 Hansel Caudales, Staff Writer
Hansel Caudales is an energetic senior in the CAF&DM Academy who has aspired to accomplish his goals since his arrival to United States three years...