Encuentro de dos titanes en el último debate Demócrata
Hang on for a minute...we're trying to find some more stories you might like.
Hillary Clinton abrazó el legado político del presidente Barack Obama, tratando de detener una oleada de feroces ataques de su rival, Bernie Sanders, en el debate presidencial demócrata. Con Sanders amenazando con trastornar a Clinton en las dos primeras elecciones primarias del próximo mes, la ex secretaria de Estado trató de detener su impulso, mermar sus credenciales progresistas y plantear interrogantes acerca de si el autoproclamado socialista tiene las habilidades y la experiencia para ser presidente.
Clinton utilizó el último debate antes de las votaciones en Iowa y New Hampshire -el 1 y el 9 de febrero respectivamente- para dirigirse a los fieles partidarios de Obama, quienes según algunos aliados de Clinton podrían estar cambiando sus preferencias hacia Sanders.
Sanders, por su parte, estuvo mucho más cómodo en el ataque a Clinton que en sus anteriores encuentros, y la noche en Charleston, Carolina del Sur, fue notable más por sus enfrentamientos personales que por los ataques contra los republicanos. Él se defendió de Clinton insistiendo en que Obama era su amigo y le dio un golpe a la precandidata por sus relaciones con Wall Street desde que dejó el Departamento de Estado.
"La verdad creo que el candidato Bernie Sanders esta hacienda un trabajo genial y es muy probable que le pueda ganar a la señora Clinton en Iowa," dijo la estudiante de onceno grado, Milagro González.
Clinton advirtió que el plan de Sanders de un Medicare para la atención universal aumentaría los impuestos a la clase media, reabriría el amargo debate con los republicanos y podría poner en peligro el Obamacare.
"Nadie está destruyendo esto, vamos a seguir adelante," dijo Sanders, quejándose de que 29 millones de estadounidenses todavía carecen de atención sanitaria.
Clinton también atacó a su rival por votar "con la NRA –la Asociación Nacional del Rifle-, con el lobby de las armas, en numerosas ocasiones", y desgranó una lista de ocasiones en las que dijo que el senador de Vermont se puso del lado de los fabricantes de armas. El intercambio fue un momento de gran tensión, en un escenario ubicado muy cerca de la iglesia en Charleston donde un autoproclamado supremacista blanco mató a nueve afroamericanos en un tiroteo el año pasado.
La estrategia de Clinton de aproximarse al legado de Obama se dio, irónicamente, en un estado donde ambos se enfrentaron amargamente durante la campaña de 2008. Ocho años más tarde, los votantes afroamericanos en el estado podrían proporcionarle un cortafuego contra la subida de Sanders en las encuestas. Sanders intentó derrumbar a Clinton sobre su rápido aumento en las encuestas en el último mes, desatando los temores entre algunos partidarios de Clinton de que la historia se repita, después de que su campaña de 2008 fracasó cuando el entonces senador Obama ganó en Iowa.
"Hillary Clinton ha fallado una y otra vez en la política exterior, por lo tanto no creo que el pueblo Americano la elija como presidenta," dijo la estudiante de onceno grado, Jeniffer Napoles.
Clinton aún mantiene una amplia ventaja sobre Sanders a nivel nacional.  La decisión de Clinton de unirse tan estrechamente a Obama podría ser arriesgada si Clinton gana la nominación y llega a enfrentarse a los republicanos. Mientras que los índices de aprobación del presidente son muy altos entre los demócratas, la mayoría de los estadounidenses todavía desaprueban el trabajo que está haciendo, por lo que los acontecimientos en la economía y en todo el mundo podrían dejar a Clinton vulnerable por la asociación con su legado.
About the Contributors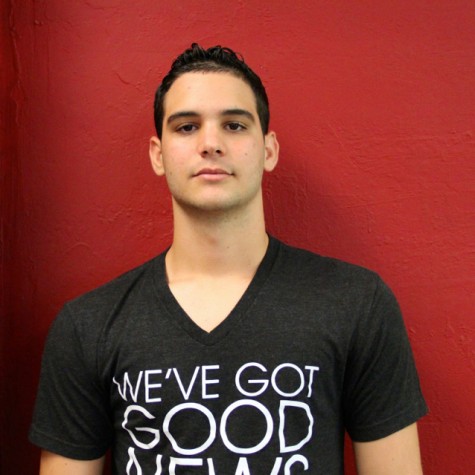 Hansel Caudales, Staff Writer
Hansel Caudales is an energetic senior in the CAF&DM Academy who has aspired to accomplish his goals since his arrival to United States three years...