La semana del espíritu escolar en Gables
Hang on for a minute...we're trying to find some more stories you might like.
La semana pasada fue una semana llena de creatividad y espíritu en Gables. Los estudiantes y los maestros tuvieron la oportunidad de disfrazarse  al estilo de los 50s, superhéroes, vaqueros, deportistas, y de los colores de la escuela (negro, blanco, rojo, y gris).  La mayoría de los estudiantes diseñaron sus propios disfraces con artículos del hogar y muchos lograron llamar la atención de todas las personas.
El día lunes fue permitido vestirse como en el tiempo de los 50s. Las damas lucieron vestidos ceñidos a la cintura o faldas por debajo de la rodilla llenos de color, rayas y flores. Los caballeros lucieron camisas blancas o negras, chaquetas de cuero entalladas, y pantalones de mezclilla.
"Me vestí como Elvis Presley porque la década de los 50s es una de mis favoritas y pienso que revivir el estilo de esa época aunque sea por un día es muy interesante," dijo el estudiante de duodécimo grado, José Mesa.
El día martes en Gables todos los estudiantes se disfrazaron como su superhéroe favorito e incluso intentaron imitarlos de la mejor manera posible. Sin importar el nivel de fanatismo, ellos se sintieron identificados con algunos de los personajes. Los personajes que predominaron ese día fueron "Batman" y "Superman".
"Crear un disfraz no es una tarea fácil. Sin embargo, con artículos económicos y utensilios del hogar diseñe mi disfraz de superhéroe," dijo el estudiante de onceno grado, Jorge Díaz.
El miércoles los estudiantes revivieron el espíritu occidental. Los disfraces estuvieron compuestos de pantalones de mezclilla, camisas de cuadros, chalecos, sombreros, y botas. Las Gablettes fueron el grupo más destacado y reconocido del día ya que todas las bailarinas lucieron como verdaderas vaqueras.
El día jueves todos los estudiantes aprovecharon la ocasión para representar a su equipo favorito de fútbol, baloncesto, béisbol, voleibol, natación, entre otros. Varios alumnos y maestros representaron a los equipos de deportes de otros países, tales como: México, Panamá, Nicaragua, Colombia, Venezuela, Argentina, Brasil, y muchos más.
El día viernes fue el día que más estuvo lleno de espíritu, cada grado vistió un color diferente para diferenciar las clases. La clase del 2019 se vistió de negro, la clase del 2018 de blanco, la clase del 2017 de gris y la clase del 2016 de rojo. Como se pudo notar, los estudiantes lucieron los más ingeniosos y originales vestuarios.
Durante el séptimo periodo, hubo un "pep rally" que estuvo muy animado y entretenido por nuestro "CavMan" y los extraordinarios presentadores de "Power 96". Las gradas del gimnasio estaban llenas de gente y  todos los asistentes gritaban de alegría demostrando sentirse muy orgullosos de ser "Cavaliers". Luego de un par de horas, los estudiantes se dirigieron al "Tropical Park" para apoyar a nuestro equipo de fútbol que se enfrento contra el equipo de Miami Senior High. Gables obtuvo la victoria, el resultado fue 30-0.
Sin lugar a dudas, la semana pasada fue una semana memorable para todos los estudiantes de Gables.

About the Writer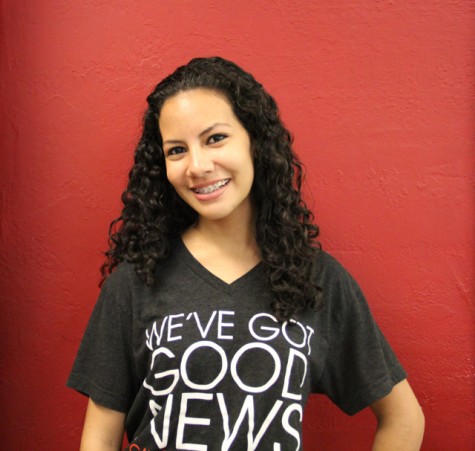 Jeniffer Infante, Spanish Editor
Jeniffer Infante is a senior in the Business, Management, and Information Technology Academy at Coral Gables Senior High School. She is a very perseverant,...