Pincho Factory
Los deliciosos pinchos, o brochetas, como también son conocidos, son un método auténtico, creativo y muy antiguo en la cocina. Nuestros antepasados descubrieron que la forma más fácil para cocinar su comida era enlazando una cadena de trozos de carne en un palo delgado. Muchos años después, el "pincho" se convirtió en una técnica muy popular en muchos lugares del mundo.
"Pincho Factory" eleva este concepto culinario único a otro nivel, donde la calidad es prioridad. Pinchos y hamburguesas constituyen las bases del menú del tan visitado restaurante.
Con ya dos instalaciones en muy céntricos lugares de la ciudad y una posible ampliación en Hialeah, cada "Pincho Factory" se llena a mucho más de su máxima capacidad, lo que muestra ser la primera elección de muchos.
"Mi familia es fanática a visitar 'Pincho Factory' , vamos cada sábado en la tarde; no hay nada mejor que un buen pincho de carne y una hamburguesa de tostón de plátano," dijo el estudiante de duodécimo grado Carlos Pérez.
La combinación de los más frescos ingredientes, mezclas de las mejores carnes importadas, sabores inspirados en diferentes artes culinarios de todas partes del mundo, y la atención más dedicada y servicial al cliente, reflejan la alta calidad del lugar y garantizan una experiencia inolvidable.
"Tienen un menú muy variado y original, mucha cordialidad y educación en el trato de los camareros, y el decorado entorno refleja buen gusto y sencillez," dijo el estudiante de onceno grado Daniel Delgado.
Abierto de lunes a sábado cada semana y con muy cómodas horas de servicio "Pinchos Factory" espera ser visitado por usted. No desperdicie esta fabulosa oportunidad.
About the Contributor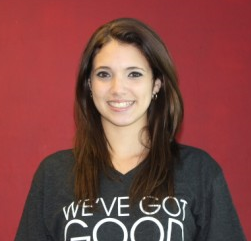 Monica De Varona, Staff Writer
Monica De Varona is a senior in the Visual and Performing Arts Academy at Coral Gables Senior High. She is a very persistent girl and is willing to give...