Filled with students being inspired by the 11 Hall of Fame inductees with their speeches of encouragement, Coral Gables Senior High's oldest Cavalier Mr. Daniel Finora was called to the stage to live up to the inspiring words beforehand. Taking over the microphone, Mr. Finora declared his shock, assuring the audience that his work of 65 years spent at Gables had been no great achievement.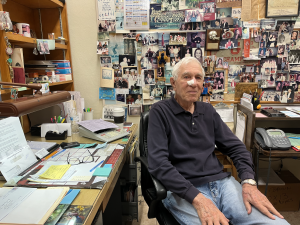 While Mr. Finora is not an alumnus, he has spent his time at school longer than almost anyone associated with Gables. Graduating from the University of Miami with a teaching certificate in 1959, he went to the Adirondack Mountains in upper-state New York to work with some of his friends over the summer.
Coming back to Miami, Fla. in that same year, Mr. Finora found himself unemployed in the fall. Finding an opportunity to substitute at North Miami Senior High, he later on received offers to permanently stay at North Miami, Gables and Miami Norland Senior High.
"Sometimes I still wonder, there are many more people out there who have done more fantastic things, but sometimes it's not all about the money, it's about what you like," Mr. Finora said.
Ultimately accepting the offer from Gables, Mr. Finora found that being a Cavalier made it easier to arrive on campus whilst teaching business. Taking on the role of Athletic Director in 1963, he organized tournaments with the football team, being at the height of victory from winning the state championship.
Following through the rest of the decade, Mr. Finora became integrated into the Cavalier lifestyle by becoming the junior varsity coach for football and tennis for two years. Additionally, he coached the golf team for 12 years, enjoying the sport he loved by sharing it with other students.
"One of the things that I think transformed all of this is the people I worked with. I had guides and mentors that we got along with. I was doing something I liked, I was in sports and teaching business," Mr. Finora said.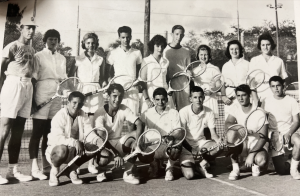 Creating success in sports, in 1971, former principal Mr. Harry Rath asked Mr. Finora to lead Gables' business department. Accepting the decision, he took charge of the school's finances and received his counseling degree through college courses taken over the summer, which would later reflect in his career.
"For my first 3 years of high school, he's [Mr. Finora] been my counselor and at first he was really tough on me but over time, my mentality about school improved and he has definitely helped me change my mentality and improve my grades. He pushes me daily to stop procrastinating and to do my work," senior Francisco Pinon said.
Throughout his journey, Mr. Finora has built many close relationships with the people he has encountered, including current Gables educator Mr. Hajji L. Ingrhim, and much of the original coaching staff from Gables, including Mr. Joseph Hudack, former football and wrestling coach in the 1970s. Building on his friendship bonds, Mr. Finora enjoys taking leisure time with fellow counselors outside of campus walls.
"I never thought about moving to another school. I enjoyed it and I have worked with a lot of people that enjoyed it all too. And every year I was doing more, and I became well acclimated to the job and I liked it. I've always lived in the area so that made it easier for me to get to," Mr. Finora said.
Occasionally encountering former colleagues and students while getting a coffee or morning breakfast, Mr. Finora finds joy in knowing that these students and colleagues remember him after several years.
"I never thought about getting the Hall of Fame award because this is the job. I come to work every day to get paid. But I never had any aspirations to leave and do something else, the school work has always been something I like to do," Mr. Finora said.
Witnessing many changes, from the construction of new building projects such as the renovation of the 6000 building to the increase of students from all around the district, Mr. Finora has encountered generations of Cavaliers entering and graduating with the same alma mater passion.
While Mr. Finora retired in 2003, his journey in Gables has not ended. Celebrating 20 years in retirement, Mr. Finora continues to work part-time as one of Gables' counselors. Having no plans on leaving, Mr. Finora exemplifies the true meaning of "Once a Cavalier, Always a Cavalier" by teaching and helping the students who enter his office.