In the mystical world of makeup, Mario Dedivanovic has utilized his brushes like magic wands, turning faces into masterpieces creating some of the most influential looks of Kim Kardashian, Ariana Grande and other celebrities all around the world. With his creativity, Dedivanovic has captivated audiences at Sephora Merrick Park in an event that can only be described as a makeup lover's dream.
Dedivanovic's journey, rooted in the Bronx, N.Y. was marked by humble beginnings working at Sephora. Transitioning from a fragrance consultant to a makeup artist for cabaret shows, he skillfully applied unique techniques to his canvases. From creating a distinction from others, in 2008, his photographer friend offered the opportunity to use his magic on Kardashian. Sparking a journey of getting constantly booked by her, Dedivanovic created his foundation in the industry to illuminate faces across influencers. However, Dedivanovic's ascent was driven by an unwavering goal, to establish his own makeup line.
Having 20 years of experience in the makeup industry, Dedivanovic's goal was fulfilled, having launched his brand Makeup by Mario, and releasing 21 products in 2020. Being a huge hit in all Sephora brand stores and as a best-selling brand, Dedivanovic soon gained a base of makeup followers who eagerly waited for his new innovations to come to life.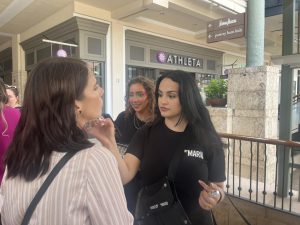 Beyond his global success, however, Dedivanovic remains deeply connected with his community, generously sharing his expertise through makeup classes and meet-and-greets. This commitment to giving back sets the stage for the anticipation surrounding his appearance.
"I remember walking by Sephora after school, and I was in shock after seeing a huge poster spilling all the details about the artistry event. I was honestly so invested, because Mario is like a big shot in the makeup industry and extremely influential. The fact that he was even hosting this event in the mall right by my school was one of the coolest things ever," sophomore Genesis Fernandez said. 
The Sephora Merrick Park event on Oct. 19, was nothing short of a beauty surprise. From 4 to 6 p.m., fans immersed themselves in a sensory delight. Attendees could snag a photo with Dedivanovic and receive a free Mario's Lip Lift™ Kit with a $75 Makeup by Mario purchase. The daylong Artistry Event allowed guests to experience the SurrealSkin magic crafted by Dedivanovic's team. 
"While I couldn't make it to the Mario event, I've got the lip kit, and let me tell you, it's a really good product. Mario is genuinely inspiring to the community, and the vibe of his event seemed like a blast," freshman Yolanda Gomez said.
The culmination of the Sephora Merrick Park event was an emotional outlook as fans eagerly lined up for the momentous opportunity to meet the makeup artist Dedivanovic. With wide smiles and starry-eyed anticipation, attendees handed over their favorite Makeup by Mario products, which Dedivanovic graciously signed, transforming each item into a cherished memento.
View this post on Instagram
"I was just walking into Sephora to get a quick order, but unexpectedly I got to see the icon himself, Mario, right before my eyes. Even without being able to have the meet-and-greet experience, it was so cool to see him right in front of me. Everyone was so nice, from his team to the Sephora makeup advisors. I stayed an extra bit while getting some tunes in with the DJ. Honestly, it was a happy accident, which turned into the highlight of my day," senior Chrisondria Marks said.
Conversations flowed, whether it was heartfelt congratulations for his immense success or sharing personal stories of inspiration. For some, meeting Dedivanovic was a dream realized that left an indelible mark on their lives. As selfies were snapped and pictures were taken, social media platforms lit up with the vibrant energy of fans, each post showcasing the thrill of the encounter. 
"I remember seeing all the pictures online of his event, it was honestly so awesome even hearing from some of my friends who were just walking around Merrick and got to see a glimpse of the event, even if it was through the windows or some that actually went. I am very excited to see what Mario's future products are in store, since I am such a big fan of his products," sophomore Cindy Ruiz-Martinez said.
With Sephora Aventura having left a similar trail of dazzled beauty enthusiasts on Oct. 23, the anticipation now grows for a future opportunity to meet Dedivanovic. Creating a fervor for shared joy, makeup gurus hope to cherish another event where they can engage themselves in the world of Makeup by Mario.