With the bell ringing for lunchtime, as students head on over to their favorite spots to engage in conversations, teachers use the time to replenish from their lessons. Taking on the crucial role of shaping the education of a generation of students, one question boggles the minds of all teachers across Coral Gables Senior High: "What should I have for lunch?" CavDash presents a solution to this dilemma that ails Gables' teachers.
The brainchild of Mr. Randy Rovira,  CavDash is a food delivery service for teachers who may not have the time to leave campus or bring food from home. Based out of room 2152, Mr. Rovira teaches freshman and sophomore students with Autism Spectrum Disorder, on a modified curriculum combining core academic subjects for the first half of the day and work-related skills during the latter. Advancing his idea into reality, CavDash serves as a convenient way for teachers to easily get their lunch meals whilst students with disabilities gain a real-world view of what it means to be working.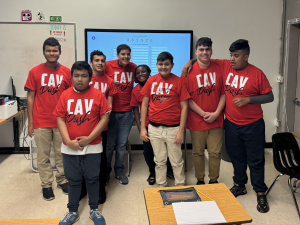 "In the morning, the day before, I'll send out an email to teachers, 'Hey, CavDash is on for Wednesday, we're ordering from this location, place your orders for pickup at 10 a.m.'. Then, I have my Director of Operations sit next to me on Wednesday morning, he'll look at my emails and write down the name, order and what they ordered," Mr. Rovira said.
After writing all the orders the teachers place on Mr. Rovira's email, the CavDash team takes a step outside of Gables' premises, using the nearest transportation to reach the designated location for the week. Arriving at the place, the CavDashers pick up the orders and organize them based on rooms. Bonding on the way back, the CavDashers are split into pairs and deliver to specific buildings throughout Gables.
"I enjoy [delivering] very much. Mr. Rovira always tells us to knock on the door and say 'special delivery, CavDash'," freshman Leo Alvarez said.
To show their appreciation, teachers can tip the CavDashers, who give the money to Mr. Rovira and Ms. Tracey Scavella for additional weekly programs supporting special students such as Work Wednesdays where they learn to work on improvements around the school or Foodie Fridays where students learn to cook simple meals.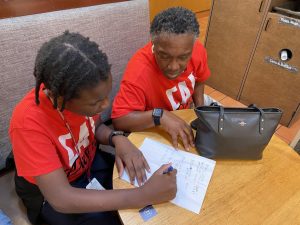 "I'm very glad that Mr. Rovira is doing [CavDash] with the students, and I'm very excited to help them create the posters because I love being creative and I love just being part of them. I just love what they're doing and it helps the kids get out of their comfort zone and actually be more productive," Mrs. Silveira said.
As CavDash proves to be a roaring success with teachers, Mr. Rovira sets his sights higher. Planning to expand from just food, Mr. Rovira looks into the delivery of school supplies and general shopping for teachers. Combining an innovative service with a shining opportunity to unravel the stigma around autistic students, Mr. Rovira strives to make the Gables community a better place.
"I'm the kind of person who likes to make things bigger and make them different, so eventually we'll branch off to Target and make Target runs for people. We'll do things like that to help [students] learn and take stress off of teachers," Mr. Rovira said.