As time passes after graduation day, Coral Gables Senior High School graduates start to flourish and build their lives. As these students begin their transition into adulthood, nothing is certain, except for one constant: their Cavalier spirit.
After years of building a name for themselves, Gables Alumni gathered together on July 15 for an Alumni picnic at Tropical Park. They reminisce on their years as young adolescents, coming together to share their Cavalier pride in celebration of how far they have come.
"Looking back on high school, it went by really quickly, so you really gotta embrace it and kinda live in the moment. The older you get, exponentially you fear that your life is passing before your eyes, so in high school, you really gotta live in that moment and enjoy it," alum Joe Higgins said.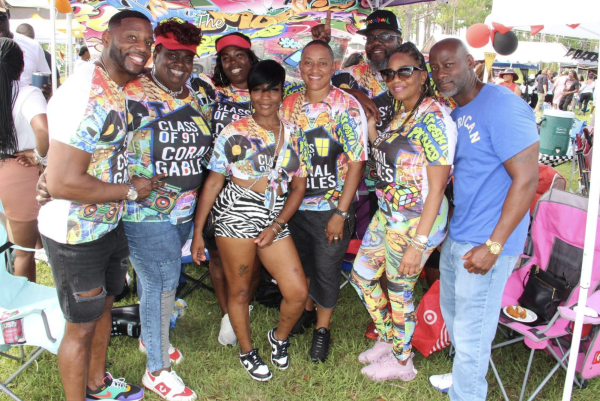 Joe Higgins, class of 1988 graduate and Freddie Nolton, class of 1989 graduate, rallied up their peers by posting flyers on mediums like Facebook to volunteer and claim their spot as class tent representatives. Those who stepped up from each graduating class ranging from 1971 to the early 2000s arrived early dressed in Gables' colors to set up their tents. Some classes even designed their own class shirts to fit their theme. Tents were adorned with all sorts of decorations in tune with themes ranging from Hawaiian to Mardi Gras to The Fresh Prince of Bel-Air and more.
After a morning full of unexpected heavy rain and flying tents, volunteers went back to tidy up their stations and moved on with the event. Simultaneously people started to show up, the music got louder and so did the Cavalier spirit. As you walked around, all you could see are reunited friends with smiles reaching cheek to cheek.
"It's been great getting to reunite and reconnect with new and old friends and rehash old memories. You see how time has flown by. It seems like yesterday. I've been very blessed to stay connected with my best friend since then. We all say 'You remember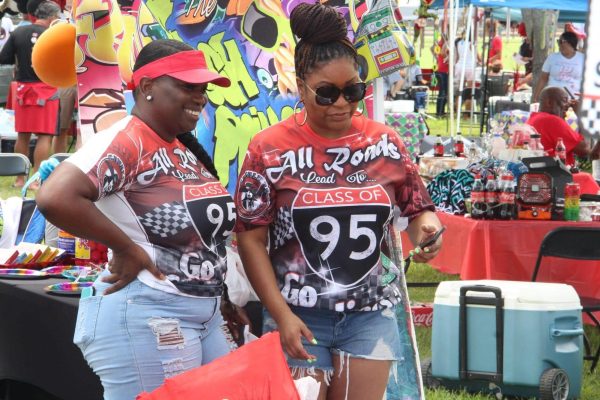 when we did this… and that…?' and just laugh," alum Ramani Nicola said.
Spending two nights preparing the food for his tent, Higgins put together Gumbo for his class tent and packed coolers full of drinks. Others had brought snacks like chips and cookies, as well as small grills to cook delicious hamburgers and hot dogs. Lastly, a Mr. Frosty 305 truck was parked at the front for anyone who wanted to have a sweet snack and cool down from all of the heat.
As more alumni were showing up, a DJ set up his station and played music from every decade going back to the 70s. Kids played football while their parents caught up with their friends and talked about old times.
This event brought people together and created a sense of unity. Multiple tents had brought their class yearbooks for attendees to look at, as well as some photo albums to help bring back old memories.
"Something like this is way overdue. Seeing so many classes come together at the same time is amazing, especially since I haven't seen a lot of these people since I graduated in 1988. These are the people that we all grew up with, we've known each other since we were teenagers and to see them, their families and what they've become is just amazing. This brings back a lot of memories, I get goosebumps thinking about the fun times. Those were some amazing years that we had and it's sad that we don't see each other as often as we should," alum Raul Gonzalez said.
Would you attend your class reunion?
Sorry, there was an error loading this poll.
To close off the day, Bahamian Junkanoo dancers marched down the park playing music with instruments like trumpets and drums, inviting the crowd to join them. Classes gathered and chanted their graduation year to see which grade had the most spirit.
Despite the time and distance, these Gables alumni reignited friendships that will forever be held close in their hearts because of their shared passion for their Alma Mater.
"There's a saying, 'Once a Cavalier, always a Cavalier', and I feel that everyone here abides by that," Ramani Nicola said.