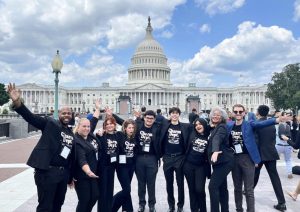 The Charm Dept.'s journey began as a mere school-graded project, but after just one month of launch, their motivation surpassed the pursuit of a good grade, transforming into an unyielding resolve to succeed, eventually becoming the first company to ever represent Greater Miami.
Starting their journey to Washington D.C., on June 11 at approximately 8 p.m., the Charm Dept. national team composed of junior captains Montano-Abarca, Eros Vinneccy, Jeser Rubioperdomo, Lia Samper and Nathalie Diez, along with mentors Mrs. Brown and Mr. Creegan and JA Greater Miami officials Mr. Brinson and Mrs. Valle.
Excitement filled the air as the Charm Dept. team prepared to board the plane for their journey to nationals. Before departing from the Miami International Airport, Mrs. Valle revealed a surprise she had arranged. Using her position in connecting with one of JA's sponsors, Delta, the team was able to enter into the all-exclusive Delta Sky Club.
Relishing their time before the flight, the team was then called to board earlier than other passengers, with resounding applauses from the flight crew. As the final passengers settled into their seats, the pilot, captivated by the team's remarkable achievement, took a moment to announce their presence as national competitors, filling the cabin with a shared sense of pride.
"They treated us so well when we left Miami. First, when we got to the airport, their representative was already waiting for us. They had our tickets, checked our bags and took the luggage with them. Then they escorted us to their VIP lounge and when we got on the plane, they made an announcement to everyone saying that we were representing Miami at the JA NSLS, and everybody clapped for us on board. We felt like little celebrities, it was so much fun," Mrs. Brown said.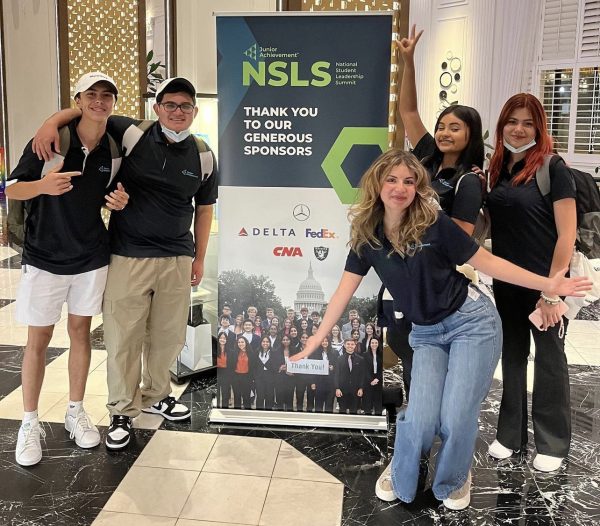 During a brief stop in Atlanta, Delta continued to celebrate their success. Thoughtful and generous, the airline presented each member of the team with a gift bag, a tangible token of recognition for their extraordinary accomplishments.
Arriving late in Washington, D.C. around 10 p.m., the team headed over to Hotel Washington to quickly unpack their items and sleep for the next day, awaiting the challenge ahead.
---
Day One
With a full day at their disposal to explore the nation's capital, the Charm Dept. team embraced the opportunity to immerse themselves in the vibrant cityscape and revel in the refreshing air. Walking as a bonding activity to landmarks, the team visited iconic structures such as the Statue of Abraham Lincoln at the Lincoln Memorial, the Washington Monument and the Smithsonian National Museum of Natural History.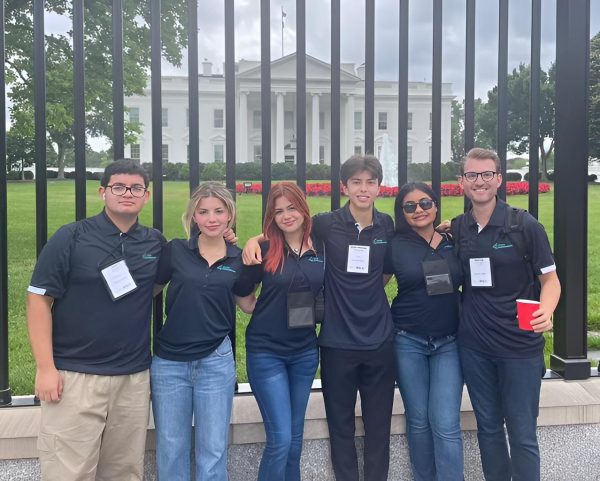 As the clock struck 5 p.m., signaling the arrival of all companies at Washington Hotel's Grand Ballroom, the 2023 NSLS opening ceremony commenced. Jack Kosakowski, the President and CEO of JA, took the stage and delivered a stirring speech, recognizing the collective success of all 15 companies and acknowledging their nomination by their respective JA officials. The room erupted with celebratory cheers, marking the commencement of a networking session where companies had the chance to connect and build relationships.
"Our organization highly values Junior Achievement's student events as they play a pivotal role in providing our students with invaluable opportunities to apply the concepts they have learned through the JA Company Program. These events serve as a platform for them to showcase their skills in collaboration, creativity, critical thinking, communication and sound business practices. Witnessing the remarkable professionalism and unwavering passion for entrepreneurship at this summit fills me with confidence in our future," Mr. Kosakowski said.
To foster camaraderie among the teams, an engaging game was organized, adding a touch of excitement to the event. In this activity, each group had the challenge of delivering a persuasive sales pitch in one minute. The twist was that they had to pitch to a unanimous object, creating a fun and collaborative atmosphere that encouraged teamwork.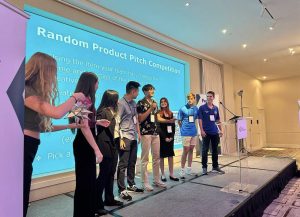 Building upon the friendships among members established, the ceremony concluded on a sweet note, with everyone enjoying ice cream together. To cap off the ceremony with excitement, the teams engaged in a lively round of the popular card game UNO, creating an environment of shared joy among all participants.
With the conclusion of the ceremony, each team retired to their respective rooms, dedicating themselves to practicing and memorizing their pitches in preparation for the following day.
---
Day Two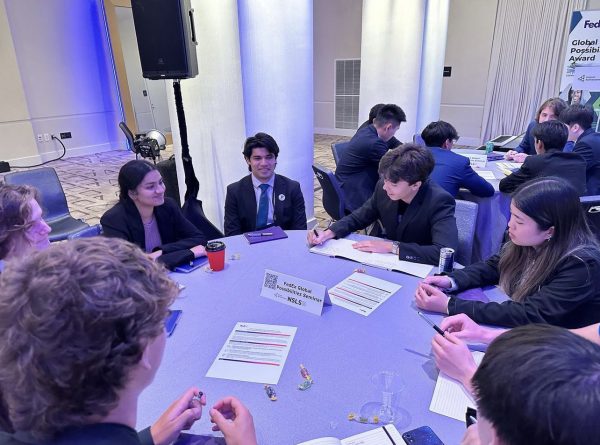 As the second day of the NSLS excursion dawned at 9 a.m., students gathered in the ballroom, anticipating a day filled with educational panels. The proceedings commenced with Delta's Social Impact Seminar, which aimed to foster awareness of local and global problem-solving solutions. Divided into different groups, each table had the opportunity to showcase their creativity and innovation, engaging in productive discussions with guest speakers Angela Cain Nivedita Pandey.
Building upon this momentum, the day continued with FedEx's Global Possibilities Seminar, featuring speakers Julia Chicoskie and Mark Johnson. With their thought-provoking insights, they encouraged students to think beyond conventional boundaries, promoting a global mindset and inspiring them to explore innovative possibilities.
"Both the FedEx and Delta Seminars were very productive. We were split with everyone into groups, so we had to engage with the other competitors and find solutions to the problems the speakers addressed. I thought it was really productive and it was interesting as to see how while it was a competition, they were moments like these where everyone bonded," Diez said.
With both panels finished, all teams returned briefly to their rooms before departing to Capitol Hill at noon. Exiting in a bus, all teams ascended to present their entrepreneurship expositions. This elevated platform provided a unique opportunity for visitors and judges alike to observe all 15 companies in action.
As the event commenced in the grandeur of the 'Speaker Nancy Pelosi Caucus Room,' the entrance was opened to welcome all audience. Judges, with a keen eye for detail, engaged with each of the team's booths, posing insightful questions and meticulously evaluating their products.
"We were very careful in how we talked to everyone. We treated everyone as a judge whether you were a parent or a student and gave Croc Charm gifts as a token of appreciation for coming to our table. We really tried to give the audience a sense of comfortability and joy," Montano-Abarca said.
With attentive judges making their rounds, each company was evaluated based on a comprehensive set of criteria. This assessment encompassed a range of elements, including the ability to deliver a compelling product pitch that captured the attention of the offering, a visual presentation of product conceptualization, looking for creativity and a clear understanding of market appeal. Additionally, judges observed how well each team applied their learned lessons to new and challenging situations.
"At first I was a bit nervous since it was my first doing this, and it was the exposition, but once I presented to the first two people and explain the company to them, I was able to hit the groove and I was able to rope that nervousness out," Rubioperdomo said.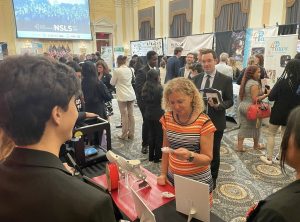 While being in Capitol Hill, the teams received a special encounter as U.S. Representatives Chrissy Houlahan and Emilia Sykes, as well as Senator John Cornyn. Among the distinguished guests, the Charm Dept. had the distinct honor of meeting their local representative, Mrs. Debbie Schultz.
"I was insanely happy and felt very privileged to meet Mrs. Schultz, as it's not something that the majority of high schoolers have the chance to do so. Seeing her as a successful woman in a male dominate field, inspired me to achieve high standards in business," Diez said.
After an intensive three-hour session of presenting their entrepreneurship expositions to their guests, all team members were allowed to walk around each table and gain information about their competitor's company.
"At the end, we got to walk around and see our competitors, and while yes, they are our competition, there also are people to learn from and we're all friends. You truly can really learn a lot from them and it was fun to test them out on their knowledge about their business," Vinneccy said.
Walking out of Capitol Hill with a refreshed mind on a new outlook, all the teams congregated on the floor of the steps, coming together for a memorable group photo.
---
Final Day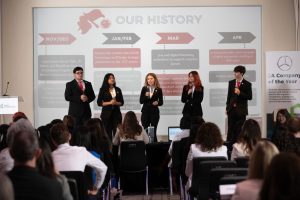 With the judges gaining a firsthand experience of each company's offerings the previous day, it was now time for a closer examination. On stage, the teams would delve into their company's history, financial statements and the passion that fueled their endeavors.
With an audience of 98 people, each company team took their turn on stage, unveiling their innovative product inventions. The range of ingenuity on display impressed the audience. Finally, it was the turn of the Greater Miami team to present their croc-based Cavalier charms.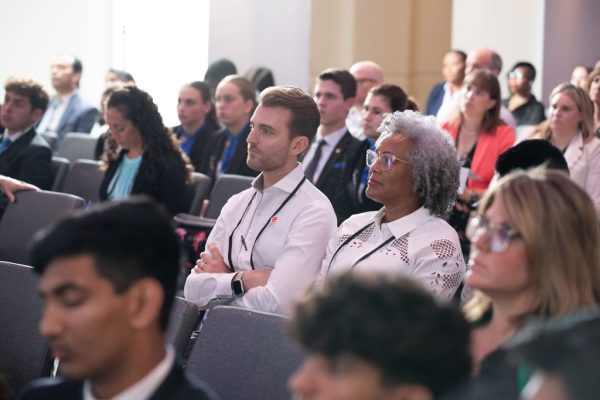 Following the product presentations, the teams proceeded to the next phase of interviews. In a room with one judge, all five captains from the Charm Dept. team engaged in a comprehensive discussion, answering a multitude of business-related questions. The first two questions were designated for a specific captain, while subsequent questions were open for any captain to respond, taking the lead in showcasing their knowledge and expertise.
After all 15  presentations were finished, the stage was set for the judges to commence their evaluation process, engaging in discussions to determine the final award winners. Meanwhile, the teams returned to their rooms, awaiting the announcement of the results later that evening.
"Something I learned is being accountable. If you made a mistake yourself, it was really something you had to acknowledge, but you always bounce back up and you continue forward," Rubioperdomo said.
As evening approached, a sense of anticipation filled the air as all 15 company teams gathered at the gala ceremony, savoring their last meal together in the hotel. Conversations buzzed with excitement and hearts beat rapidly with anticipation.
The atmosphere was high as Mr. Kosakowski took the stage again, delivering a speech, reflecting on the program and the incredible national journey that each company had embarked upon. With his final words resonating throughout the room, the award presentation commenced with Mercedes-Benz USA announcing the top companies.
"I'm proud of each and every one of us honestly. If you asked me how we did, I'd say, 'We did awesome'. Everyone there tried their absolute best, it was our first time presenting in such a large audience. I had nerves like everyone else presenting in that room but it really is accepting that you're nervous because it shows that you cared for your company and want to tell everyone about it," Vinneccy said.
While Charm Dept. did not receive an award at this year's JA NSLS, the team stood proudly, acknowledging the incredible achievement of making it this far in their first year of participating in the program. Both mentors as well as JA officials, experiencing their first national journey in their partnership year with JA, joined the team in celebrating this milestone. Additionally, Charm Dept. had the honor of representing Coral Gables Senior High and Greater Miami for the first time, marking a significant moment for both the team and Gables.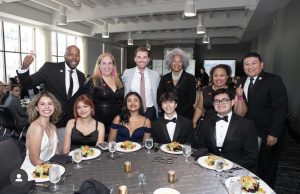 "My experience with other captains has been a rollercoaster ride. Before we began this company, I never in my life would have thought I would be speaking to crowds or actively participating in a company where I'm in charge of marketing. Even though we had different tastes from each other, once this company was rolling, we had no other choice but to bond and discuss. We eventually grew very close to each other to the point they became my new friend group," Montano-Abarca said.
As the final day came to a close, the teams began packing their belongings, and Charm Dept. bid farewell to Hotel Washington at 8 a.m., continuing on their travel back to Miami. Once again, they were greeted with the unique Delta experience, finally arriving in Miami around noon.
---
Before parting ways for the summer, Mrs. Valle had one last surprise for the team to acknowledge their hard work and dedication, balloons. Despite the absence of a national award, the JA Greater Miami team designed a special edition newsletter dedicated to Charm Dept. on their success in the NSLS.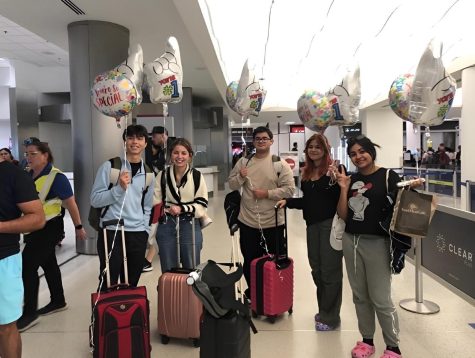 "We went into the national competition saying, 'It's not about winning or losing, it's about that we had a process, we stuck to that process and it was thanks to that we achieved success.' We exhibited the daily, small compounding of good behaviors that snowballed and grew over that six-month period, to the fact we earned a place in the competition. The moment for me where I could not be more proud of them was them facing adversity. How the students came together and were able to overcome that adversity, by demonstrating our core values of unity and resilience, that was the moment they became champions," Mr. Creegan said.
Cherishing with memories and growth, the Charm Dept. team looks back with pride at the newfound experience of competing in the JA Company Program.